Posted:
October 20, 2021 |
Categories:
News
|
Design and Decorating
It's the time of year when predictions for the upcoming year abound, and in the design industry, that means the unveiling of the 2022 Color of the Year! While color experts from leading paint manufacturers each have their own Color of the Year picks, there is one thing they agree upon – fashion-forward green is the hue for 2022!
For 2022, the color experts at Sherwin-Williams, the industry-leading paint brand used in our new construction homes in Florida, selected Evergreen Fog as the 2022 Color of the Year. To provide even more color inspiration, Sherwin-Williams curated four unique color palettes as part of its 2022 Colormix® Forecast, one of which includes Evergreen Fog.
Wondering how you can incorporate 2022 color trends into your home decor? Here's the 4-1-1 on how you can use this year's best interior paint colors in your Florida home!
Sherwin-Williams Color of the Year
Evergreen Fog (SW 9130) is soothing, subtle, and the perfect shade to freshen up any space. This versatile and calming hue is not just green, but a "chameleon color" blending green and gray with just a hint of blue. Not too dark or in your face, it's described by the color experts at Sherwin-Williams as "a simple but sophisticated wash of beautiful, organic color for spaces that crave a subtle yet stunning statement shade."
The color experts at Sherwin-Williams knew green was going to be an important color for 2022. Color of the Year picks are inspired by the state of our world and green is known to be calming and stress-relieving, symbolizing nature and rebirth, creating feelings of sanctuary and security. In other words, it's the color we need as we progress from what has been, for many, a stressful year into a fresh new year of well-being!
And, Sherwin-Williams color experts didn't want to just pick any old green – they wanted to suggest a color you will feel comfortable putting on all four walls. Evergreen Fog's neutral undertones make it adaptable to many styles of décor. It's particularly fitting for today's vintage-inspired and farmhouse décor trends, and it pairs perfectly with a variety of materials and accenting paints.
Use with Coordinating Interior Paint Colors
With many of our new home communities centered around nature, Evergreen Fog is one of the best interior paint colors for your Florida home to compliment your natural setting! The coordinating colors selected in the Method palette (more on this below) to compliment Evergreen Fog further illustrate this nature tie in, with rich warm and earthy tones including the ever-popular Urbane Bronze, Accessible Beige, and Shoji White.
And, it's not just for interior paint – Evergreen Fog also creates beautiful exteriors when used either as an all-over body color or for accents such as shutters or doors.
Pair with Wood, Tile, and Stone
Keeping with the sense of nature, natural wood provides beautiful contrast and pairs exceptionally well with Evergreen Fog. Similarly, the soft colors of natural stone and handcrafted tiles combine particularly well with this color.
Accent with Mixed Metals
Gold, silver, bronze, or black – almost any metal tone pairs well with the soft green of Evergreen Fog. This means you can select light fixtures, faucets, and accent pieces in any metal you love, or mix and match. We personally love how this color looks with brass, champagne gold, and matte black metals!
Sherwin-Williams Colormix® Forecast
The 2022 Colormix® Forecast, themed MODE, is a collection of 40 on-trend colors in four unique palettes. The inspiration behind the MODE collection was the concept that "nothing is permanent in our world - all is ever-changing. We plan, progress, draft designs - set our intentions - and over time they slowly take shape. We settle into a new way of being, a new kind of doing, fully embracing the style of the moment." These color collections illustrate that transition.
The four palettes that makeup MODE are Method, Opus, Dreamland, and Ephemera. Let's take a look at each collection and how you can use these thoughtfully curated palettes in your Florida home décor.
Method
The Method palette includes Evergreen Fog, the 2022 Color of the Year, and is designed around nature with organic neutrals, rich warm tones, and soft earthy hues.
This collection in particular stood out to us as it includes Accessible Beige, one of the Sherwin-Williams interior paint colors included as standard in our new construction homes and, in our opinion, one of the best interior paint colors for Florida homes.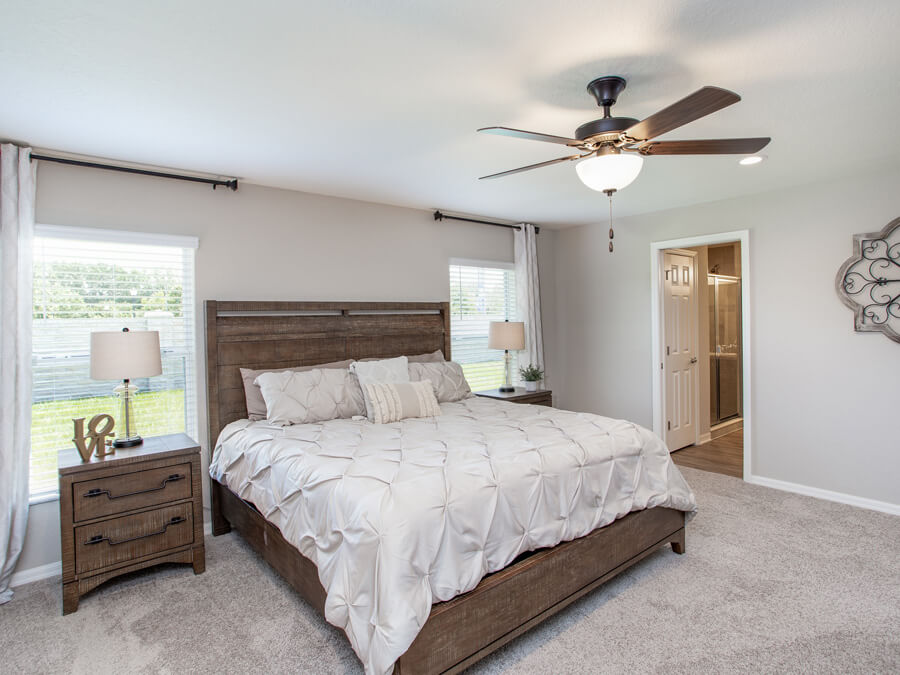 Stacey Antonakos-Perez, manager of the Highland Homes design center, says, "I have used Accessible Beige when decorating Florida model homes with a boho theme because it pairs nicely with wicker and warm tones of beige and orange. I also love Accessible Beige paired with Evergreen Fog and Urbane Bronze."
"If you are looking for a neutral color palette that has a pop of bold and earthy accents colors, this is the palette for you," adds Stacey.
Opus
"The Opus colors really draw my eye," says Stacey. And they should - Opus is a palette of deep tones with unexpected accents and was designed to be a new kind of classical. Sherwin-Williams' color experts describe this collection as one "to set drama and emotion to the art of good style, and to never, ever fade into the background."
If you are nervous about painting your walls these bold colors in your new construction home in Florida, Stacey suggests a great place to use them is for accessories or accent pieces like foyer tables, pillows, or chairs.
"The Opus colors really make a bold statement," Stacey says. "My favorite color in that line is Naval, a rich blue. You can see how to incorporate this color as an accent in our model home in Eagle Lake, Florida at Landings at Eagle Lake!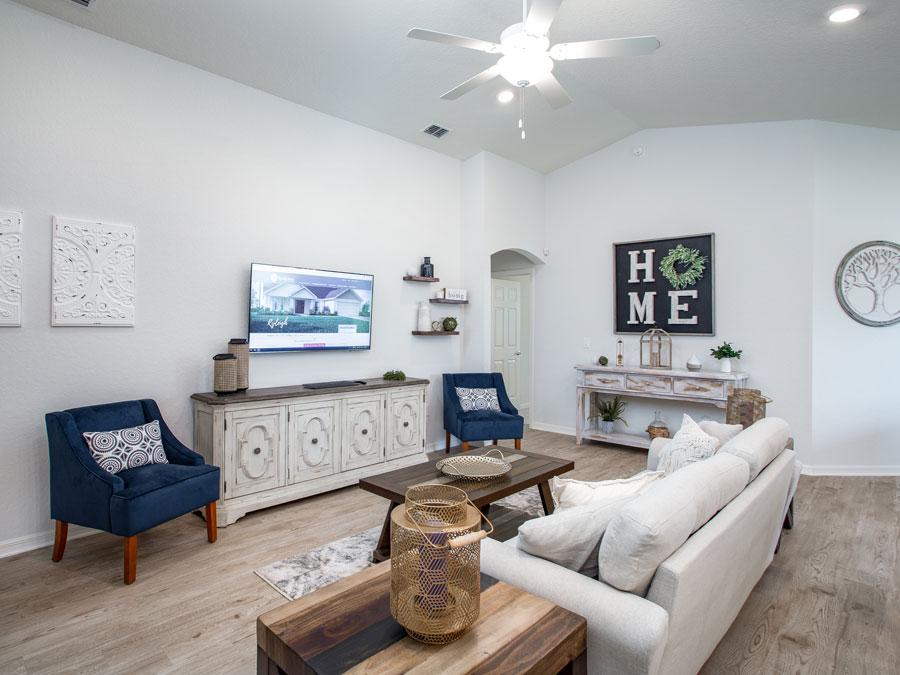 Dreamland
The Dreamland collection invites you to "set yourself adrift in a fantasy realm of pearlescent tones, new-growth greens, and lavish pinks, and tend to a space where fresh ideas flourish." Influenced by wellness and eco-style, the Dreamland colors are enchanting and nurturing and can make your new home look and feel fresh.
Stacey recommends using the bright Dreamland colors as accents and pairing them with white to keep the fresh and clean look.
"Rosemary is a great front door color that we will be adding to our exterior color schemes," continued Stacey. "High Reflective White is a great trim color for interior or exterior, and Natural Linen is a great choice for your main interior paint color with a piece of statement furniture or rug in one of the energetic colors such as Dynamo."
Ephemera
Last but not least, the Ephemera palette was inspired by midcentury modern design and is a fun play on primary color. Each shade was carefully chosen to evoke the fond remembrance of what once was and the unwavering optimism of what could someday be.
In addition to pairing well with midcentury modern design, Stacey says the collection also works well with transitional or boho designs.
"We use the color Alabaster as a trim color in some of our color schemes because it is great paired up with beige or gray," continued Stacey. "I personally love the color Moody Blue and think it makes a beautiful accent wall. This color stood out to me because it will work nicely with warm or cool tones. I can see it with white cabinets or a dark espresso cabinet depending on the look you are going for."
"On the other hand," adds Stacey, "I love Pink Shadow as well, and have used this color before paired with navy blues."
Design Your Dream Home with the Best Interior Paint Colors
Ready for more inspiration on using 2022's best paint colors in your home decor? Check out our 2022 Color Trends Pinterest Board for a showcase of paint and color use tips and visit our online Inspiration Gallery to see a wide array of decor and design ideas from new Highland Homes in Florida.
If you want to start with a blank canvas to make your dream home decor come to life, there's no better way than building a new construction home in Florida! When you build your dream home with Highland Homes, you'll get to personalize it to your unique style with the help of Stacey or one of the other professional designers at the Highland Homes design studio. Our designers will help you choose from a wide variety of included features and luxury upgrades for every surface in your new home, including beautifully coordinated Sherwin-Williams interior and exterior paint colors to perfectly match your personal style – they'll even help you decide how to use Evergreen Fog in your interior design scheme!
To learn more, browse our Florida new home communities and call or email us to connect with a Florida New Home Specialist today!
---
Tags:
Color of the Year
decorating tips
design trends
interior design
Personal Selection Studio
paint colors
personalize your dream home
---