blog
How to Introduce Your New Dog or Cat to Their New Home
How to Introduce Your New Dog or Cat to Their New Home
Posted:
August 21, 2020 |
Categories:
Communities
|
General Info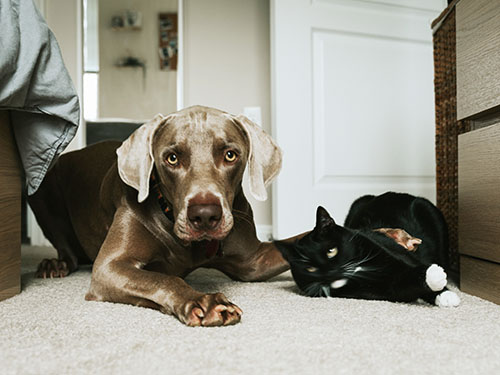 You've done your research. You've visited a few shelters, rescue centers, and pet shops. You've even completed a few of those 5-minute online quizzes that tell you which breed of dog or cat would be the best one for your personality and lifestyle. Now you're ready to bring Fido, Fifi or Felix, home! You're ready to introduce a new dog or cat into your home.
Becoming a pet owner is not a task to be taken lightly; after all, you are bringing home a living, breathing being, who can't verbalize their wants and needs. But, before Fido, or Felix, walks through your front door, there are a few things you can do to prepare for their arrival.
Supplies - Dog and cat needs vary based on breed, age, and health conditions, but you can gather some basic supplies ahead of their arrival. Food and water bowls, food, a pet bed, and if you're bringing home a cat, a litter box, kitty litter, and a scratching post.
Pet-proof your home - Remove any potentially hazardous items, cleaning supplies, or plants that might spark their curiosity and need to chew. Avoiding a visit to the pet ER on the first night home is key.
Research your new vet – According to The Humane Society of the United States, you should plan your first vet visit at least a week after you bring Fido home. Although most shelters keep the dogs and cats they take in up-to-date on vaccinations, and spay and neutering, a wellness check with your pet's new vet will help them become acquainted and fill in any missed medical needs for your new dog or cat. You may also want to discuss microchipping your pet, in the event Fido decides he wants to make a run for it.
Adoption day – When you bring your new furry friend home, make sure it's on a day where you will be able to spend time with them for an extended period, at least a weekend. Let them sniff around your home, stay close, and give your new pet a tour of their new home while still on a leash. If they'll be socializing with more than one human regularly, make sure you're all present, just don't have a welcoming committee; too much commotion could be overwhelming on dog and kitty senses.
Patience and planning - Introducing a new dog or cat to your home can take time, for both the human and the pet. The Humane Society of the U.S. indicates that the transition period could take two days or two months. However, creating a routine for your new dog or cat can help with the transition. Create a plan for feedings and walks, and make sure everyone in the household agrees when it comes to the training, feeding, and playtime schedule. If someone outside of the home will also play a major role in your pet's life, fill them in on Fido, or Felix's, details, and daily schedule. After all, when you're not home this outside human will be your dog or cat's support person. Also, pay attention to your pet's behavior. Behavior provides the clues to their feelings.
Enjoy your time together – Give your new furry companion a lot of attention, plenty of playtime, and healthy treats. If you're looking for more help on how to introduce a new dog or cat into your home, the SPCA of Tampa Bay has a webpage dedicated to downloadable information with advice for pet care and behavior.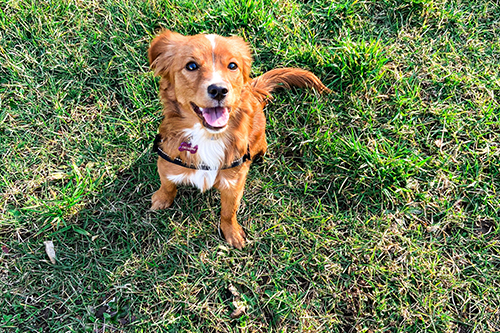 One of the best ways to enjoy your time with your new pet can be time spent outdoors. Dogs love spacious yards where they can run and play. If your yard is fenced in, consider including it as part of the home tour. Let your dog smell the area, and become comfortable on their own terms. As for a cat, a screened lanai could provide your new feline companion a great outdoor "CATio." Pet Safety Crusader online lists CATio benefits for cat owners to keep in mind when building their outdoor cat sanctuary. Also, be careful with your backyard plant selection! Reader's Digest online provides some great advice on how to prepare your backyard for your new dog or cat.
If you're looking for the perfect home with a backyard suitable to welcome your new dog or cat, we at Highland Homes have been building new homes in sought-after locations in Florida for over 20 years. From Ocala to metro Orlando, Tampa Bay, Lakeland-Winter Haven, and Bradenton-Sarasota, we're ready to help you build the new home of your dreams. Browse communities, home plans, and quick move-in homes, and connect with our Florida New Home Specialists by emailing us or calling or texting 863-797-4999.
---
Tags:
how to introduce a new dog to your home
how to introduce a cat to a new home
pets
dog friendly home
cat friendly home
homeowner tips
Bradenton-Sarasota
Lakeland
Metro Orlando
Ocala
Polk County
Tampa Bay
---