Posted:
April 18, 2019 |
Categories:
News
|
Design and Decorating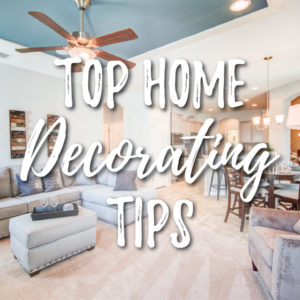 April is National Decorating Month, making this a great time to consider the decor for your new home in central Florida. Here are three top home decorating tips from home designers to help you out as you plan how you'll decorate your dream home!
1. 60-30-10 Color Rule
Following this simple color rule is a great way to introduce color into your home and create a well-balanced room design, even if your style isn't typically bold or bright. This rule follows the classic rule of three, meaning you'll choose three color families to balance each other in the room you're decorating. The color families can vary in shade which helps pull together the look without being too matchy-matchy.
Decorate 60% of your room with your dominant color. This is typically your walls, flooring, and perhaps large furniture like a sofa or bed. In general, your 60% color will be a neutral gray, brown, or white, but it can be any color you love enough to color your walls with.
Decorate 30% of the room with your secondary color. This is used for furniture, an accent wall, or textiles such as comforters, rugs, or window treatments. Have fun with it and vary the tones and textures!
The last 10% is your accent color. Often this is a bright color, but could also be bold metallic or even a pastel. You will use this for accent pieces such as candles, throw pillows, and table lamps, or even a small furniture piece like a bench or end table. This is where you can be bold - Don't be afraid to play around with bright colors, unique textures, and bold patterns.
2. Arranging Furniture
Figuring out how to arrange furniture is all about determining how to best utilize the space you have, create flow, and most importantly, layout for function. Function should take precedent so your space can be used how you plan to live in it; be sure to decide how you plan to use each room or area of a room before you begin plotting the furniture layout. Once you have that figured out, there are a few furniture placement rules which can help you achieve design success.
Common areas (such as the entryway or living room) - Leave space for traffic to flow through the room without having to walk in front of the room's focal point or through conversation areas.
Main living and gathering rooms — This is where people spend the most time, and comfort should be a priority! Keep in mind seating space for your family and also when you have guests. Pieces such as upholstered ottomans add additional seating in a pinch, and are great to prop up your feet when lounging with the fam. And, follow the buddy rule with your seating - Every comfortable seat has at least one buddy so when you have guests, there are places to sit together and enjoy a conversation.
Smaller rooms - Use furniture that adds vertical volume, still allowing for plenty of useful space while not taking up as much floor space. You can also make a room feel larger by keeping furniture off the walls. The size of the room will determine how far away from the walls your furniture can be, but even a little bit of free space can make an impact!
Bedrooms — Don't be afraid to place your bed in a nontraditional position if it allows for more space throughout the rest of the room. Consider adding a bench or two small stools at the foot of the bed to add seating space (and possibly storage).
Rugs can be used in just about any room, but make sure they're the right size. Ideally, your area rugs belong under all the furniture in a grouping or area. If the space doesn't permit that, then at the very least, the front two legs of every piece of furniture should be on the rug.
Size is key for artwork as well. For example, art over the sofa should be two-thirds the length of the sofa, or use a grouping of pieces that equal that length. Using art that is too small or too large for a space can throw off the balance of a room.
In every room, be sure to keep the horizon (lines of sight) clear! You can certainly use tall pieces of furniture for visual interest, but be sure they don't block the sight of windows or the traffic path when you enter a room.
The biggest thing to remember when it comes to your room's furniture place? You can always move the furniture if you don't love it!
3. Create a Focal Point
Anchor every room with one awe-worthy focal point. Focal points are a great way to anchor furniture in an open room or focus your conversation areas to look toward a great piece of art or view out the window.
A focal point can appear naturally in a room, like a large window offering a beautiful view. An accent wall is a popular way to create a focal point, using a bright or dramatic paint color (your 30% color from the 60-30-10 rule), wallpaper, or shiplap wall treatment. Or, your focal point might be a gorgeous chandelier hanging over the table where people are drawn to gather, an entertainment center drawing eyes to the TV, or your favorite piece of artwork showing itself for all to enjoy.
Bonus Tip!
Start your home decor from the ground up when you build your dream home in Florida with Highland Homes! At the Highland Homes Personal Selection Studio, a professional designer will learn your needs and help you choose the features, finishes, and personal touches to bring your dream home vision to life. A wide array of options are available to choose from for every room (and even the exterior) of your new home, with included selections available at no additional cost and luxurious upgrades.
Interested in learning more? For more information about building your dream home in Lakeland, Tampa Bay, Metro Orlando, Ocala, or Bradenton-Sarasota, contact our Florida New Home Specialists by calling or texting 863-797-4999 or visiting www.HighlandHomes.org.
---
Tags:
design
decor
decorating
home decor
how to decide on paint colors
how to decorate a new home
how to place furniture
new home
---