Posted:
August 15, 2016 |
Categories:
Design and Decorating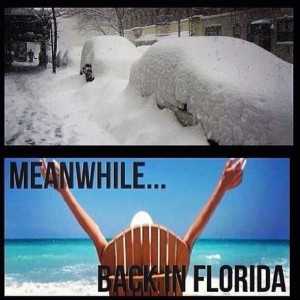 Florida is the perfect place to enjoy outdoor living year round! Whether enjoying a balmy summer barbecue, splashing in the pool, or spending a cool morning enjoying coffee on the front porch, your outdoor living areas will likely become a much enjoyed feature of your new home.
Decorating your Florida porch or lanai to your unique style and needs is one of the best ways to enjoy this space, relax, and take advantage of the full potential of the beautiful Florida weather. Here are some great ways to enhance the outdoor living areas in your new Florida home:
Personalize Your Porch
Adding your own touches of style and flair is a huge part of what makes your home somewhere you love to spend time. In addition to a step-by-step how to decorate your lanai guide, pulling in inspiration from different cultures, styles, and color palettes can create a fun personalized outdoor living space! Try out one of these styles on your new patio:
Country Vintage — Repurposed mason jars, antiques, and barbeque pits make up the look and feel of an outdoor county vintage style. To achieve this style, you'll need some distressed, painted wood and a couple of quirky items from your local Florida thrift store. Once this style is complete, you'll be craving a rocking chair, fresh squeezed lemonade, and a warm biscuit on Sunday morning!

Beach House — Hang up a surf board and relax in your lounge chair! Bring the beach into your new Florida home by choosing bright coral, blue, and green accents on top of rustic woods. This style floods the stores in Florida, is always on sale, and is the easiest and most affordable style to achieve overall.

Spanish Décor — Beautiful patterned tile, robust reds, and bronze metals will make your patio come alive with Spanish inspiration. Add in painted clay planters, a small fountain, and white cushions to complete this Spanish patio look!

Bohemian Chic — This style is characterized by its completely care-free and relaxed feel, with deep purples, blues, and rich citrus colors. Lay out some oversized pillows, plenty of fabric accents, and intricate patterns to make this style transpire on your outdoor area.

Modern — Simplify your outdoor space and add a touch of class with a modern look. Modern design focuses on shape and functionality more-so than color, so properly utilizing geometric shapes to fill your patio space and balancing neutral colors will pull this look together. Head to your closest IKEA and start designing your modern patio look!
Bring it to Life with Planters
Try livening up the area with beautiful plants and foliage. Imagine waking up to the smell of your blooming orange trees and blossoming flowers! Florida's weather is great for growing all kinds of plants. Adding in your own herb and vegetable garden also puts money in your pocket, is a great way to get outside, and is a rewarding hobby. There are plenty of DIY tutorials on making raised garden beds, unique planters and growing different veggies. This is also a great idea if you're looking to naturally repel mosquitos; lavender, basil, mint, and many other plants can keep mosquitos away from your home.
Get Creative with Your Seating
Stay simple with a basic wicker or Adirondack lounge chair. Or, try adding in a fun swing chair, relaxing hammock, or wooden bench to give your porch or lanai the individuality it deserves. There are plenty of outdoor chair options that you can order online at stores like Wayfair, or at your local Lowes, Home Depot or hardware store. You can also make custom seating options; you'll find a vast amount of DIY projects on Pinterest. Nobody wants to look over and see that their neighbor's have the same patio set!
Let Nature in with Feeders
Embrace your inner Snow White shine by adding in bird, squirrel, and butterfly feeders. This makes for a fun DIY experience with both children and adults! If you want to see your nature friends right away, you can easily buy all of these feeders at your local hardware and garden store. There are plenty of other feeders for all kinds of wildlife, too. Depending on where you live in Florida, feeders can even attract deer and bunny rabbits!
Let There Be Beautiful Lighting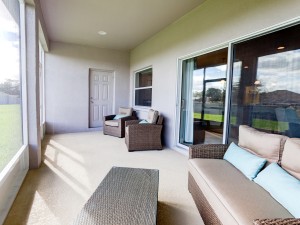 Lighting is an important aspect for any of your outdoor décor. When building your Florida home with Highland Homes, our Personal Selection Studio will offer you outdoor lighting and fan options. You can also get creative with your outdoor lighting with LED rope lights, adding a canopy of string lights, or a romantic evening with relaxing candle light.
Screen in Your Porch
Want to keep bugs out while letting the breeze in? At the Highland Homes Personal Selection Studio, you can choose to add screening to your included covered lanai, or add a screened lanai to a home plan which does not include a lanai standard.
Protect the Floor with Flo-Crete
Flo-Crete is a water-based sealer that you can add on your concrete lanai and porch which protects it from stains and dirt, and creates an easy-to-clean finish. Flo-Crete comes in a variety of colors and creates an attractive, skid-resistant, and durable surface resistant to cracking, fading, and chemical damage. Best of all, it is an option available at the Highland Homes Personal Selection Studio and can be installed before you move in!
Highland Homes builds Florida new homes with lovely lanais and front porches for your outdoor living enjoyment.  Our homes are priced from the mid-$100's to $300's with a wide variety of sizes and layouts to choose from, which can then be personalized to your style at the Highland Homes Personal Selection Studio. Find your new home, with the outdoor living space you have been dreaming of, by contacting our New Home Specialists online or calling 863-797-4999 today!
---
Tags:
design studio
design
Home with Lanai
Highland Homes
florida new home
Florida
new home
FL
---