blog
Why Buy New: New Home Landscaping and Curb Appeal
Why Buy New: New Home Landscaping and Curb Appeal
Posted:
March 9, 2021 |
Categories:
Why Buy New
|
Design and Decorating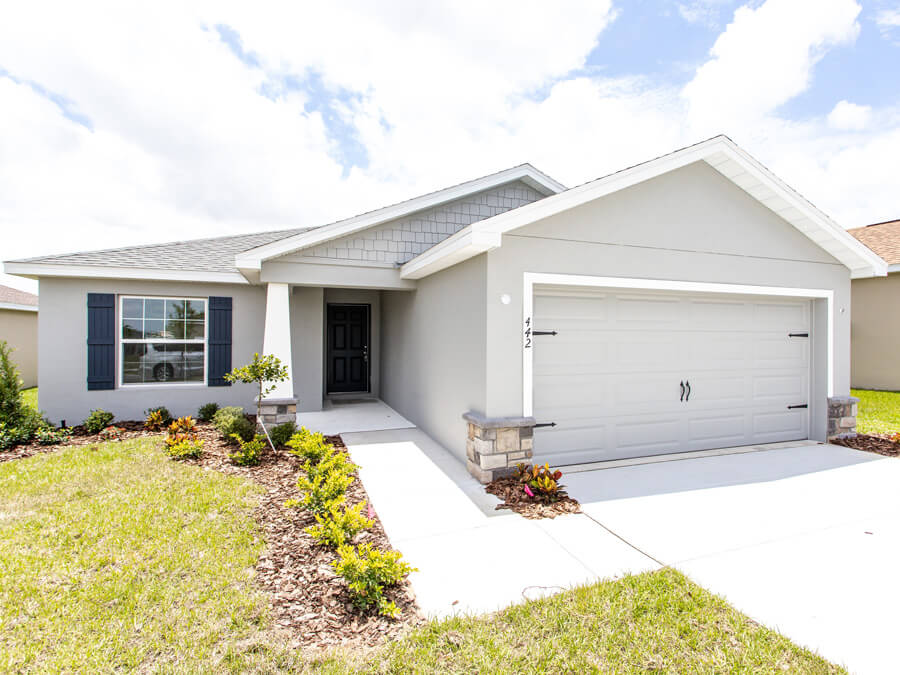 The benefits of owning a new construction home in Florida are many. From increased energy efficiency and lower utility bills when compared to an older home, to the peace of mind of an included home warranty, to the ability to personalize your new home to match your unique style, building your dream home in Florida with Highland Homes has plenty to offer.
And, style and personalization isn't just about the interior! Today, let's talk about the exterior design options, new home landscaping, and curb appeal you will enjoy when you build your Florida new home.
Constructed with Curb Appeal
Curb appeal isn't just the style of your home. It's enhanced by finish elements, your yard and landscaping, and the overall neighborhood aesthetic. Small details such as exterior light fixtures, door hardware, and paint colors (hello, red front door!) make a big difference.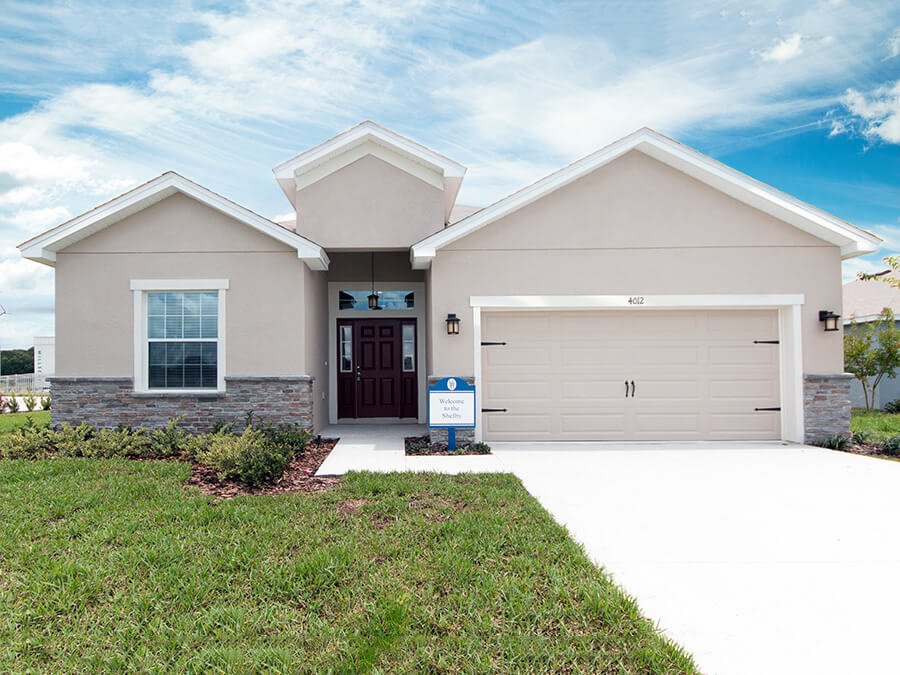 If you are building a new construction home in Florida with Highland Homes, great news – you get to choose all of this, and more! Once you've fallen in love with a home plan, select the exterior elevation you want to build (two to five different elevations, or exterior appearances, are available per plan), and even the home site to build your home on.
From there, at our Personal Selection Studio you will choose from exterior options including your desired paint scheme, shingles, stone and shutter accents (per plan and elevation), front door style and hardware, and porch, coach, and security lighting.
The materials used to build your home also contribute to the curb appeal by providing strong, low-maintenance, and weather-resistant exterior surfaces that will look great for many years to come.
Our homes are built using durable concrete block construction, which provides more protection against wind, rain, and pests than a stick-built home, and contributes to energy-efficiency. After the block walls are built, they are covered with stucco and fiber cement siding (per plan and elevation), and finished with Sherwin-Williams paint formulated to resist mildew and dirt. Depending on the elevation selected, your home may also include decorative accents, shutters, and premium-quality hand-produced stone veneers that make every home look unique.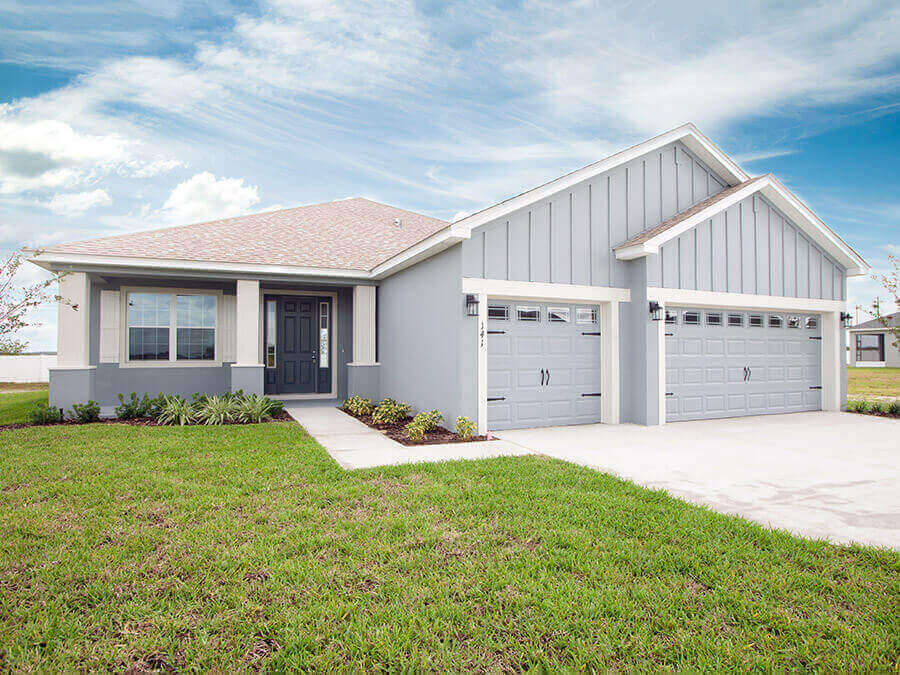 Collectively, this variety of exterior options and construction materials ensures every home is distinctive while providing an attractive, interesting streetscape. The expert designers at the Highland Homes Personal Selection Studio have put together beautifully coordinated paint schemes for you to select from and will assist you with choosing complimentary features and finishes so you can create a home that truly matches your personal style – and you can rest assured your home will not look exactly like your neighbor's!
Personalized home exteriors mean unique homes your friends and family will identify as yours, rather than a cookie-cutter neighborhood where every house looks the same. In addition, living in a community with a Homeowner's Association (HOA) helps ensure the community common areas remain manicured and attractive and that each home in your neighborhood meets community standards, protecting your property value.
New Home Landscaping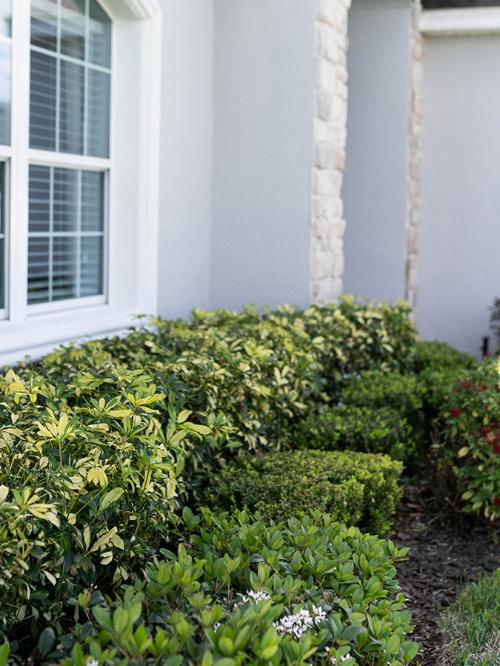 Your landscaping completes your curb appeal, much like the icing completes a cake! One of the benefits of building with Highland Homes is that each and every one of our new construction homes in Central Florida includes a fully sodded yard – front, back, and sides - and low-maintenance Florida native plants, along with a multi-zone irrigation system. New sod requires proper watering and a bit of initial care to take root, and the programmable irrigation makes it super easy to establish and maintain your yard.
New landscaping means there is no yard cleanup needed upon move-in, whereas older homes may require significant TLC tending to overgrown or dead landscaping. When you don't have to spend your time doing yard cleanup, you have more time to enjoy life in your new community! From impressive amenities to fabulous locations with so much to explore and do just steps from your front door, spending time on yard work shouldn't be at the top of your to-do list each weekend.
And, if you have a green thumb or just enjoy working outside, your new home landscaping offers the perfect base to create a garden oasis. From adding lush tropical greenery to pops of colors with beautiful blooming plants, your new Highland home provides the perfect backdrop for your landscaping dreams.
A good place to start is by creating a landscaping plan, keeping in mind things such as light, water, and maintenance needs of specific plants. March is a great time of year to plant in Florida – not too hot, not too cold – and U.F. publishes a helpful guide of what to plant in spring in Central Florida.
No matter what the season, here are a few of our favorite plants for Central Florida landscaping.
Trees
To create shaded areas in your yard or provide visual interest through height and color, we love the crape myrtle, flowering dogwood, magnolias, and longleaf pines. These grow well in the Florida heat and either yield beautiful blooming flowers for visual interest or remain evergreen all year round for constant color and privacy.
And of course, palm trees are a must-have in any Florida yard! Pick ornamental palm varieties that are hardy in Central Florida and keep in mind things such as overall size and sun needs. Some popular native palms include the needle palm, Christmas palm, and saw palmetto.
Before planting trees, make sure to research whether your city, county, or HOA has any restrictions as to types or numbers of trees. While this isn't common, some local governments do require a minimum number of trees in your Florida front yard landscaping, so also keep this in mind before removing any existing trees.
Flowers
Planting annuals, or flowers that only live for one season, is a great way to update your landscaping with vivid seasonal colors. While they have a shorter life span, they are inexpensive, grow quickly, and are a good choice if you want to add instant color to your garden bed. Some annuals that are Florida native plants include coleus, snapdragons, zinnia, verbena, geraniums, and gerbera daisies.
Perennials are flowers or plants that come back year after year. Compared to annuals, some take a longer time to bloom or crop so may not provide instant gratification, but are a good choice if you want to plant one time rather than seasonally. Some of the top flowering perennials that thrive in Central Florida include daylilies, black-eyed Susans, camellias, and plumeria.
Pro tip – Layer flowering plants with different blooming seasons to ensure you have color in your landscaping nearly all year long!
Shrubs
Shrubs are another great option to spice up your landscaping, providing privacy, lush foliage, and beautiful blooms. Selecting Florida-friendly shrubs helps to conserve water, protect the environment, and save you time and resources. Some of our favorites include crepe jasmine, firebush, ixora, and Loropetalum.
Adding decorative landscaping edging around planting areas, landscape lighting, and complimentary mulch or rock are additional ways to elevate your curb appeal. Visit our Florida Landscaping board for more tips and inspiration!
Personalize Your Porch
Our final tip to amp up your curb appeal is to add personal touches to your porch and front door. This can be as simple as some potted plants, a welcome mat, or a door wreath. If you have space, a porch swing or cushioned outdoor furniture provides an unbeatable spot to enjoy your morning coffee while the sun hovers over the horizon. What better way to welcome guests to your new home than by creating an entryway that invites the warm embrace of laughter, friendship, and memories.
Looking for your new home in Florida?
As a Central Florida homebuilder with 25 years of experience helping people achieve their dream of homeownership, we are excited to help you find, personalize, and build your new home in Tampa Bay, Ocala, Bradenton-Sarasota, Metro Orlando, or Lakeland-Winter Haven. Browse our Florida new homes online, and call or email us to connect with a New Home Specialist for more info.

---
Tags:
Front porch
Paint colors
Personal Selection Studio
Outdoor living
Benefits of new construction
Landscaping tips
Why buy new
---