Posted:
November 23, 2020 |
Categories:
News
|
Why Buy New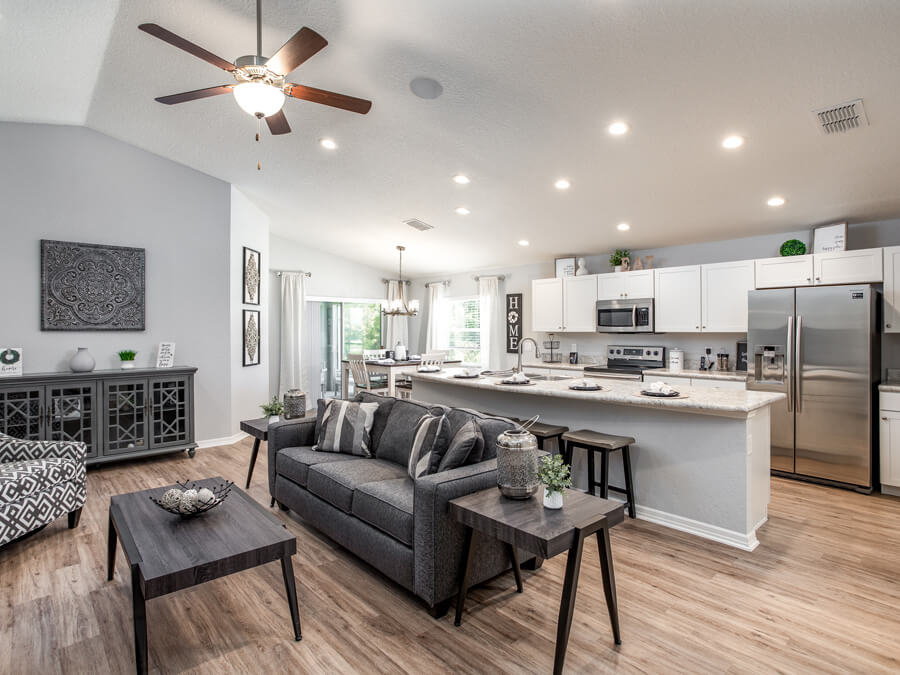 The benefits of owning a new construction home are many, including the convenience of modern design, lower maintenance costs, and knowing your home's history starts with you. And, one of the best parts about building a new home with Highland Homes is the ability to personalize your new home with your own design choices, ensuring it is ready for you to move in and love life without costly, time-intensive, and stressful renovations.
When you build your dream home with Highland Homes, you'll work with a professional designer at the Highland Homes Personal Selection Studio to hand-select the features and finishes for every room in your new home. The Highland Homes design center is a one-stop-shop where you can see and interact with all of the products available for your home, and our professional designers that will help you pick features that complement not only your style and needs but each other. At the Studio, a wide selection of options are available for every room, in every price point, from included and no additional cost to luxurious upgrades.
Here are some of the most popular rooms and options selected by our homeowners in Florida.
The Kitchen
The kitchen is the heart of the home, and likely the room you will spend the most time and effort designing. After all, your kitchen should fit your culinary needs as well as exude your personal style, and with the wide array of options available for your kitchen, you are going to love designing it!
Cabinets are the foundation of the kitchen and the first choice made as they set the tone for every other kitchen selection. We offer five included cabinet choices in a standard 30-inch height – The most popular are white and gray shaker-style cabinets, and three birch wood cabinet choices are available in espresso, walnut, and cherry stains if a wood finish is your personal preference. Your cabinets include your choice of knobs and pulls in satin chrome and bronze styles.
In addition, twelve upgraded cabinet door selections are offered and include the benefit of soft-close hinges. Many homeowners choose to add options to their kitchen cabinets such as crown moulding, a three drawer base (so handy for storing baking sheets, pots, and pans!), and taller 36 or 42-inch upper cabinets which not only add additional storage but also a high-end look to your kitchen.
To cap off your new cabinets, an impressive 20 included premium, low-maintenance laminate countertop options are available with a simulated stone appearance in an array of colors. An even larger collection of upgraded countertop choices are available including 22 HD laminate selections that combine dramatic designs and textures with enhanced durability and scratch resistance, ten gleaming granite choices, six Corian styles, and two Silestone options. An array of edge finishes can be selected, and the crescent edge finish for laminate countertops is a very popular choice.
All of our new homes come standard with Samsung stainless steel appliances including a smooth-top range, a quiet-operation EnergyStar dishwasher, and a microwave with a finger-print resistant finish. Select communities include a side-by-side refrigerator as well, and if yours doesn't, no worries; select the fridge which is right for your household with side-by-side, French door, and four-door flex options, and high-tech wi-fi, voice-enabled controls, and Family Hub screen technology built into select models. If you love a dramatic look, you might choose to upgrade your appliances to a black stainless steel finish. And, upgraded models are available for every kitchen appliance, with a few popular options including a range with air fry mode and a convection microwave.
Additional popular kitchen design features include extensive flooring options (more on those options below), our included Moen stainless-steel pull-down faucet (with upgraded faucet selections also available), and a variety of backsplash options including 3-in. x 3-in. ceramic tiles, 3-in. x 6-in. subway tile, and glass and metal mosaic tiles.
Your Bathrooms
Bathrooms tend to be the second area of focus for home design thanks to the wide selection of bathroom design features available. All of our new homes in Florida include an en-suite owner's bath, and you will have a lot of fun personalizing your private primping space!
Similar to the kitchen, you can choose from five included and twelve upgraded cabinet options in your baths, along with the knobs and pulls. While most homeowners choose the same cabinets throughout their home, you might choose different cabinet or knob choices in your kitchen and each bathroom! Your bathroom layout will dictate the cabinet and drawer stack layout, though in most homes you can choose to add a drawer stack instead of seated vanity space should additional storage be your preference. And, if you are taller in height, you might decide to upgrade to a 36-inch high vanity in your owner's bath for a more comfortable counter height.
Next, you will pick out the countertops to cap off your cabinets - the same options are available here as in the kitchen, and similar to cabinets, you may choose to have different countertops in your kitchen and each bathroom.
Flooring will come next - more on those options below - followed by wall tile to coordinate with your flooring choice. Most of our new home communities include 6-in. square white or bisque ceramic wall tile as standard for the shower and bathtub surrounds. In the owner's bath, most homeowners decide to add an additional touch of luxury and style and love all of the upgraded wall tile choices offered at our design studio. Upgrade options include wall tiles and accent bands in a wide array of colors and materials to ensure your bathroom is the perfect serene escape.
In your bathrooms, you will also choose your faucet fixtures for sinks, showers, and tubs, along with vanity lighting. No 1980's "Hollywood" bulbs here - Your new home includes three-light chrome-finish vanity light fixtures from Seagull Lighting, with a large selection of upgraded fixtures to illuminate your vanity space and take the style of your bathroom to the next level.
Flooring in Your Home
Flooring is next up on the list of options new homeowners love selecting at our Studio! It's easy to see why - flooring covers every square foot of your home's interior, from the kitchen to the bathrooms and every room in between! And, flooring probably sees the most wear and tear of any product in your home since it's walked on, spilled on, and, well, lived on. You will want to choose flooring that coordinates with your color palette, is easy to clean, and incorporates features for your lifestyle, and Highland Homes offers flooring options that will exceed your expectations.
In your bedrooms, gathering room, hallways, and other living areas, your home comes with Mohawk EverStrand stain-resistant carpet available in five color choices, and upgraded carpeting is also available from Mohawk's EverStrand and SmartStrand lineups which offer advanced soil and stain protection, sustainable fibers, and long-lasting durability.
Hard flooring is included in your kitchen, cafe, baths, foyer, and laundry room. In most communities, you have six included Shaw vinyl flooring options to choose from (select communities included ceramic tile in these areas). The included vinyl options offer tile and wood-looks in durable, low maintenance, and water-resistant sheet vinyl.
Many homeowners decide to step up from the included flooring to one of today's most on-trend flooring choices, wood vinyl plank flooring. Because vinyl is water-resistant, vinyl plank flooring can be installed in rooms where traditional hardwood isn't recommended due to moisture, such as your kitchen and baths. And it is a popular choice to install throughout the living area thanks to its high-end appearance which is almost indistinguishable from real wood, yet available at a fraction of the cost and with much lower maintenance than real wood. Vinyl plank is resistant to moisture, won't crack or chip, is more scratch-resistant than real wood, and is easy to clean up spills. In an open floor plan, installing wood vinyl plank in both the kitchen and gathering room creates a perfect cohesive pallet in these adjoining spaces.
We currently offer eight wood vinyl plank colors to suit your style. And, additional flooring options include laminate flooring and ceramic tile flooring, with 15-20 different choices available for each of these flooring products.
Highland Homes' Paint Colors and Exterior Finishes
One of the most common changes new homeowners make upon moving into their home is repainting the walls with a paint color they actually like. Why waste the time - Wouldn't you rather have someone else paint for you before you move in?! When you build with Highland Homes, you choose your paint colors - We include four neutral interior paint choices with a flat finish, and you can choose to upgrade your whole home or individual rooms to almost any color in Sherwin-Williams' paint fan or upgrade to washable paint, a very popular option for those with small children or pets. (Psst... if you are looking to incorporate the latest color trends into your new home design, check out our blog on the 2021 Colors of the Year.)
Moving to the exterior, homeowners in our neighborhoods tell us how much they love the individuality of every home, and the wide array of exterior paint and shingle options they had to choose from. We offer 13 different exterior color schemes, six architectural shingle colors, and a variety of choices for stone and shutters (available on select home plans), coach lights, and front entry doors and sidelights.
The covered entryway or porch of your new home includes a concrete finish called Flo-Crete, and homeowners love how easy this finish makes cleaning as well as the available colors to coordinate with your exterior paint. If your new home includes a lanai, many homebuyers choose to add the Flo-Crete finish to the lanai floor to make this outdoor living space easy to clean, as well as add lanai screening for additional year-round comfort and safety.
Personalizing Your Dream Home
No matter your design style, budget, or preferences, you'll find everything you need to design your dream home at the Highland Homes Personal Selection Studio. Take a 360-degree virtual tour of the Studio or visit our online Inspiration Gallery to see Highland Homes' design center options in more detail and start designing the home of your dreams! To learn more about the design process and find your new home in Lakeland, Metro Orlando, Ocala, Tampa Bay, East Polk County, or Bradenton-Sarasota, call or email us and connect with a New Home Specialist today!
---
Tags:
360 tour
Inspiration Gallery
Why buy new
Design features
Personal Selection Studio
Bathroom design
Design trends
Interior design
Kitchen design
Paint colors
Personalize your dream home
Benefits of new construction
---