blog
Winter Haven: Small Town Charm with Something for Everyone
Winter Haven: Small Town Charm with Something for Everyone
Posted:
July 30, 2014 |
Categories:
Communities
|
General Info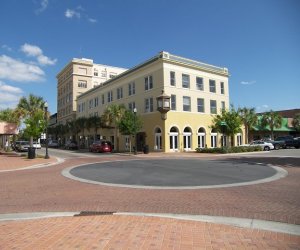 Commonly known as the Chain of Lakes City, Winter Haven, Florida boasts more than 50 lakes that either touch the city limits or are located within the city — approximately 30 percent of the total area of the city is covered by water.  In addition to the waterfront views and multitude of outdoor activities, this city of 35,000 offers small town charm that is centrally located to the attractions of Orlando and Tampa.
Highland Homes has been building new homes in Winter Haven for more than 15 years and the city is home to many of our staff as well as our customers and friends, and we are here to give you the scoop as to why Winter Haven is a great city to live in.
When people think about theme parks in Florida, the first to typically come to mind is Walt Disney World, but did you know that Winter Haven was home to the very first theme park in Florida? In 1936, Cypress Gardens opened its doors, and although the Cypress Gardens theme park is now closed, the property is the current site of LEGOLAND® Florida who continues to preserve the historic botanical gardens. Opened in 2011, LEGOLAND® Florida is the largest LEGOLAND® Park in the world with more than 150 rides, a water park, special events, shows, and the historical botanical garden. Nearly 63 percent* of households in Winter Haven include children under the age of 18 and LEGOLAND® is geared toward children aged two to twelve, perfect for young families in Winter Haven. LEGOLAND® has also spurred the local economy with tourism, and continued expansion of the park includes the LEGOLAND Hotel which is scheduled to open in 2015.
For residents looking to enjoy some of the local flair and small town charm, Main Street Winter Haven offers the perfect mix of history and contemporary events. Currently, there are ongoing preservation efforts of the 50-year-old Ritz Theatre. From special performances to events and weddings, this historic theater is a staple of Main Street Winter Haven.
Known as a city with something always going on, Winter Haven hosts more than 100 events in the historic downtown district and Central Park. One of its most popular events includes Food Truck Wars, an event where food trucks from across the southeastern US compete for top prize. The second annual Food Truck Wars is coming up in September, and Food Truck Rallies are also held monthly and offer a variety of culinary delights. Other ongoing events include a weekly Farmers Market and monthly musical, Family Fun and Fitness, Cruisin' car show, and Downtown Market Events. Popular annual events include Carols in the Park (December), the Central Park Art Festival (March), and Bark in the Park (April).
Aside from food trucks, Winter Haven is home to many great locally owned eateries. Near Country Club Estates, a new Highland Homes neighborhood in Winter Haven, one of our favorites is Harry's Old Place. With a laid back and friendly atmosphere, fantastic fresh seafood, and beautiful views of Lake Ned, Harry's Old Place is a place for good times and great food.
The Seasoned Stone is an eclectic hideaway located in a converted house on the outskirts of downtown Winter Haven. With wonderful indoor and outdoor seating and a frequently changing menu with fresh seasonal dishes, it is the perfect place to sit back and relax while enjoying food and drinks with friends and family.
To satisfy your sweet tooth, we can't forget about Favor Bakery, Gourmet Goodies Bake Shop, and Andy's Igloo. Favor and Gourmet Goodies both offer delicious and customizable cakes, cookies and sweet treats. Andy's Igloo and Drive-In Restaurant has been a Winter Haven institution since 1951 and sports the retro decor to prove it. They offer standard American food but for kids growing up in the area, it's all about the ice cream! There's nothing better on a hot Florida day than a delicious cone or milkshake from Andy's.
For children active in sports, Winter Haven has several competitive youth sports programs including soccer and softball. For competitive swimming, parents won't have to travel far to cheer on their child with meets held throughout the year at the Chain of Lakes Complex. For adults, the Chain of Lakes Complex also offers a variety of workout classes including yoga, zumba and boxing fitness. The many lakes in Winter Haven offer great water recreation including kayaking, fishing, paddleboarding and more. You can also get your fit on while walking or biking on the Chain of Lakes trail, and enjoying many area parks and playgrounds.
As for the job market in Winter Haven, it is also booming with opportunities. In addition to the recently opened Central Florida Intermodal Logistics Center, a planned distribution hub adjacent to the Logistic Center is gaining high interest from potential tenants, including Fortune 500 companies, and is expected to create thousands of jobs.
With all of the outdoor activities, special events, fine dining and job opportunities, it is no wonder that Winter Haven is a top choice for families. For home buyers looking to purchase a home in Winter Haven, we are now selling beautiful single-family homes at Country Club Estates which are near many of the fine establishments and opportunities mentioned. Affordably priced from the $130,000s, homes at Country Club Estates feature up to 2,389 square feet of living space with 10 stylish home designs to choose from showcasing three to five bedrooms. As with every Highland Homes community, buyers have the opportunity to build a home that meets their needs, style and budget with hundreds of design options available in our Personal Selection Studio. To make purchasing a dream home in Winter Haven even more affordable, qualified buyers can purchase a new home at Country Club Estates with just $99 down.
For more information on Country Club Estates, visit the Highland Homes website today.
*Statistic from most recent U.S. census. 
---
Tags:
Winter Haven new home
Winter Haven new homes
Winter Haven
new home
New Homes
---