Posted:
March 28, 2016 |
Categories:
Communities
|
News
|
General Info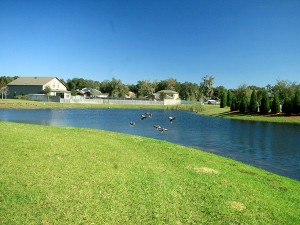 For some, city life comes bundled with more stress, noise, and negative energy than desired. Living in the city often limits your housing options to condominiums or homes without much yard space, and for those who desire a more laid-back lifestyle and a little land to call their own, living outside of (but very near to) the city is a wonderful option!
Why live within the constraints of a hustling and bustling city when you can enjoy the privacy and laid-back lifestyle of a brand new home on one full acre? Think this option doesn't exist in Tampa Bay? It does! Highland Homes is pleased to build new homes on acreage at two communities in Tampa Bay, in historic Plant City, Florida.
When you own a new home in Plant City, you can enjoy coming home to a mellow lifestyle each and every day — while just a short drive from the entertainment and employment the city of Tampa has to offer!
Here are eight benefits of owning a new home on acreage in Plant City, Florida:
Enjoy the Backyard Pool Resort of Your Dreams!
Our acreage home sites offer one-full acre or more — meaning that you have the room and creative freedom to build out your backyard just the way you want it. Imagine calming evenings relaxing in your own private pool, afternoons enjoyed with family and friends, and pool parties complete with your own pool bar and spa, if you would like!
When you build with Highland Homes, you have the option to add a pool with Griffin Pools, our authorized pool contractor, at the same time as construction so it is ready for you to enjoy the day you move in. All you're missing is a margarita and some steel drums!
Indulge in Your Green Thumb
There is nothing better than opening your bedroom window in your Tampa Bay new home and savoring the fresh scent of springtime blossoms. And, what better way to start your day than enjoying a coffee on your covered lanai while gazing at your private garden filled with beautiful blooms and fresh delicious produce? All of the space on your acre home site means you can put that green thumb to use and plant your own personal garden! Growing your own fruits and vegetables not only saves a trip to the store, it provides healthy, sustainable food for your family.
Plenty of Storage Space
Need storage space for your trailer and toys? Maybe you have lawn and garden equipment, motorcycles or ATVs, a boat, or even a travel trailer. The extra land space at your acreage home provides the opportunity to store your toys at home (while staying within any applicable HOA guidelines, of course).
Add a backyard shed for enclosed storage, and from protecting your outdoors toys to providing a home for holiday decorations, you'll never worry about having a cluttered garage, overfilled closets, or a disorganized attic.
Amazing Property Value
Property value is defined as the value of the land itself, as well as any improvements (structures) upon it. Land is something which cannot be reproduced, and therefore is a valuable resource. So, not only can you enjoy the extra land space while living in your acreage home, you can love knowing that you own a valuable resource and asset.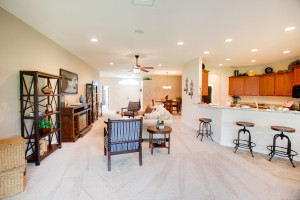 Surround Yourself by Nature
Imagine having your morning breakfast while watching birds frolic and the sunrise glimmer on the horizon. Many of our acreage homes available at Berry Road Estates boast backyard wetlands conservation, providing the opportunity for beautiful nature views, as well as additional backyard privacy.
Appreciate the Privacy
In the city, privacy is a hard-to-come-by privilege as homes in the city usually have very little space between them. No one wants to start their morning looking out of their bedroom window and seeing right into their neighbor's home! When you live on a full-acre, you get the blessing of large amounts of space between homes and privacy from your neighbors. For an added element of privacy, you could even add a fence or choose a home site next to wetlands conservation.
Space to Entertain
Bring everyone together by providing the space for family fun! You'll have room to enjoy movie night on a projector screen in the backyard, roast marshmallows by the fire pit, lay out and look at the stars, play a game of tag, bring out the bounce house, or build a playhouse or swing set which is the envy of every child at heart! And, your animals will love it, too — Fido dreams about the space to run around and play fetch!
More Land = Larger Homes
One of the best things about living on a full-acre is the ability to build a beautiful estate home with the space and features you desire. Our home plans at Berry Road Estates and Eastridge Preserve offer 1,841 to 3,315 square feet of living space with four to five bedrooms, plus additional loft bonus rooms on select plans. There are more than 10 spacious home plans to choose from that offer modern and convenient features like spacious open layouts, luxurious master suites, designer kitchens, relaxing covered lanais, and a 2 or 3-car garage.
Once you have selected your perfect home layout, the professional designers at our Personal Selection Studio will assist you with customizing your home to your style and needs. Select from options within our quality included features and choose upgrade options to personalize your home with luxurious style.
Living in a new home on acreage in Plant City allows you to enjoy quality of life in relaxed surroundings with easy city access. Our new homes in Plant City offer 1.0 to 1.48 acres of land and are priced from the mid $200,000's, with your standard acre home site included in the price! Homes are located near highways for a quick commute to Brandon, Tampa and Lakeland, as well as convenient to shopping, restaurants, schools, parks, recreation, and more!
Limited availability remains in these exclusive communities. To start living life in your very own acreage home near Tampa, contact us online or call our New Home Specialists today at (813) 704-6947.
---
Tags:
Plant City
Highland Homes
acreage homes
new homes Plant City
homes on acreage
Tampa Bay new homes
new home
tampa
Tampa Bay
New Homes
---