blog
Autumn Decorating Ideas for Your Florida New Home
Autumn Decorating Ideas for Your Florida New Home
Posted:
September 24, 2013 |
Categories:
General Info
|
Design and Decorating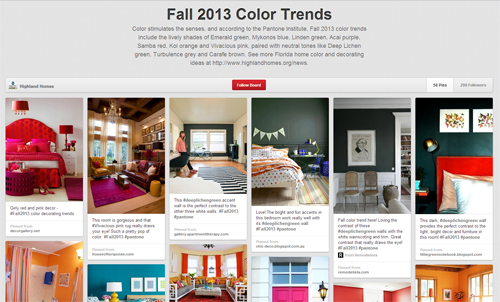 The fall season is here, and I think most of us in Florida are looking forward to the cooler weather and an opportunity to bring out our Fall fashion (ladies, am I right?).  Fall is also a fun time for home décor, and there are a number of simple ways you can transform your space to incorporate  the feeling of the season.\n\nFor fall, the obvious color palette is oranges, yellows, reds and browns. These timeless colors symbolize the changing colors of the trees and holidays that occur during the autumn season.  For edgier Fall décor, the Pantone Institute recently released their fall 2013 Pantone Fashion Color Report, which advises on color trends from the world of fashion, and includes lively shades of green, blue, purple, orange, red and pink, as well as neutral grays and browns.\n\nThe easiest way to seasonally change your décor is with home accessories.  Items like throw pillows, lampshades and candles are simple to store and swap out with the change of the season.\n\nFor entertaining and table settings, pairing white serving ware with orange napkins provides a welcoming contrast and pop of color.  Add fall foliage as napkin rings and center pieces to finish off your table.\n\nPumpkins are not just for Halloween and can be used to tastefully decorate all of autumn.  Start the look on your porch with something as simple as arranging a variety of pumpkins and other squash. Varying flowerpots of different sizes, each filled with mums, can be placed alongside the pumpkins. The colors and shapes alone bring a seasonal cheer that is cozy and welcomes guests into your home.\n\nIndoors, you can go as simple as a group or pile of mini pumpkins on tray on a side table or coffee table. To take it up a notch, try cleaning out a pumpkin and filling it with a bright, cheery arrangement of flowers and even herbs like rosemary and thyme. This floral arrangement draws the eye and its makeshift pumpkin "vase쳌 creates an extra special fall décor piece.  You can even use pumpkins as place cards at an Autumn party!\n\nFor pumpkins with an extra touch of style, consider painting your gourds with metallic paint, like these fun pumpkin candlesticks.\n\nBrowse our Pinterest boards for more home decorating ideas and trends this Fall.\n\nLooking for a Central Florida new home to personalize, decorate and make your own? Highland Homes builds stylish and affordable new homes in Tampa, Orlando, Winter Haven and Lakeland in more than 25 beautiful neighborhoods. For more information on our Florida new homes, visit the Highland Homes website.
---
Tags:
design
design trends
---