blog
Buying Still More Affordable than Renting in Florida
Buying Still More Affordable than Renting in Florida
Posted:
September, 29, 2015 |
Categories:
News
|
General Info
|
Home Buying 101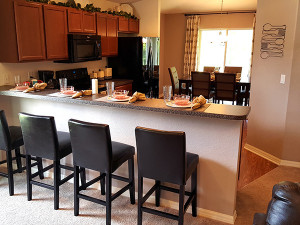 When it comes to deciding whether it's better to rent or buy a home in Florida, there are multiple considerations to make. However, on the financial side, recent research shows that buying a home is still more affordable than renting - even for the Millennial generation.
According to the Bloomberg Millennial Housing Affordability Index, a document that examines the 50 most popular metro areas and ranks them based on affordability, Orlando and Tampa are two of the most cost effective cities in which to purchase a home. The index takes into consideration the median home value of the city and compares it to the average salary that Millennials earn in that city, versus the minimum salary that one would need to afford the purchase of a home.
In metro Orlando, which ranked 20 on the list, the median home value is $180,125 and homebuyers must earn at least $24,290 a year to be able to purchase a home. The average Millennial income in the area is $31,938 which leaves an earnings surplus of $7,648. And, Tampa–No. 26 on the list–is even better. Here, the average home value is $159,800 and buyers must earn at least $21,549 to purchase a home. The median Millennial salary is $33,138, which means most Millennials earn $11,589 MORE than they need to purchase a home!  Add to that the excellent job market that both cities offer, as well as exciting entertainment for young adults, and it's no wonder that these areas are some of the most popular locations for Florida homebuyers.
In addition to Bloomberg's Millennial Housing Affordability Index, the real estates experts at Zillow recently published research on why buying is a better bargain than renting. Zillow's research found that renters spend 30 percent of their monthly income on rent, while buyers spend only 15 percent on a monthly mortgage payment.
And, on average, rental affordability has worsened from year to year in a whopping 28 of the 35 largest metro areas that Zillow examined, while buying a home has become more affordable in many areas. Both rental and home prices are on the rise, but home prices are rising slower at a rate of 3.3 percent per year, while rental costs are going up 4.3 percent per year.
The share of income required to rent is currently at its peak. Pre-housing-bubble, renters spent roughly 24.4 percent of their income on rent, compared to today's 30.2 percent. Meanwhile, homeowners spent approximately 21.3 percent of their income on a mortgage payment historically, and just 15.1 percent today. This means that renting is more expensive than ever, and now is the time to buy.
Why is housing so affordable right now? Well, a lot of it has to do with mortgage interest rates, which are still at all-time lows. This translates to low mortgage payments, which renters can't take advantage of. That, coupled with rising rents, and those looking for housing are finding that they can save much more money by purchasing their dream home than renting.
Plus, as we look forward, rents are expected to keep rising at their current pace over the next few years. According to the article, even if mortgage interest rates rise, it will still be more affordable to buy a home, with home prices continuing to remain under their pre-bubble highs for the foreseeable future.
Zillow also noted that unaffordable rent costs make it harder for renters to save money for a down payment to purchase a home. However, if you're currently renting and dreaming of buying a home of your own, don't let fear of a large down payment hold you back. Here at Highland Homes, with qualifying financing, just $99 down moves you into the new home of your dreams.
And, when you build your new home with Highland Homes, you truly get to create the home of your dreams. We offer more than 30 home plans to choose from with a variety of sizes and layouts including everything from easy-maintenance townhomes to luxurious homes on acreage. At our Personal Selection Studio, you select from hundreds of options to personalize your new home. With a large selection of design options in every price point, from included and no additional cost to luxurious upgrades, your new home will not only perfectly match your style and needs, but your budget, as well.
Homes are priced from the low $100's to low $300's in communities throughout Central, North Central, Southwest and Tampa Bay, Florida. For more information on our stylish and affordable new homes and to learn how you can purchase with just $99 Down, visit the Highland Homes website.
---
Tags:
Florida home
affordable homes
Millennial home buyers
own v. rent
Florida homebuyers
Zillow
affordable
Florida
FL
---