blog
Celebrate 11-11-11 with a Huge Incentive on Lakeland Homes
Celebrate 11-11-11 with a Huge Incentive on Lakeland Homes
Posted:
November 11, 2011 |
Categories:
Events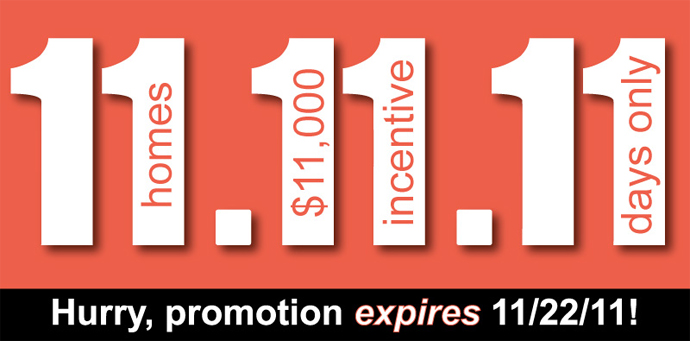 \n
If 11 is your lucky number,then today is your lucky day. If 11 is not your lucky number...well,today is still your lucky day. To celebrate the unique date of 11-11-11, we're offering an $11,000 incentive, on 11 of our most popular floor plans, for 11 days only!
\n\n
You can choose to use the $11,000 incentive towards new home upgrades at our Personal Selection Studio or closing costs on your new Orlando, Tampa, Winter Haven or Lakeland home.\n
\n\n
Whether you are looking for three bedrooms or five, we've picked out some of our most popular floor plans for you to choose from including the 2011 Polk County Parade of Homes winner, the Edinburgh II. For a full list of plans included in the promotion, visit the Highland Homes website.
\n\n
No matter what floor plan you choose, you'll have the peace of mind that comes with purchasing a new home from a top Tampa home builder.
\n\n
Plus, with new home communities throughout Central Florida, we have the perfect location for you. You can find our homes in convenient settings such as Lakeland, Tampa, Orlando, Ellenton, Winter Haven, Davenport and Leesburg.
\n\n
If you have been holding out for the best new home savings, then this is the time to buy! But hurry, this offer is only available for 11 days and expires on 11-22-11. Don't miss your chance to take advantage of our largest incentives of the year. Contact Highland Homes today.
\n\n
For more information about Highland Homes or this incentive, visit our website.
---
Tags:
Highland Homes
Lakeland homes
Tampa home builder
parade of homes
Lakeland
Lakeland home
tampa
Polk county
Polk County parade of homes
---