blog
Exciting New Design Options in the Highland Homes Personal Selection Studio
Exciting New Design Options in the Highland Homes Personal Selection Studio
Posted:
April 24, 2017 |
Categories:
Communities
|
News
|
General Info
|
Design and Decorating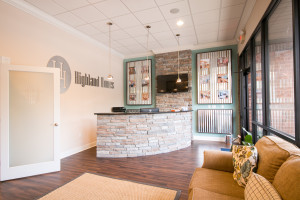 One of the best parts about building your new Florida home with Highland Homes is hand-selecting every detail in our Personal Selection Studio. This one-of-a-kind experience is your ticket to ensuring that your home is designed by you and personalized to your unique style and taste. In our Studio, a plethora of design options are available at every price point, from included and no additional cost to luxurious upgrades.
Our extensive selection of colors and textures will not only perfectly stylize your new home, but will also add easy-maintenance and efficiency for your life. When it's time for your appointment at the Personal Selection Studio, your Design Consultant will aid you in product benefits and provide details to help you make your dream home a reality. Rather than squinting at small pictures and samples, our Studio will give you the opportunity to touch and interact with the products your home will be built with.
With so many styles to appeal to and so much new technology on the rise, we find it important to keep our personalization options continually updated, modern, and efficient. Be sure to ask about each of these brand-new design options during your design appointment!
Brand-New Included Design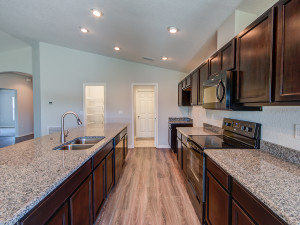 Our selection of included design options are perfect for those of you building your new Florida home on a tight budget. This way, you can choose colors and styles without having to spend a dime. Here are some of the new quality included selections we have added to your options list this year:
New Birch Wood Cabinet Selections by Quality Cabinets®
One of our most popular upgraded features by far are cabinets and we have decided to add 3 new colors to our included line-up; clove, mirage and twilight. Clove is a simple, reddish-brown texture perfect for those of you looking to add just a touch of red. Mirage is a soft and light wood that pairs great with both pastels and light colors. Twilight Espresso finish cabinets were such a popular upgraded feature in the past, we have decided to move this beautiful dark wood to our included line-up for no additional cost! This dark wood cabinet mixes black with a cherry wood look to add a modern and sleek finish to any home.
New & Durable Vinyl StrataMax by Armstrong Flooring®
We've upgraded our included vinyl to high-performance StrataMax, a texture vinyl flooring that piles on layers of performance, durability and beauty in a revolutionary sheet floor. This new flooring is tough on stains, easy to clean and low maintenance. We're offering 10 color choices in several different patterns available for kitchen, bath, foyer and laundry rooms.
Beautiful New Exterior Color Schemes by Valspar®
We have broadened our color spectrum and added 12 new Valspar exterior paint color schemes for those of you looking for both soft and dark colors. Each scheme will feature a body, trim, accent and 2 choices of front doors for no additional charge!
New Luxurious Upgrades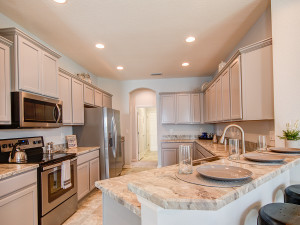 If you're looking to add a few decadent finishing touches to your new Florida home, be sure to ask your Design Consultant about these new selections:
High-End Maple Wood & Painted Cabinets by Merillat®
Our new Level 1 Cabinet is a recess panel maple in 3 beautiful colors; Pecan, Sable and Sedona. Add Pecan for a dark brown maple wood cabinet that pairs perfectly with black and stainless steel finishes. For a lighter color with a bit more warmth, add Sable cabinets. And, for true a cherry wood look, finish your home with Sedona. Level 2 Cabinets offer painted maple wood selections in white and gray with recessed panels. Pricing will depend upon your home plan.
All New Cabinet Hardware from Amerock®
If you're looking to add a bit of flair and functionality to your cabinets, we have added 15 new cabinet hardware selections for your entire home at a reasonable price. Choose from modern and simple to classic and detailed styles in a range of colors including brushed nickel, forged bronze, oil rubbed bronze and more.
Beautiful & Durable Vinyl Planking by Armstrong Flooring®
This brand-new option is a first for Highland Homes! This planking is a simple solution to achieving the wood-look flooring style in your new home at an affordable cost. This easy-to-clean, low-maintenance, high performance, and durable flooring is placed in individual plank verses and looks great in any home! Pricing per plan and per room.
Sleek, Modern, Laminate Crescent Edges by Wilsonart®
Our laminate countertops now have more options for edges other than the typical bevel. For an additional charge, you can upgrade your laminate countertops to a crescent edge. This beautiful edge accent gives a soft curve on the top of your countertops for a very high-end designer look.
Get Ready to Personalize Your Dream Home!
Adding your own personal touch, style, and flair is one of the most exciting parts about building a new home from the ground up. Need more design inspiration? Follow us on Instagram to view pictures of our beautiful, professionally designed and decorated model homes.
Are you ready to start designing your new Florida home? Those of you who have already signed an agreement to start building your new home should already have an appointment scheduled with your personal Design Consultant. Otherwise, contact our New Home Specialists at 863-797-4999 or email us today to start building your new home and start designing!
---
Tags:
design studio
new designs
cabinets
personal
color schemes
dream home
flooring
personal design studio
design
Highland Homes
personalize
FL
---