blog
Five Most Popular Design Upgrades in Florida Homes
Five Most Popular Design Upgrades in Florida Homes
Posted:
February 19, 2014 |
Categories:
News
|
Design and Decorating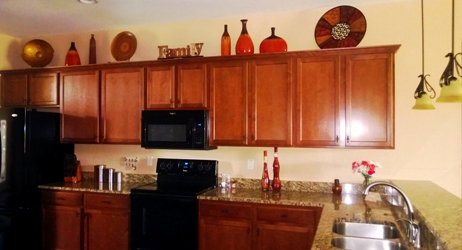 One of the most exciting parts of the building process with Highland Homes is visiting the Personal Selection Studio and working with one of our design consultants to personalize your new home. The Studio offers a variety of included and upgrade options so you can perfectly design every room of your home to fit your style, needs and budget.  We work with hundreds of Florida home buyers every year, and make note of popular design trends and upgrade options.
In 2013, the most popular Florida new home upgrades were:
1.      Appliances
Every year, upgraded appliances make our list of popular home upgrades. Highland Homes offers Whirlpool appliances in a variety of styles, colors and price points, and most of our new home buyers choose to add a refrigerator and washer and dryer when they purchase their home. Our prices include tax, delivery, warranty and installation, so are comparable or better than pricing from other sources. What really makes appliance upgrades popular is the convenience. Your appliances will be installed before you even move in, so you can check that off your moving checklist.  Also, in most cases, the appliances can be added to your mortgage so you do not have to worry about coming up with the cash to purchase them out of pocket.
2.      Cabinetry
In 2013, upgrading from our included oak wood cabinets to birch wood cabinets increased in popularity. Our birch cabinets from QualityCabinets are a recessed panel style with solid wood doors and come in four finishes, with two dark and two light stain options. Birch wood is similar to maple and has less graining than oak, so provides a more uniform finish.  This first-level cabinet upgrade costs from $350-$650, depending on the floor plan. The Selection Studio also offers kitchen cabinet crown molding and knobs to fine tune the look of your cabinets, as well as tip-out and roll-out trays for convenience and organization.
3.      Granite Countertops
Granite has been very popular ever since we started offering it in 2012, and we now offer seven colors for you to select from. The granite choices vary from light to dark, solid black to neutrals, and include selections with lots of character and veining. Our granite prices are very competitive and in the kitchen, the granite upgrade includes your choice of three edge profiles, a stainless steel under-mount sink and a Delta stainless waterfall faucet with soap dispenser.
4.      Electrical Pre-Wires
Electrical upgrades continue to prove popular. Why? Convenience! Rather than going back into the walls once your home is completed, you can opt to add electrical outlets, cable pre-wires and other electrical features built-in right where you want them! Planning to wall-mount your TV? No problem, we can install your outlets at the right height to hide your cords. Additionally, surround sound and structured media technology packages are available. Other common electrical upgrades include coach lights, flood lights and surge protectors.5.     
5. Bathroom Wall Tile
The fifth most popular upgrade option in 2013 was decorative bathroom wall tile.  Our shower and tub areas come with 6" x 6" white ceramic tile on the walls and 3" x 3" tile on the shower floors, which is already a great design feature when compared to the molded plastic showers found in many homes. Most of our buyers opt to upgrade the tile to one of our decorative options, to add additional style to their baths.  For just $100, bath tile can be upgrade to bisque, an option which also changes the color of sinks, tubs and toilets to bisque.  The level 1 upgrade ups the wall tiles to a larger 9" x 12" size, in white or bisque.  Level 2 and 3 ceramic tile upgrades are available in a variety of tones and tile sizes, and come with a decorative accent band that adds a dramatic focal point to the bathroom.  We also offer matching floor tile selections, so you can create the perfect finished look
One of the best things about building a new Highland home is being able to personalize your home, so it is perfectly designed by you, for you, without having to make renovations when you move in. The design professionals at the Highland Homes Personal Selection Studio will help you to perfectly design the Florida new home of your dreams.
The first step is locating your perfect neighborhood and floor plan. Visit the Highland Homes website today and reach out to one of our New Home Specialists who will assist you with finding your perfect new home.
---
Tags:
personal
luxury home upgrades
Luxury
selection studio
personal selection studio
---