blog
Home Buying 101: Home Affordability Better Now than 1985-2000
Home Buying 101: Home Affordability Better Now than 1985-2000
Posted:
July 12, 2018 |
Categories:
News
|
Home Buying 101
Rising home prices have some worried about home affordability, but the price is only part of the puzzle. Mortgage interest rates play a significant role in determining the total amount of your monthly payment and how much house you can afford. If you're unfamiliar with how interest rates may affect your mortgage payment, know that you're not alone! Interest rates are misunderstood by many and helping you navigate the home buying process is why we created and continue our Home Buying 101 series. This installment explains how interest rates affect your mortgage payment and what that means for housing affordability.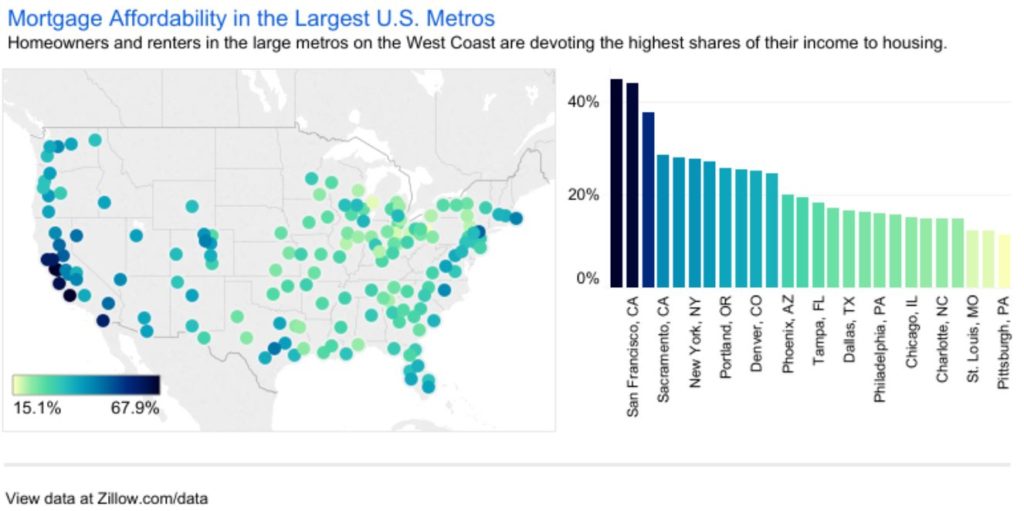 Simply put, mortgage rates are the interest that you pay the bank for the privilege of using the bank's money to buy a home. Minimum or "prime" interest rates are controlled by the Federal Reserve. Your credit score directly affects your interest rate, as well as factors such as the type of mortgage you select and over how many years you have to pay it back. Your monthly mortgage payment consists of principal, or a portion of the original cost of your home, as well as the interest accrued on the balance that month. (These aren't the only factors that go into your mortgage payment, but together, these two items make up the largest chunk of your payment.)
Current 30-year fixed mortgage interest rates are about 4.5 percent, which is about half of the average 8.92 percent rate between 1985 and 2000! And, when talking affordability, we must also remember that incomes have increased over the decades. According to a recent report from Zillow, homes are more affordable today than they were back in 1985 to 2000. In addition, homes are more affordable now than they were at the peak of the housing bubble in 2006!
To calculate home affordability, Zillow compared an area's median-valued home to the area's median income. Nationwide, in the first quarter of 2018, the share of income used to make the mortgage payment on the median U.S. home was 17.1%. This is well below the historic (1985-2000) average of 21.1%, despite rising home prices and interest rates!
We've all heard that interest rates are rising, and economists anticipate that rates will hover around 5% by year's end. So, what does this mean for home affordability? The percentage of income needed for a mortgage payment will rise, but homes will still be affordable. Interest rates would have to climb to about 6% before the average priced home becomes less affordable than it was historically!
Locally, mortgages are also far more affordable than both historic and current rent averages. Zillow's report compared housing and rent affordability for dozens of major metros across the U.S., including many of the Florida markets in which Highland Homes builds. In all of Highland Homes' Florida markets, current mortgage affordability is better than the historic average, as well as far more affordable than the share of income spent on average rent in the area.
Owners of homes in Lakeland pay an average of just 16.9% of their income on their mortgage. This is the lowest of all the Florida real estate markets where Highland Homes builds (of those included in Zillow report). In comparison, renters use a whopping 30.6% of their income on housing costs. The current mortgage affordability in Lakeland is 0.3% better than the historic average, while rent is 4.5% more expensive than it was in 1985-2000.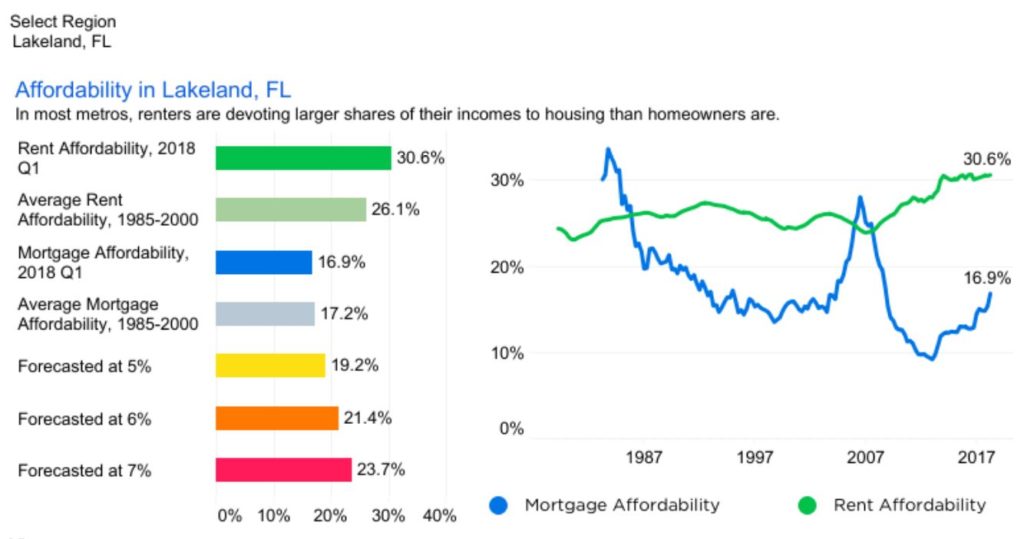 Home buyers searching for a new home in Bradenton or Sarasota also find owning a home more affordable than renting. The current portion of income devoted to paying a mortgage is 21.9%, while renters spend 37.9% of their income on housing - a 16% difference. For a home buyer earning $40,000 per year, that is an additional $6,400 spent annually on housing costs!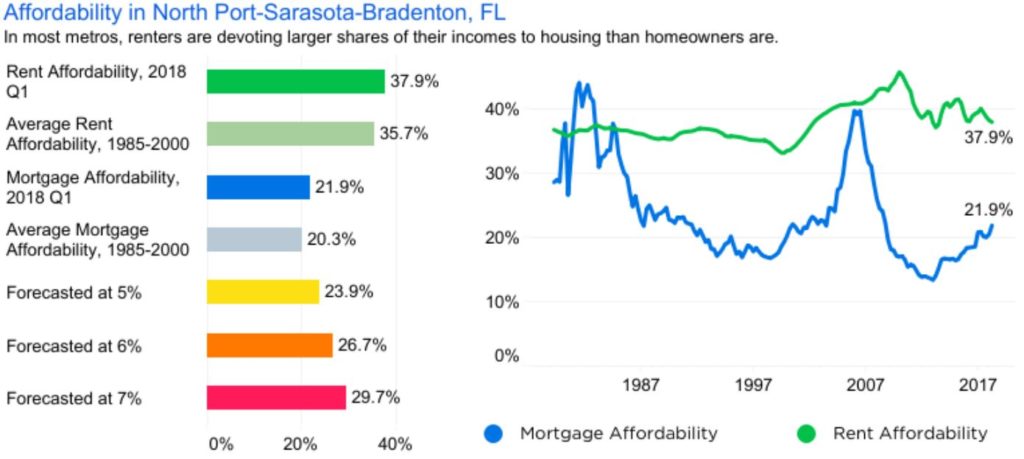 Orlando new home owners also experience better mortgage affordability. In Orlando, homeowners spend 19.8% of their income on a mortgage, while renters spend 31.7% of their income on housing costs. For renters, current rates are 9.1% higher than the historic average, illustrating just how much rents have risen in Orlando. The numbers are similar for those looking for a home in Tampa, where homeowners spend 18.2% of their income on a mortgage compared to renters, who spend 31% of their income on rent.
If you're ready to stop paying inflated rent prices and instead take advantage of interest rates and affordability to own a home of your own, now is clearly a great time! And, for even more buying power, you can save up to $15,000 when you accomplish your American Dream of home ownership and build your dream home with Highland Homes in July! Learn more and find your new home in Tampa, Bradenton-Sarasota, Metro Orlando, Lakeland-Winter Haven, Ocala or Tampa Bay by contacting our Florida New Home Specialists at 863-797-4999 or visiting Highland Homes online.
---
Tags:
Orlando
new homes in Bradenton
Bradenton
home buying
Home Buying 101
Lakeland
orlando homes
mortgage
mortgage rates
Zillow
Sarasota
new home
New Homes
---