Posted:
November, 13, 2015 |
Categories:
News
|
Home Buying 101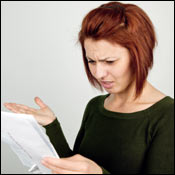 You may have recently heard your lender or a local newscaster use the term TRID. Since this term is also known as the "Know Before You Owe쳌 rule, we thought you might want to start out by knowing what TRID is!
TRID, aka the TILA/RESPA Integrated Disclosure rule, aka the Know Before You Owe rule, is a set of new mortgage regulations which took effect on Oct. 3, 2015, and are designed to make it easier for home buyers to understand their mortgage.
TRID standardizes and combines mortgage documents into simplified forms required to be used by all lenders. The new forms highlight the information important to borrowers, such as monthly payments, closing costs and loan terms, and must be provided on a strict timeline which gives you time to review and ask any questions before going to the closing table.
Loan Estimate
This three-page document combines two forms borrowers previously received: the Truth in Lending disclosure (TIL) and the RESPA Good Faith Estimate (GFE). The Loan Estimate shows you important facts about your loan, such as the interest rate, monthly payments and loan costs, including closing and appraisal costs. This document should be provided to you within three business days after you provide the lender with your basic info including your name, income, SSN, property address, purchase price and amount you wish to borrow.
Understand, this is an estimate only; neither you nor the lender has committed to the loan terms outlined. This document simply shows you what to expect if you decide to move forward with the mortgage application.
Closing Disclosure
This five-page document replaces the previous HUD-1 form and final TIL. Your lender must provide this at least three business days prior to closing; this gives you time to review the finalized loan terms. They should closely mirror the Loan Estimate you were previously provided, but factors which could change the terms include a change in loan program or down payment amount, change to your credit, or your lender could not verify the income numbers you provided, which can change your loan qualification.
The Closing Disclosure also provides more detail about your loan, now that all of your personal info and property info has been verified. It will break down your closing costs and loan terms, and include other costs such as property taxes, homeowners insurance and mortgage insurance (if required). This document also spells out what is included in the escrow portion of your mortgage payment, prepayment penalties and potential payment changes in future years.
Two of the most important sections to review are the Projected Payment and Cash to Close. Projected Payments break down your total estimated monthly payments including loan principal and interest, mortgage insurance (if required) and escrow items, which typically cover your property taxes and homeowners insurance. Cash to Close is the amount in down payment and closing costs you must bring, in certified funds, to the closing table.
If you see any errors on the Closing Disclosure, it's important to let your lender know immediately! Since you must have this document in your hands three business days before closing, it's important that an updated disclosure be issued to you ASAP so as not to delay your closing and moving into your new home.
If you have additional questions on TRID, consumerfinance.gov provides online resources or our preferred lenders are happy to answer your TRID or other finance related questions. A big thank you to Ricky Peacock of Home Solution Lenders, Inc., who answered our TRID questions and helped us to write this article for you!
And, if you are looking for a new home in Central, North Central, Southwest or Tampa Bay, Florida, please give us a call! Highland Homes builds new homes designed for your life, offering choices ranging from easy-maintenance townhomes to luxury estate homes on acreage. Homes are priced from the $130's to $300's per community, and designed with layouts and features to simplify everyday life. View our communities here, and call us at 863-797-4999 or email us to connect with a Florida new home specialist and find your new home!
---
Tags:
Highland Homes Preferred Lender
Highland Homes
florida new home
home buying
Florida
new home
FL
preferred lender
---