blog
Home Design Showcase: Wilsonart® Laminate Countertops
Home Design Showcase: Wilsonart® Laminate Countertops
Posted:
March 28, 2019 |
Categories:
Why Buy New
|
Design and Decorating
Updated September 30, 2021
Building a new home in Florida means you have the opportunity to select the features and finishes that will turn a house into your dream home! Visiting the Highland Homes design studio and choosing the paint colors, flooring options, and fixtures that will be used in your home is an exciting experience!
Over the years, we've found that new homeowners especially enjoy designing the spaces they'll use the most, such as the kitchen. One of the choices you'll get to make when you build your dream home with Highland Homes is the countertops not only in your kitchen but also in your bathrooms and drop zone (if your home has one). Kitchen countertops are perhaps one of the most-used surfaces in your home and understanding how various countertop materials perform is important when deciding which type of countertops (laminate, granite, or quartz) are the best fit for your new home.
Wilsonart® laminate countertops are included as the standard in our new construction homes in Florida. Why do we love laminate so much? Laminate is regarded as one of the most environmentally-friendly countertop surface options, it's low maintenance, and offers extensive design flexibility with a wide selection of different colors, patterns, and surface finishes.
Plus, the Wilsonart countertop selections we offer are far from basic with a wide selection of Premium and HD laminate choices. Here are the laminate countertop options you can choose from when you build with Highland Homes.
Wilsonart Premium Laminate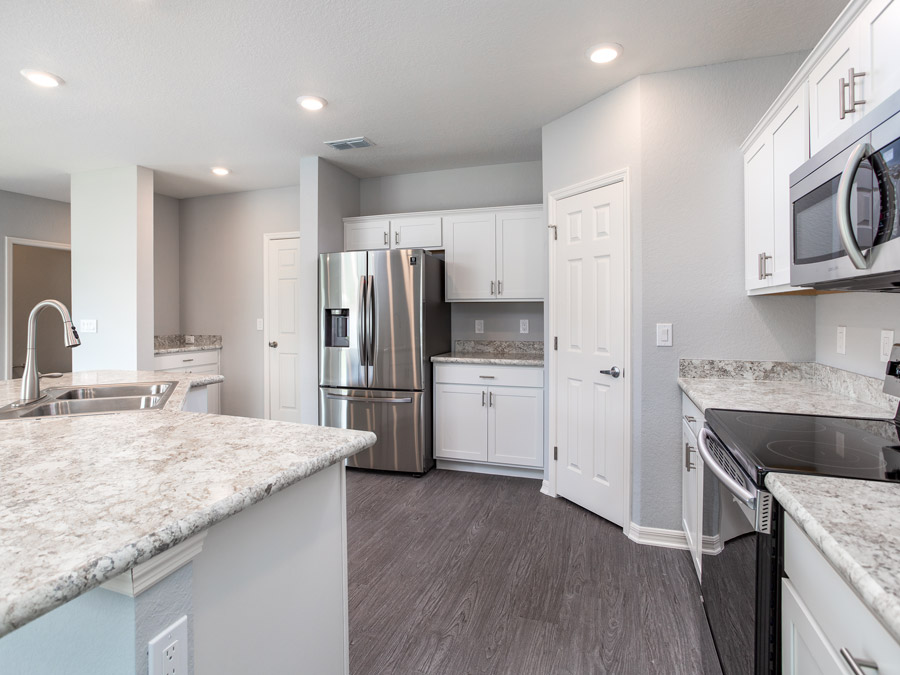 Benefits of Premium Laminate
Wilsonart's Premium Laminate is included standard in most of our communities, but don't let that fool you – these countertops are far from basic. Premium Laminate countertops are both durable and versatile with benefits including:
AEON™ Enhanced Performance Technology, which outperforms traditional laminate with up to 3X the wear, scratch, and scuff resistance — a necessity for your busy life!
Low maintenance with a stain-resistant and moisture-resistant surface that's easy to clean
A variety of colors and finishes for a custom look at a budget-price
Premium Laminate Color and Style Options
At the Highland Homes design studio, you can select from 23 unique Wilsonart laminate countertop options and there are two different surface finishes available in this line – a high gloss finish or an antique matte finish.
Light-colored countertops are versatile and never go out of style, and that's reflected by the most popular premium laminate selections chosen by our Florida new homeowners:
Spring Carnival, a soft-colored granite-inspired design with a mixture of grey and almond (beige) accents, with a high-gloss finish reminiscent of natural stone
Calcutta Marble, a large-scale Italian marble design with a white base and gray and taupe brown veining, in a high-gloss finish
Glacier Quartzite, a linear stone pattern comprised of white, taupe, and grey-blue tones, with a matte finish
And if you happen to prefer the dramatic look of dark-colored countertops, do not fear – you are covered with popular style choices such as Black Alicante and Praline Antico.
Wilsonart HD Laminate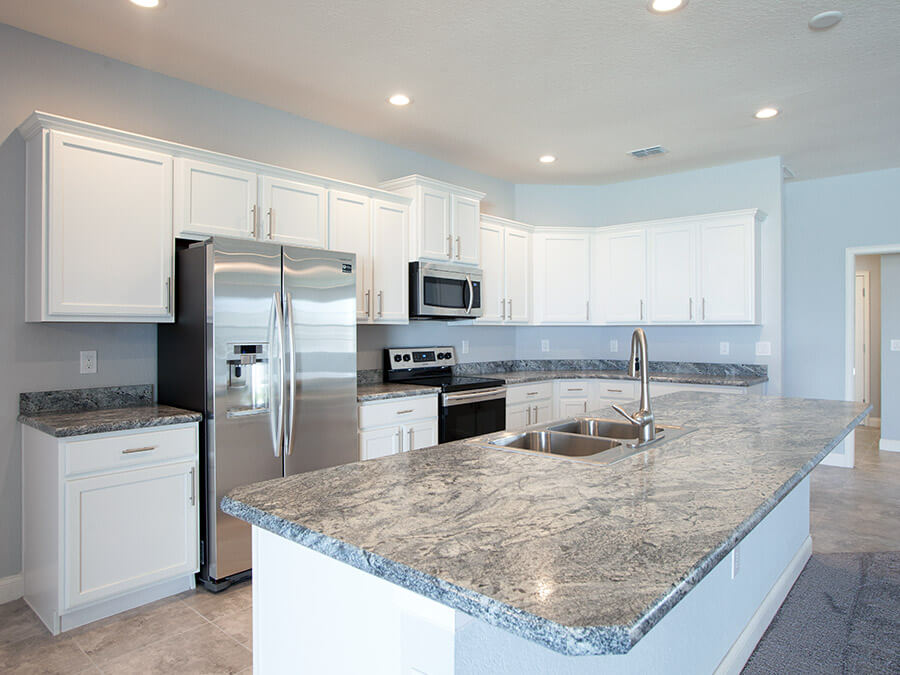 Benefits of HD Laminate
Wilsonart HD laminate countertops are included at select Highland Homes Florida communities and are available as an upgrade at others. As you may expect, HD stands for High Definition - and these countertops bring high-definition style and long-lasting performance into your home with benefits including:
A textured surface that resembles a natural stone
AEON™ Enhanced Performance Technology, which in the HD line is enhanced to outperform the competition with up to 5X the scratch and scuff resistance compared to standard laminates, making this an optimal laminate choice for high-use surfaces.
Built-in antimicrobial protection that inhibits the growth of mold, mildew, and bacteria
HD Laminate Color and Style Options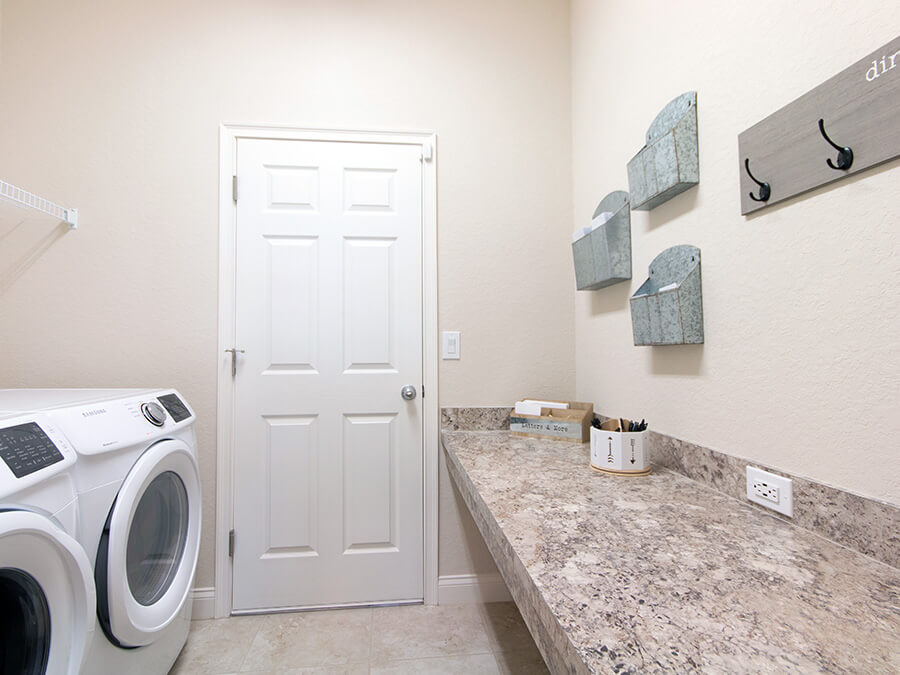 The texture and feel of these eye-catching countertops is more pronounced than the texture of the Premium laminates, and many people do a double take to determine if they are looking at laminate or natural stone.
Wilsonart HD laminate choices at the Highland Homes design studio include 20 unique colorways, and our most oft chosen options include:
Lario, a bold, large-scale marble design that blends light tan, warm taupe and deep brown in bold movement with a hint of black
Autumn Carnival, with a design reminiscent of granite featuring light beige with subtle accents of dark and milk chocolate, and lots of warm tones mixed in
Cipollino Grigio, a dramatic slate-colored large scale stone-look with veining in light and dark grey tones, and hints of white crystals
Additional Benefits of Wilsonart Laminate Countertops
With something as highly used as your countertops, it's not just about colors – it's about the ease of maintenance, sustainability, and finishing details. So how does Wilsonart perform?
Edge Finishes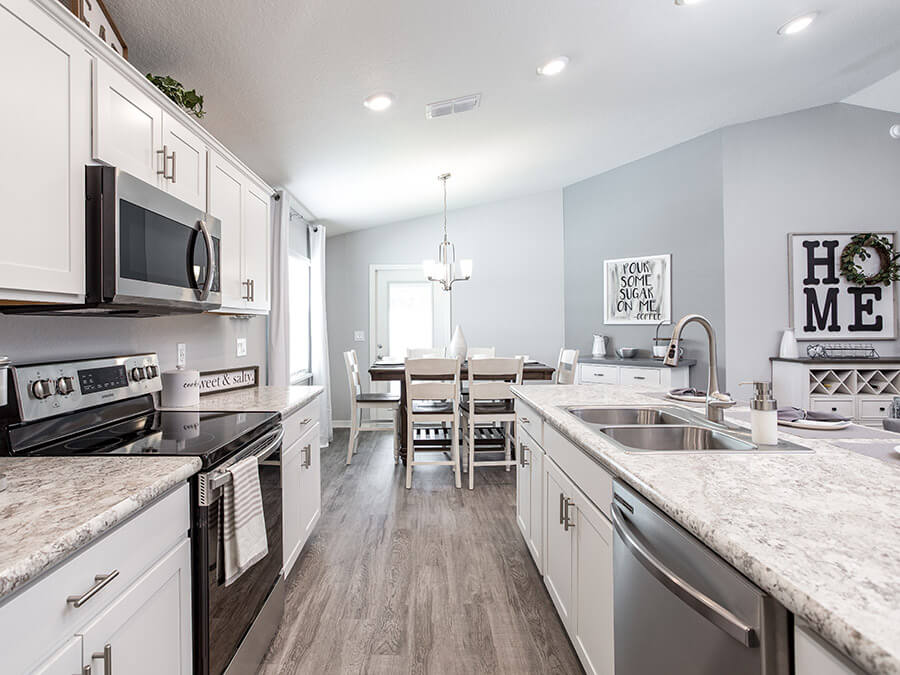 In addition to the different colors, textures, and surface finishes, you can choose for your laminate countertops to feature a crescent edge or beveled edge finish instead of the traditional square edge. These edge finishes make your counters look more like natural stone, add an elegant finishing touch, and small details like this add a uniquely different look and feel to your new home.
Eco-Friendliness
Wilsonart Premium and HD countertops contain 30% of recycled materials, which is 2X more than other brands. Manufactured in the USA and crafted using sustainably managed eucalyptus and pine fibers, they are engineered to not only look beautiful but help the earth stay beautiful as well.
In addition to the eco-friendly construction, Wilsonart Premium and HD countertops are GREENGUARD Gold certified for low VOCs and hold an SCS Indoor Advantage™ Gold Certification for indoor air quality, protecting the health and wellness of your household.
Cleaning Laminate Countertops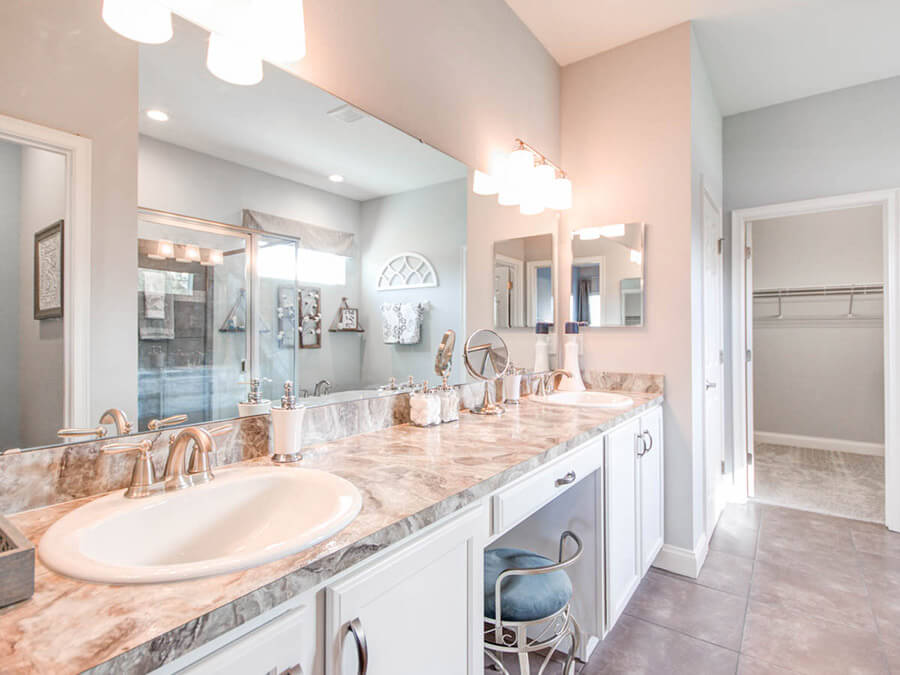 Laminate countertops are easy to clean and maintain, and Wilsonart's AEON™ finish makes them even more durable than the norm.
For routine cleaning, we recommend a damp cloth and a mild soap – wipe, rinse, and wipe dry.
For tougher stains, try a soft-bristled brush with a mild household cleaner such as Windex, Mr. Clean, and Isopropyl Alcohol. If that doesn't work, use a paste of baking soda and water with light scrubbing – but be careful not to overdo it or use too much force if you have a glossy finish laminate.
For disinfection, a diluted bleach solution and commercial products such as Clorox and Lysol sprays and wipes are appropriate. Check out Wilsonart's cleaning and disinfecting info on their website for a full list of cleaning products approved by Wilsonart.
The primary don'ts to keep in mind when living with laminate countertops:
Don't use abrasive cleaners or products such as steel wool
Never set hot pots, pans, or dishes directly on laminate countertops
Don't cut directly on countertops
Chemicals in drain, toilet bowl, and oven cleaners will damage the surface and, if spilled, should be wiped up immediately then rinsed several times with water
Choose the Ideal Countertops for Your New Florida Home
When you build your dream home with Highland Homes, the design professionals at the Highland Homes Personal Selection Studio will help you select the features and finishes that will turn your house into your dream home, including your countertops! Get a head start on your dream home design by browsing Florida new home photos and saving your design faves in our online Inspiration Gallery!
Questions? Comments? Ready to design a home (and life) you love? Were here to help - Call or email our Florida New Home Specialists today.
---
Tags:
Wilsonart
countertops
drop zone
kitchen counters
wilsonart laminate countertops
design trends
kitchen design
Personal Selection Studio
personalize your dream home
---