blog
Hot Design Options Now Available for Your Florida New Home
Hot Design Options Now Available for Your Florida New Home
Posted:
March 14, 2018 |
Categories:
News
|
Why Buy New
|
Design and Decorating
Updated March 22, 2021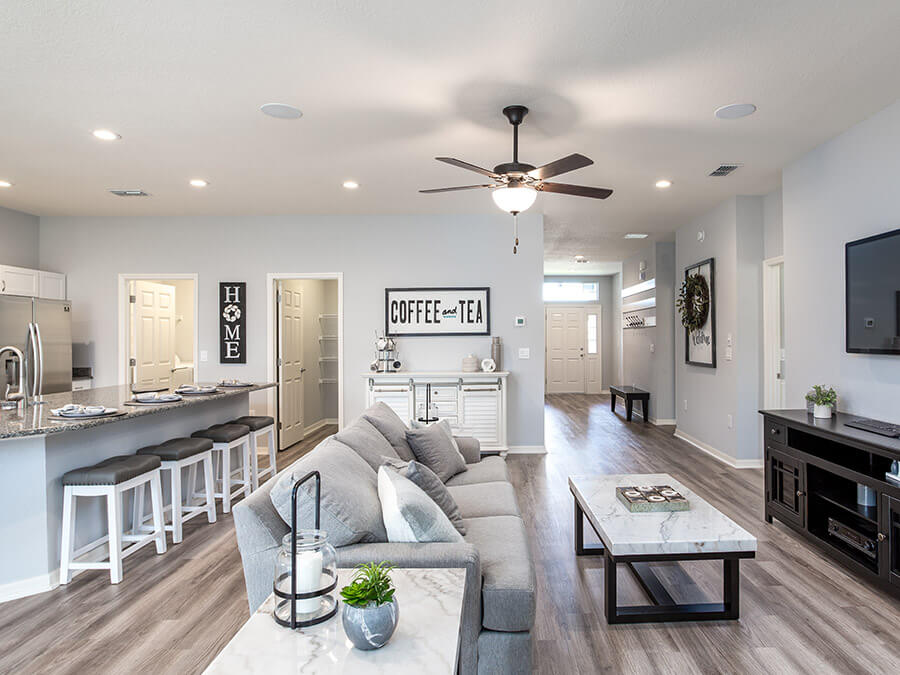 Building a new home in Florida is an exhilarating and fulfilling experience. The benefits of buying new range from the convenience of modern design and safety codes, to moving into a home shiny and new rather than old and tired, to knowing your home's history starts with you.
And, when you build your Florida new home with Highland Homes, there's even more to love. Our unique home-building experience puts you in the driver's seat. First, you select your ideal neighborhood from our more than 20 available communities. Then, you pick the home site and your perfect home plan layout. Finally, at the Highland Homes Personal Selection Studio, you will work with a professional designer to choose the features, finishes, and colors that will turn your new house into a home that matches your style and needs!
Our designers are continually looking at what's popular in home design as well as specifically with our new homeowners in Florida so we can offer the design options you want for your new single-family home. From paint schemes to on-trend appliance options, read on to learn about some of the hot, new selections available to you at the Studio!
Paint
Sherwin-Williams is our paint manufacturer of choice with over 150 years of paint excellence. Choose from 14 exterior paint schemes, as well as four interior color options that include popular neutrals other than white — two gray-toned paints, and two brown-toned hues, paired with a classic white ceiling and trim. Or select from a wide array of interior paint colors for a small upgrade fee! Check out the Sherwin Williams visualization tool, which allows you to visualize both exterior and interior paint colors.
Countertops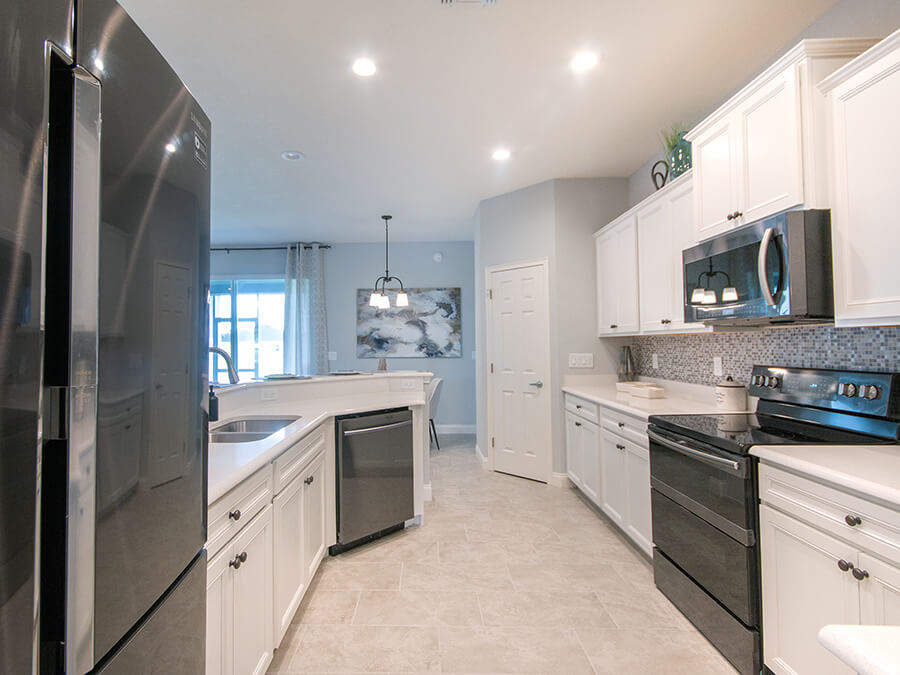 Looking for solid-surface counters with an easy-to-maintain finish? Silestone is a combination of quartz and other natural materials manufactured to provide the look and feel of stone, providing a non-porous surface with many benefits:
Hygenic and easy to clean
Stain and acid-resistant
Scratch and impact-resistant
These features make Silestone an ideal choice for kitchens and baths. When you build with Highland Homes, you can choose Silestone in two on-trend color selections, Blanco City and Blanco Maple, both light-colored options that are perfect to pair with almost any cabinets and flooring of your choice.
In addition, we now offer several new laminate options from Wilsonart. Laminate is increasingly popular for its affordability and variety of style options, with on-trend laminate designs simulating natural stone and wood. Depending on the community in which you are building, your home will include either premium laminate with a standard edge or HD laminate. Options are available to upgrade to a beveled edge for $200-$550, a crescent edge for $325-$675, or HD for $300-$700 if you're building in a community where premium laminate is included.
Rounding out countertop choices are an array of granite colors, which remain one of the most popular design upgrades selected for Florida new homes.
Appliances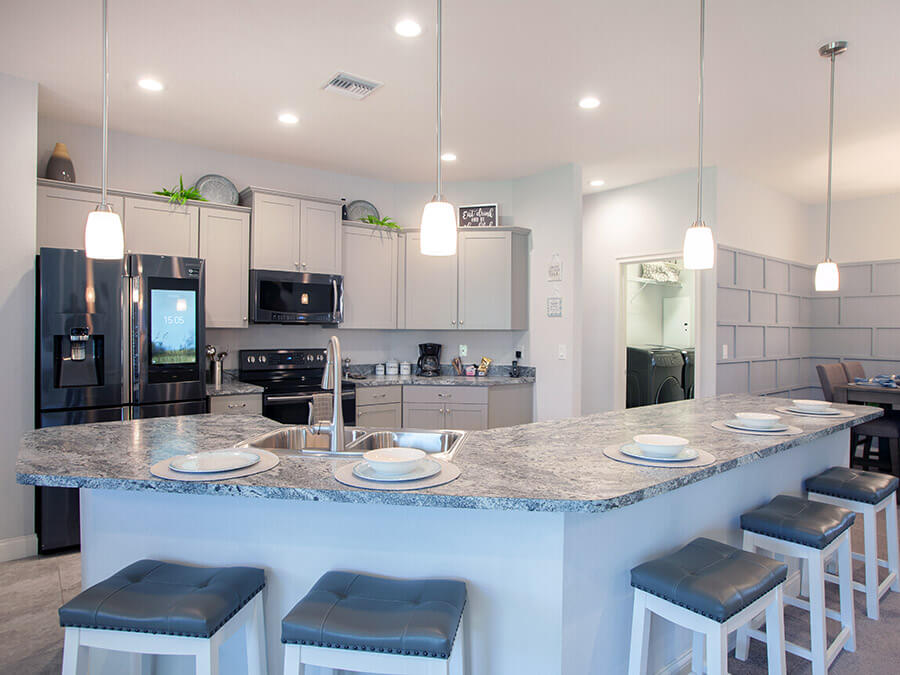 Do you like to be a trend-setter — or, just looking for something a little different from normal stainless steel? Upgrade to sleek and dramatic black stainless steel! Black stainless provides a fingerprint-resistant finish, complements many decor styles (it's especially popular with white and grey cabinets), and helps to create a clean and contemporary kitchen. The cutting-edge style makes it clear you're living in a 21st century home.
We offer multiple black stainless options available for each kitchen appliance. Some of the most exciting and cutting-edge Samsung black stainless steel appliance options include the:
Counter-depth 4-door Flex™ refrigerator with Family Hub™ connected living
Smooth-top electric range with air fry and convection oven modes
Wi-Fi enabled smart convection microwave with Slim Fry™ air frying technology
Whisper-quiet, ENERGY STAR® certified dishwasher with a convenient third rack
Best of all, you can outfit your dream kitchen with a full suite of Samsung black-stainless steel appliances including a French-door refrigerator starting as low as around $3,000.
If you prefer traditional stainless steel, the news is even better - Samsung stainless steel appliances are included in your new Highland home! There are also multiple upgrade options in the traditional stainless finish, though our included appliances go above and beyond with Samsung's new modern flat handles, a fingerprint-resistant finish on the microwave, and for communities that include a refrigerator, it also has a fingerprint-resistant finish, an in-door ice maker designed for easy filling of water bottles, and sleek recessed handles.
Lighting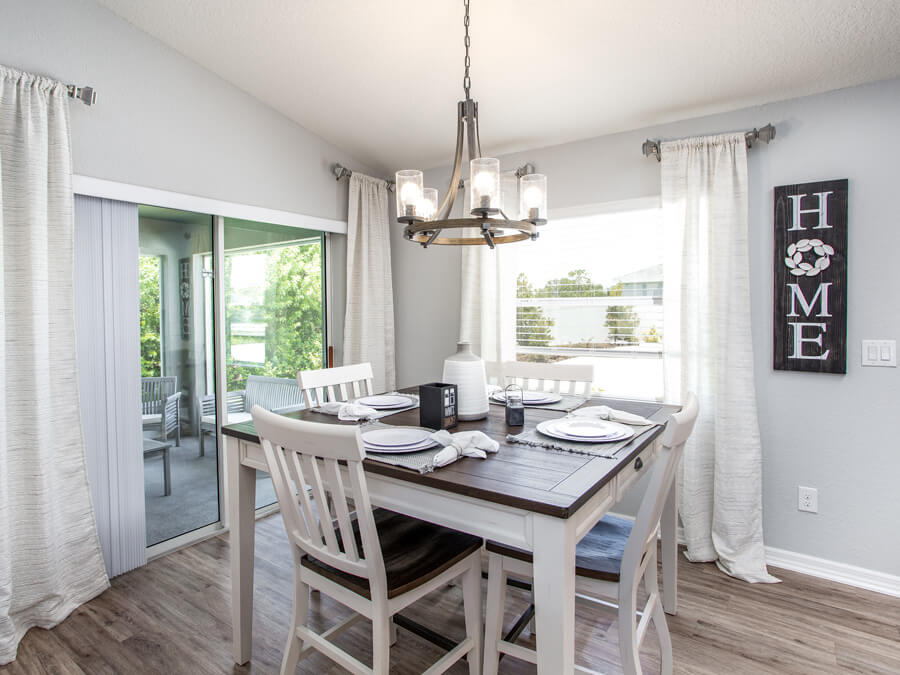 In 2020, we transitioned to Seagull Lighting to provide you with a more diverse selection of light fixtures for your new home. You will find beautiful lighting options that will match your unique decorating style whether that's modern, traditional, rustic, or industrial. In addition, interior and exterior ceiling fan options provide a cooling breeze with overhead lighting, and coach lights add to your exterior curb appeal.
Here's a brief overview of some of the most popular light fixtures available for your new home:
Flooring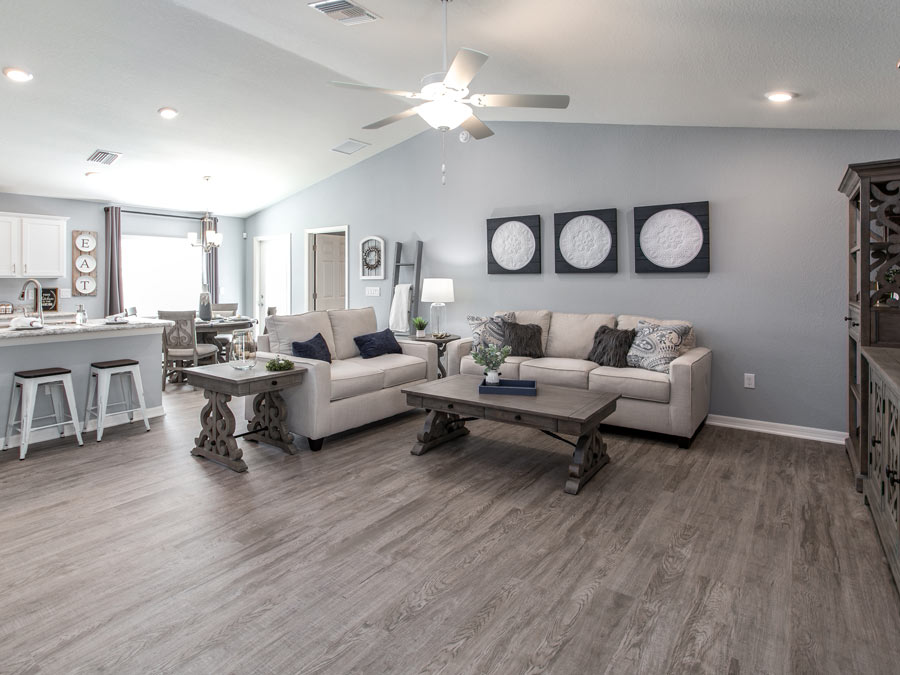 Tile has long been a popular flooring option for new homes in Florida, and we offer Mohawk ceramic tile at several price points to meet your needs. Level 1 and 2 ceramic tile flooring features 18-in. x 18-in. tiles in multiple colorways and textures. In price level 3, you can choose from 18-in. x 18-in., 12-in. x 24-in. or 6-in. x 24-in. options, including wood-look tile selections.
These days, however, another flooring choice reigns supreme and sweeps tile under the rug - vinyl plank flooring. If you prefer a wood look with low-maintenance, vinyl plank is the way to go and with 8 unique color options in Armstrong's American Personality and American Charm lines, you are sure to find the perfect wood-look flooring to suit your style.
Because vinyl is water-resistant, vinyl plank flooring can be installed in rooms such as bathrooms, where traditional hardwood isn't recommended due to moisture. Of course, it isn't limited to wet areas - this on-trend flooring is also a popular option to have throughout your living area thanks not only to its beautiful appearance but also durability and ease of maintenance.
Prices are per room and plan - to give you an idea of cost for the Parker, our top-selling Florida new home, pricing can range from $140 to upgrade the hall bath to approximately $2,500 to outfit the living area (kitchen, cafe, gathering room, hallways, foyer, and laundry room) in this luxurious, on-trend, and low-maintenance flooring.
Wall Tile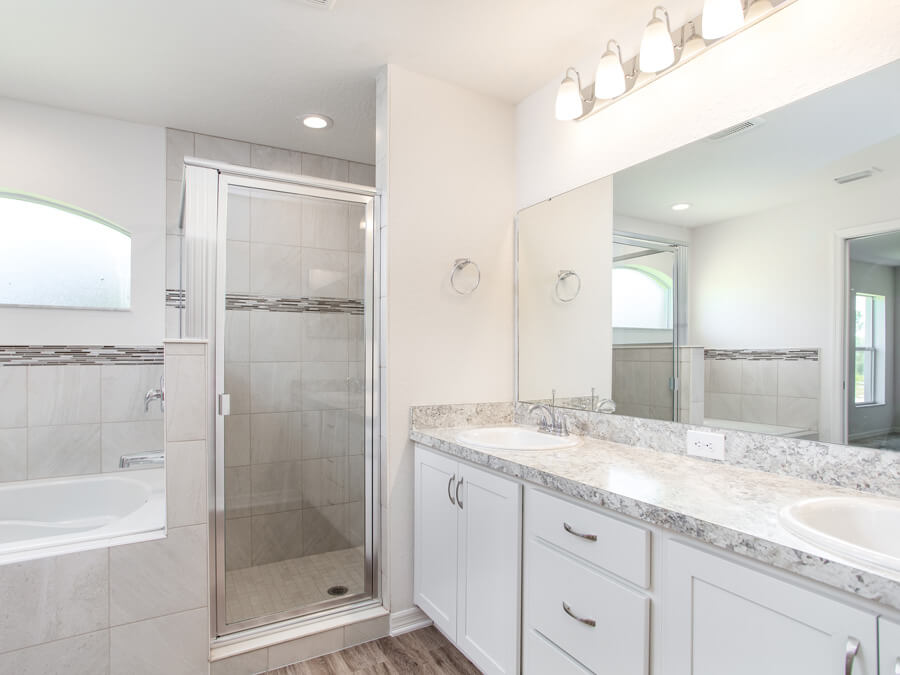 Similar to the tile we offer as flooring, Mohawk's wall tile is available in three levels and showcases a wide selection in color and style. Each wall tile option has a matching floor tile option to ensure seamless bathroom finishes. Prices vary based on the size of the space being finished, but generally, level 1 projects are priced between $250-$600, level 2 is priced from $268-625, and level 3 can range from $318-675.
With all level 1 wall tile options, the accent band is preselected to compliment the large format all tiles. When you upgrade to levels 2 or 3, you can choose from a variety of different coordinating accent bands or listellos. The listellos include various glass and metallic options that can range in price from $600-$1,200.
Your New Home, Personalized to Your Style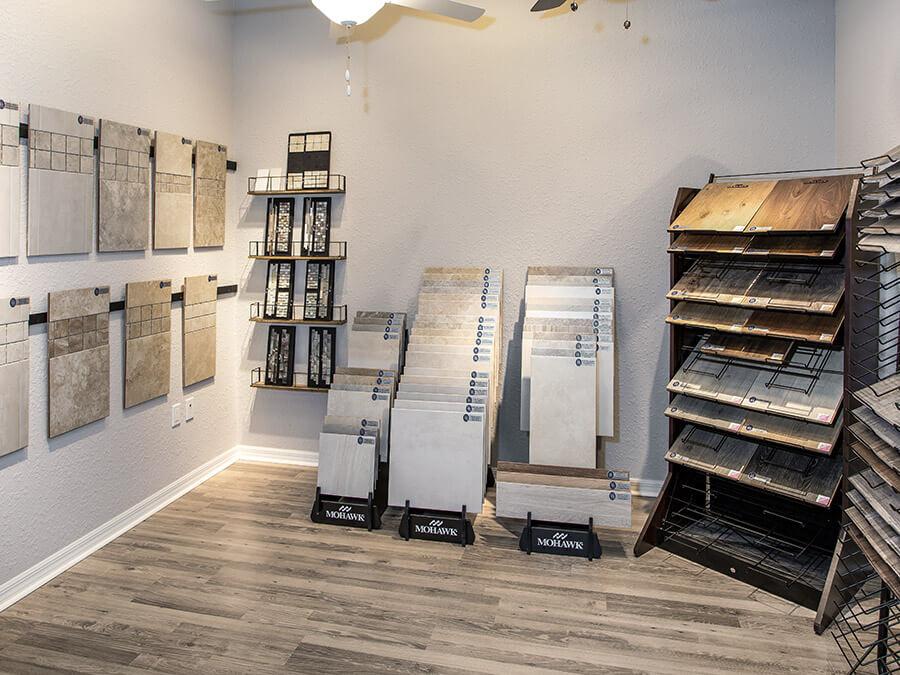 This highlights just a few of the choices available to personalize your dream home! At the Highland Homes Personal Selection Studio, our interior design experts will walk you through designing every room in your dream home. Get inspired to design and decorate your dream home by visiting our online Inspiration Gallery, and call or email us to connect with a Florida New Home Specialist and schedule a VIP model tour to get an in-person taste of Highland Homes' design options, home plans, and community lifestyles.
---
Tags:
Bathroom design
Design features
Design trends
Interior design
Kitchen design
Paint colors
Personal Selection Studio
Personalize your dream home
---