blog
How to Decorate Your Lanai for Outdoor Entertaining
How to Decorate Your Lanai for Outdoor Entertaining
Posted:
August 18, 2015 |
Categories:
Design and Decorating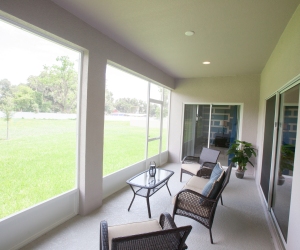 Most Floridians will agree that one of the best things about living in the Sunshine State is enjoying the outdoors year round. A lanai, which is another word for a covered patio, is the perfect place for relaxing, dining or entertaining at your Florida home while enjoying some fresh air and balmy weather.
But how on earth do you decorate a lanai to take maximum advantage of this outdoor living space? Here are some handy tips from Stacey Perez, Manager of the Highland Homes Personal Selection Studio and our model decorator, for decorating your lanai for outdoor living and enjoyment.
Start at the bottom
Bare concrete can show stains and dirt, and be difficult to keep clean. There are many options for outfitting your lanai floor such as a concrete stain or tile. But, our favorite product is Flo-Crete. Flo-Crete is a water-based sealer which creates a non-skid finish resistant to cracking, fading, moisture and staining, and will hold up against many acids and caustic chemicals. It's a great way to extend your personal style to your lanai with a variety of colors to choose from. Flo-Crete creates a finish which is attractive, durable and helps prevent slips and falls. Best of all, it is available through Highland Homes to be installed during construction of your home so your lanai will be ready to enjoy when you move in.
Furniture
There are three things you want to keep in mind while choosing furniture for your lanai:
Size - Too much furniture can make the space feel small and crowded, and too little may not leave you with enough seating. So start by asking yourself, what are you going to use your outdoor living space for? Then, find pieces which are both sized for the space and fulfill your needs, whether that's a dining area, a quiet place for sipping tea, entertaining guests or a cozy outdoor living room.
Base materials — Similar to sizing for your needs, choose materials wisely. Furniture made out of plastic or PVC wicker is cheap but may not stand up to wear and tear. More aesthetically pleasing furniture made of teak, cast aluminum or synthetic resin wicker is light enough to move around, low maintenance and durable. If you specifically want metal, we like aluminum for these reasons. Wrought iron will offer you unique designs although it is extremely heavy and can rust, and stainless steel is resistant to rust but also heavy, so only choose these metals for pieces which will be permanent and not often moved. If you are looking to save some money on your furniture, wait until the end of the season to purchase; retailers usually clearance out patio furniture in July or August.
Fabric — For your outdoor furniture cushions, you're going to want waterproof fabric and filling. If you're new to Florida you will soon be discover the phenomena of sideways rain. No worries, it usually only lasts a few minutes, but furniture on your lanai may get wet so make sure it is prepared to weather the weather. Another factor to consider is how well the fabric will handle sun. There are many brands of fabric which are fade resistant and, if you plan to use the same cushions year-round, it's a good idea to spend a bit more money to have cushions that will last.
Add your style
Start with a theme. Do you like tropical or rustic, classic or modern, bright or pastel? What's the mood you would like to evoke — calm and soothing, or edgy and colorful? Once you've chosen a theme, decide on a color scheme to follow throughout with your furniture and accents.
If you have chosen to have a table on your lanai, a great way to express your style is with a centerpiece. A centerpiece doesn't have to be one piece, it can be a grouping of objects such as a set of glass vases filled with colorful stones or polished glass. Sand and found seashells make for great fillers, especially for a tropical beach or nautical theme. Floral arrangements are popular centerpieces and if you don't have a green thumb, you can find pre-made fake-flower arrangements at most home décor stores. Candles are another popular accent, and mirrored pillars are great for reflecting the light and providing a welcoming atmosphere.
Outdoor throw pillows and rugs are another great way to add pops of color or patterns. Stacy says, "Look for bargains on outdoor pillows and rugs at HomeGoods, Marshalls, and Ross. That way when they get dirty or weathered, they are cheap to replace. Or, you may want to change them out for the seasons or holidays. During the summer months you should be able to find some great colorful pieces, and keep an eye out for those fall colors as that season is fast approaching."
Finally, don't forget about the walls, which are a great place to draw your theme together. Metal wall art comes in a wide variety of colors and styles. Or, add hooks with hanging flower pots or lanterns for more of a garden look.
Lighting
When you build your Florida new home with Highland Homes, your lanai will come equipped with recessed lights. Adding a ceiling fan is a popular option as it will help keep your lanai comfortable even in the hottest of weather.
Candles, lanterns and wall sconces add elegant mood lighting, and if you have a table, a hanging pendant is a wonderful decorative lighting option.
These are just a few ideas to get you started with decorating your outdoor living areas. With the right colors and details, your lanai will become an extension of your home and your favorite "room쳌 for relaxing or entertaining.
Highland Homes builds stylish and affordable new homes in more than 25 communities throughout Central, North Central, Southwest and Tampa Bay, Florida. Choose from more than 30 home plans and hundreds of options to personalize your new home to your unique style, needs and budget. To find your Florida new home, visit the Highland Homes website.
---
Tags:
personal
tips
decor
decorating
Home with Lanai
florida new home
selection studio
personal selection studio
decorating tips
Florida
new home
FL
---