blog
Maintaining Your Home & Garden for the Florida Drought
Maintaining Your Home & Garden for the Florida Drought
Posted:
June, 23, 2017 |
Categories:
News
|
General Info
Though the rainy weather may be in season this time of year, Florida is still facing one of the harshest droughts in US history. As a matter of fact, in May the U.S. Drought Monitor announced moderate to severe drought conditions in certain parts of Central Florida.
Watering Restrictions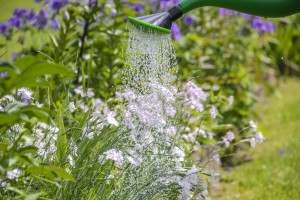 Luckily, the recent rainy weather has been combatting the Florida drought, but don't let the rain fool you - it is still important to follow water regulations and procedures in your area! In these dry times, city and county restrictions apply and residents in Hillsborough, Manatee, Pasco, Sarasota and Polk counties are all on water restrictions and are limited to lawn watering schedules and times. To find the schedules for your county, click here. Listed below are other guidelines mentioned on water restrictions throughout the counties.
Check with your city or county to ensure compliance.

Water restrictions apply between June 5 and August 1, 2017, unless otherwise noted.

Pools, sprinklers and recreational water have details for usage requirements.

Some exceptions include hand watering, new lawns, plants and reclaimed water.

Car washing in residential areas is restricted to once per week.

Pressure washing is permitted once per year and for necessary purposes.

Fountains and water features are limited to eight hours of operation daily.
Florida-Friendly Gardening
In the wake of a drought, homeowners can still accomplish a pleasant and relaxing outdoor space. While being responsible with water usage, attention can also be focused on "Florida-friendly쳌 plants that grow well in this climate and don't strain the environment. Use these guidelines from the University of Florida IFAS Extension.
Choose plants that will thrive where you want to plant them.

Use the right fertilizer.

Think about how the plants will attract wildlife.

Recycle yard waste.

Protect waterfronts.

Water efficiently.

Use mulch.

Manage yard pests.

Reduce storm water runoff.
Plant Suggestions
Living in drought-prone locations doesn't mean the Sunshine State is restricted to cactus varieties and succulents. In fact, plenty of flowers and shrubs do well in the Florida landscape! Listed below are some of the most colorful and popular drought-resistant plants; however, more are listed here.
Powerpuff is a fast spreading ground cover that shows off when it blooms. Plus, it loves sun and grows two-to-three inches tall.

A native grass, the pink muhly grows three-to-four feet in height in sun or mild shade. Gorgeous pink plumes rear their heads in early fall.

Spiderwort is a sweet, three-pedaled flower with a long blooming season that thrives in sun or shade.

Attract hummingbirds with trumpet honeysuckle, a vine with red flowers that blooms in spring in full sun.

For another punch of color, the goldenaster is a bright yellow flower that grows two-feet tall in sun and sandy soil. This beauty is a long bloomer.
Florida is a truly special place, and while the climate can certainly present landscaping challenges, with attention and care, Florida residents can enjoy flowers, shrubs and other plants year-round.
Highland Homes builds in Central, North Central, Southwest and Tampa Bay, Florida, including Lakeland, Winter Haven, Davenport, Greater Orlando, Bradenton, Ocala and Tampa, all of which are cities known for their lush landscaping.  To learn more about how to care for your new Florida home during extreme weather conditions, call us at 863-797-4999 or visit the Highland Homes website!
Save
---
Tags:
tips
garden
landscaping tips
Florida drought
gardening
landscaping
plant suggestions
water restrictions
Highland Homes
Florida
new home
FL
New Homes
---