Posted:
August, 28, 2009 |
Categories:
Communities
Highland Homes has been keeping a close watch on the recent stabilization of pricing in the Polk County market and is reacting to it in several of its active communities.\n\nStatistics from Polk County's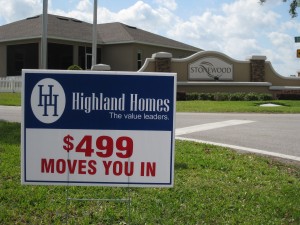 Multiple Listing Service (MLS) show that prices have been stable for the past two months after a downward spiral for nearly two years.  Home prices in the area are currently averaging $139,000. In an effort to meet the demand for lower pricing and smaller homes, Highland Homes is making a bold move to reduce its pricing by $10,000 in many of its Polk County new homes. Far from the trend for large homes at higher prices in 2004-2006,  buyers now are now choosing value in smaller, more affordable homes. Current homeowners have become more aware of the costs involved in living in larger homes, and are also moving to homes that fit their family size and save on utility costs at the same time.\n\nStonewood, a Highland Homes community offering Lakeland new homes averaging $194,000, has just introduced a new line of floor plans starting at 1,110 square feet for $129,900. Buyers who could not afford to live in Stonewood a year ago can now afford to build in this exclusive community.\n\nAnother North Lakeland Community that saw a $10,000 price reduction is Winchester Estates, where model homes have recently opened and sales have been brisk. Homes in this community are now starting at $119,900, a price more buyers will find to be well within their budget.\n\nBoth of these communities are also in geographical locations that meet USDA qualifications for financing. This will allow buyers with income qualifications for USDA financing to build a home with just $499 out of pocket and a very low interest rate. Now is definitely the time to build a Highland Home in North Lakeland.\n\nAnother community that saw drastic home price reductions is Oakford Estates in South Lakeland, where homes now start in the $140's. This is an exclusive Highlands area community that continues to be in constant demand, and is now affordable for many more buyers. Oakford Estates, like Stonewood and Winchester Estates, also qualifies as a  USDA community.\n\n
\n\nPricing has also been reduced in the Winter Haven area.
Normandy Heights
off  of Winter Lake Road (Hwy 540) is also starting from $119,900. This community has always been popular with families looking for a high rated school system close to all the city conveniences. Now, more buyers can afford to live in this wonderful community.\n\nAnd don't forget about
Hamilton View
, a Highland Homes community in Lake Hamilton. This is a quiet, quaint community within walking distance of Lake Hamilton with large home sites and only 34 homes total upon community completion. This USDA-qualifying community now starts at $140,000 for a 1,509 square foot home. Hamilton View is selling fast with its new reduced pricing, so visit the community today to choose your favorite lot.
---
Tags:
Lakeland new home
Reduced Pricing
Florida New Homes
Lakeland new homes
florida new home
USDA Financing
Lakeland
Florida
new home
Polk County New Homes
FL
New Homes
Polk county
---