blog
Rising Interest Rates on the Horizon — What Does it Mean for You?
Rising Interest Rates on the Horizon — What Does it Mean for You?
Posted:
August, 13, 2015 |
Categories:
General Info
|
Home Buying 101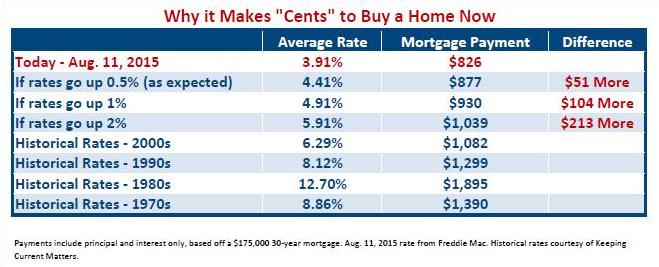 Since the depths of the Great Recession more than six years ago, mortgage interest rates have been at a historical low. While the economy was depressed, the Federal Reserve kept rates low to stimulate consumer spending. Now, the economy has largely returned to normal and a Federal Reserve decision to raise interest rates should be coming soon, according to Atlanta Fed President Dennis Lockhart. While an official announcement of when has yet to be made, Lockhart and other economists expect that a gradual rise in interest rates will begin as soon as September — less than a month away.
Gradual is a key word here; you do not need to worry about mortgage interest rates jumping up to 1980s levels overnight (the average mortgage rate in the 1980s was a whopping 12.70%, if you are wondering). The question of how much rates will rise is still up in the air, although many financial experts expect a 0.5% increase by the end of the year.
Overall, a rise in rates is an indicator that the economy is doing well, which is good news. However, if you are considering refinancing or purchasing a new home in Florida, you are probably wondering what a rise in interest rates means for your finances.
These figures provide a clear picture as to why it makes financial sense to purchase your Florida new home and lock in your mortgage rate now, before rates rise.
With today's average rate of 3.91% (source: Freddie Mac), a $175,000 mortgage with a term of 30 years will run you about $826 per month for the principal and interest (this payment does not include taxes, insurance or PMI, if applicable). When rates go up 0.5% as many financial experts expect to happen this year, the same mortgage will cost you $877 per month — $51 more. If rates go up 1%, you will pay $930 per month for the same mortgage, or $104 more than today. A 2% rise in interest rates will cost you $213 more per month than if you purchased your new home and locked in your mortgage rate today.
Looking not just towards the future, but at the past, we are in a historical era of low mortgage interest rates. Back in the 2000s, this same $175,000 mortgage would have cost you $1,082 per month — and, many of you (or your parents) will recall the 12.70% average rates of the 1980s!
So, to summarize what a rise in interest rates means for you — if you are thinking about refinancing or buying a Florida home, now is the time to take action to lock in the lowest possible rate and mortgage payment.
Highland Homes builds new homes in Orlando, Tampa Bay, Polk County, Manatee County and Ocala, Florida. Whether you are seeking a low-maintenance townhome or spacious estate home on acreage, we have communities and homes to meet your needs. Choose from more than 30 stylish home plans with pricing from the $130,000s to the $300,000s, and personalize your new home to match your unique style, needs and budget with hundreds of available design options. To find your new home in Florida, give us a call at 863-797-4999 or visit the Highland Homes website today.
Mortgage interest rates, terms, down payment and qualification guidelines vary per loan type and based on your credit and other qualifying factors. To determine your home purchasing power, contact a Highland Homes preferred lender.
---
Tags:
Highland Homes Preferred Lender
Highland Homes
interest rates
florida new home
Florida
new home
FL
preferred lender
---