Posted:
April 20, 2020 |
Categories:
News
|
General Info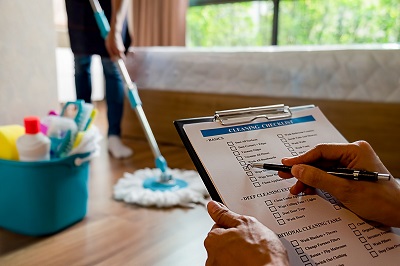 The days are longer, the temperatures are higher, and the flowers are blooming. That means it is springtime! Now is the ideal time to freshen up your home in Florida and we're here to help with a simple spring-cleaning list, full of ideas to get your space to shine.
Clean Your Drapes, Blinds and Windows
Florida is known for its beautiful scenery, and we know now is the time you want to enjoy it! We're all ready to pull back the curtains, open the blinds and the windows to let the comforting and cheery sunshine and fresh air in to enjoy the scenery. But before you do, take a few moments to clean those oft-overlooked places.
On an overcast day, clean the windows, or start on the shady side of your home – direct sun can leave streaks.
Wash windows with glass cleaner and microfiber cloth.
Lower the blinds and use a duster on both sides.
Gently vacuum your shades or drapes.
Wipe down windowsills with a damp cloth.
Eliminate Odors
Nothing says spring quite like the smell of fresh-cut grass and blooming flowers. Keep those fresh, happy scents the only ones you smell throughout your home by cleaning common sources of odor, such as the dishwasher or garbage disposal. 2-10 Home Buyers Warranty online offers a great step-by-step dishwasher deep cleaning guide. For a quick disposal refresher, toss a couple of lemon rind slivers in, and run the cold water to dispel any smell.
Disinfect Surfaces
While you probably wipe down surfaces such as your kitchen counters or bathroom countertops regularly, how often do you disinfect them? What about high-touch places such as doorknobs and light switches? Disinfecting these surfaces is a great way to keep your home clean and protect against the spread of viruses! Other high-touch places you may not automatically think about include handles on cabinets, faucets, appliances, and toilets. Tabletops, hard-backed chairs, remotes, desktops, and electronics including your phones, keyboard and mouse merit being on the list of items to disinfect. Here are a few tips for disinfecting your home and keeping your family happy and healthy:
Depending on the surface, select an EPA-registered household disinfectant appropriate for the material.
Consider using alcohol-based wipes or sprays with at least 70% alcohol for electronic touch-screen surfaces.
Diluted household bleach solutions can be used if appropriate for the surface. Prepare a solution of 1/3 cup bleach per gallon of water or four teaspoons of bleach per quart of water. Ensure a contact time of at least one minute for disinfection. Just remember to allow proper ventilation during and after application, and never mix household bleach with ammonia or any other cleanser!
For soft or porous surfaces, such as textiles, launder them in the warmest water appropriate for the material, and be sure to dry them completely.
Start Fresh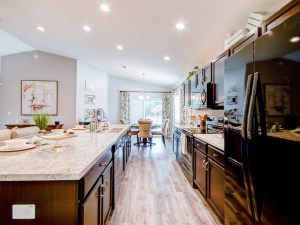 One of the benefits of owning a new construction home in Florida is starting with a brand new, clean home! This makes it easier to maintain a healthy, happy home. You'll have no immediate concerns about dust, mold or allergens in a new home, meaning you'll enjoy improved air quality.
Other resale home concerns include a pest infestation you're not aware of until after move in. In a new home, you can relax with the peace of mind that your Highland home has been pre-treated for termites and includes a built-in pest control system. The potential for Volatile Organic Compounds (VOCs), a group of chemicals often found in older homes but are much more regulated today (e.g. acetone, benzene, butanal). The concerns about carbon monoxide is reduced, as your new home will offer detectors and electric appliances; and asbestos, another ingredient in insulation found in older homes that is banned in consumer and building products in the U.S. today.
Find more cleaning tips on Pinterest including ingenious ways to eliminate odors, de-clutter, and more!
Highland Homes builds Florida new homes in communities throughout Lakeland, Orlando, Tampa, and Sarasota. If you're ready to build your dream new home in Florida, contact one of our Florida New Home Specialists today by calling 863-797-4999.
---
Tags:
Highland Homes
spring cleaning
home in Florida
---