Posted:
July 17, 2018 |
Categories:
News
|
General Info
|
Why Buy New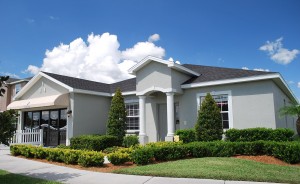 As the temperatures rise outside, so can the cost of your utility bills. Your home's HVAC system has to work harder to maintain a comfortable temperature in the Florida heat and your water bill increases as you preserve your plants and lawn. But your bills don't have to rise as quickly as the humidity outside! With a few simple tips and tricks, you can save on utility bills during the hottest months of the year. Here are some simple changes you can implement in your Florida home to impact summer utility savings:
Cool Down
Ceiling fans can help keep you cool without turning the air down another degree or two. They keep the air moving, providing a cooling effect when you're in the room. However, don't be fooled into thinking they'll keep your home cooler throughout the day when no one is home — they actually do very little to affect air temperature, so you're better off using them only when you're home, to save even more energy.
Unplug
You turn your electronics off every day, but did you know that they can still drain power while they're turned off, simply by being plugged in? Unplug computers, televisions and other electronic devices when you're not using them. If that's too much work, consider connecting your electronic devices to a SmartStrip, which automatically disconnects power when devices don't need it.
Close it Off
Do you have areas of your home that you don't use frequently? Consider closing them off by keeping the doors shut and the vents closed. There is no need to spend money cooling these areas if they often go unused.
Go Dark
One of the simplest things you can do is turn off the lights! But, you can take it a step further than simply flipping the switch when you leave the room. Eat outside when the weather permits, use natural light as long as possible or enjoy Friday night dinners by candlelight! For those lights that receive consistent use, be sure you're using energy-efficient CFL or LED bulbs.
Insulate
Homes can leak air because of spaces between walls or gaps where pipes exit the home. Save the cool air during the summer (or the warm air during the winter) by filling these gaps with spray foam.
Be Smart
Being conscientious of the energy use in your Florida home is a tip you can't ignore! Consider grilling more during the summer to prevent warming your home through cooking, or enjoy more cold dishes. Don't run your dishwasher or washing machine unless the loads are completely full, and use cold water instead of warm or hot water. Many laundry detergents are now available in cold water formulas specifically for this use. Also, consider hanging most of your clothes to dry.
In addition to these every day energy-saving solutions, there are larger-scale steps you can take, like replacing your air conditioning unit or toilets with energy- and water-conserving models. These major changes even qualify for a tax credit! You can also employ a company to perform an energy audit on your home. Some Florida municipalities will even conduct a free energy audit upon request. Or, you can choose to purchase a new Florida home built to today's strict energy codes. New homes must be built to the most current energy efficiency codes, meaning homes built even one year ago may not be as energy efficient as homes built today. At Highland Homes, we include energy-efficient and money-saving products in every new home that we build! All new Highland homes include:
Programmable thermostats which allow you to control the temperature in your home when you're away, which uses less energy than maintaining a consistently cool temperature around the clock.
Low-E double pane windows which reduce the amount of heat that enters your home. The best part? Tilt-in sashes makes cleaning them a breeze!
A Rapid Recovery 50-gallon hot water heater that uses less energy to maintain water temperature than a standard unit.
A 14 SEER energy-efficient heat pump that saves you about 7.2% in utility costs when compared to a 13 SEER unit, and saves you 50% more than a 7 SEER unit! (SEER, or Seasonal Energy Efficiency Ratio, refers to the efficiency of air conditioning equipment.)
R-30 insulation in living area ceilings, R-4.2 insulation on exterior masonry walls, and R-11 batts between the house and the garage. Together, they all provide a barrier against heat entering through the walls or ceiling of your home. R-11 injected foam insulation also fills the hollow concrete cells of your exterior block walls, providing an additional barrier against heat.
Fiberglass insulated entry doors which offer up to four times the insulation value of wood doors, while also offering excellent durability and style.
These items, included in all new Highland Homes, help to preserve the energy efficiency of your home for years to come. In addition to these products, we offer a variety of add-on options to further increase the energy efficiency of your home, like radiant barrier sheathing, insulated garage doors, ENERGY STAR appliances and more.
One of the greatest benefits of building your new Florida home with Highland Homes is the energy-efficiency and utility savings you'll receive compared to purchasing an older home. When you build with Highland Homes, you not only have the opportunity to select upgrades that further improve your home's energy performance, but you may also choose from hundreds of options that make your home fit your personal style.
To learn more about building your new Florida home with us in Tampa, Orlando, Lakeland or Ocala, visit www.HighlandHomes.org or contact our Florida New Home Specialists at 863-797-4999.
---
Tags:
energy efficiency
efficiency
summer utility bills
---