Posted:
October, 14, 2011 |
Categories:
General Info
|
Why Buy New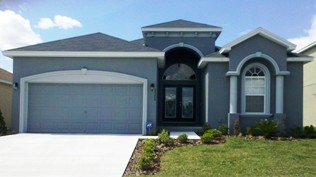 With both existing and new homes available in the Florida real estate market, you may be confused as to what's best for your family. If you're wondering what the benefits of new homeownership are, MarketWatch recently published an article detailing why you should buy a new home. Below are some of the article's highlights.
Designed to fit your currently lifestyle: New homes are built for the ways that Americans live today. Space usability is maximized in the home design with amenities to suit modern demands such as larger closets.
Greater energy efficiency: Even homes built less than 4 years ago had different energy code requirements than a brand-new home.  If you are concerned about energy costs and the long-term efficiency of the home, new homes have the most up-to-date energy efficiency materials.
No need for immediate maintenance: There may be questions about whether or not a used, especially a distressed, home was maintained properly throughout the years. When you buy a new home, you don't have to invest in repairs or getting a home's regular maintenance "caught up.쳌
Home warranty: Most builders stand behind their craftsmanship with a home warranty — Highland Homes includes the comfort of a Bonded Builders home warranty.
Competitive home prices: Highland Homes is constructing Florida new homes that are priced competitively with older homes on the market. In fact, at Highland Homes, we have been a value leader for more than a decade, offering new homes starting in the low-$100,000s and our signature $99 Moves You In offer.
These are just a few of the reasons why purchasing a brand-new home just makes sense. If you have questions about purchasing a new home from Highland Homes, please feel free to ask. We'd love to hear from you!
For more information about Highland Homes, visit our website.
---
Tags:
new v. used homes
real estate
Florida New Homes
Florida real estate
Highland Homes
florida new home
Florida
new home
FL
New Homes
---