blog
Tips on Designing your Lanai for Entertaining and Relaxing this Summer
Tips on Designing your Lanai for Entertaining and Relaxing this Summer
Posted:
May 27, 2014 |
Categories:
General Info
|
Design and Decorating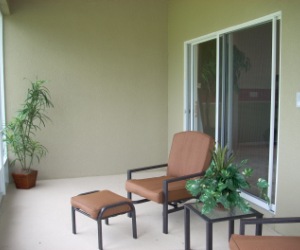 As warmer summer months approach and you start spending more time outside, you may be considering how you can design your outdoor space to feel as comfortable and personalized as the inside of your home.
The lanai (or covered porch/patio) is an extremely versatile area of your Florida home and decorating it– and your entire backyard–in a way that maximizes the space is as easy as following a few simple guidelines!
The American Society of Landscape Architects recently conducted a survey to reveal top outdoor design trends for 2014 and, according to consumers, entertainment and relaxing rank high on the list of outdoor space functions.
Whether you are working strictly on a lanai or encompassing the entire backyard, lighting, seating/dining areas, fire pits/fireplaces and grills were given top priority when it comes to outdoor décor.
When it comes to seating or dining areas, there is no telling what a trip to your local thrift store will produce! Thrifty finds can easily be repurposed and a simple coat of paint can make a piece look like new, along with allowing you to perfectly match it to your other décor. Refinishing mis-matched pieces in coordinating paint can create a stylish, matched furniture set. If you really have your heart set on a new patio set, wait until the end of the season; retailers usually clearance out patio furnishings in July or early August.
Once you have your furniture, add some fun accessories. Hanging and floor planters are always an easy, natural and colorful accessory, and you could even use an herb garden for your outdoor cooking!
Lighting in any outdoor space not only brightens up the area but also creates an ambiance during summer nights. DIY lighting, utilizing ordinary items like mason jars or even tin cans, continues to be a popular, inexpensive way to add flare and visibility to any area.
Fire pits and fireplaces are also popular when it comes to outdoor spaces, even in our warm climate, and especially when entertaining. There are a number of possibilities from building your own to off-the-shelf pits and chimeneas. It all depends on your preferences, time and budget.
Grills are also an ever-popular outdoor staple, and they come in all shapes and sizes to fit all kinds of spaces. If you have a very small patio slab, then a portable grill that folds up and can be stored out of the way may be your best option. Other grill trends include smokers and "insert system쳌 grills, which allow you to cook everything outdoors from pizzas to pancakes to vegetables, by using the correct insert-surface.
On the maintenance side of things, keeping your lanai in tip-top shape during the summer months can actually be quite simple.
Stacey-Antonakos Perez, the Highland Homes Personal Selection Studio Manager, suggests pressure washing your lanai as necessary, due to increased summertime usage, bugs, and rain. Alternatively, you could consider painting your lanai with flo-crete (which we offer as a new home option) or an acrylic paint or even lay outdoor tile, which will help keep your space functional and require less maintenance in the long run.
Since kids will be out of school and home for the summer, you might even want to consider buying some inexpensive plastic buckets to store balls and other outdoor toys in when they are not being used. This will help tremendously in keeping your space clutter-free.
No matter your budget or your personal style, there are many options when it comes to embracing your outdoor living space. These top outdoor design trends are timeless and simple to put in place, so you can turn your lanai and backyard into your own personal oasis!
Highland Homes builds affordable new homes in Florida cities including Tampa, Orlando, Winter Haven, Lakeland and Ocala, in more than 25 beautiful communities. For more information on our Florida new homes, visit the Highland Homes website today.
---
Tags:
design
Home with Lanai
design trends
---