blog
Tips to Prepare Your Central Florida Home for a Hurricane
Tips to Prepare Your Central Florida Home for a Hurricane
Posted:
July, 10, 2013 |
Categories:
Communities
|
General Info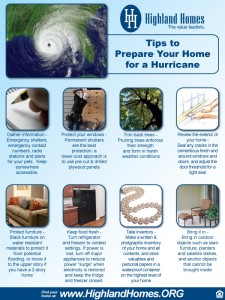 Now that we are in the midst of hurricane season (and will be for several more months), you want to make sure you have a plan in place to protect your family, pets, Central Florida new home and belongings in the case of a storm.\n\nTropical Storm Chantal is headed towards Florida and while currently expected not to be a hurricane when it reaches our state, having a plan for the worst case scenario is your best protection.  Make sure that you and your family have a hurricane plan, have a kit prepared and know what to do in the case of a storm. From nonperishable food items to batteries and even games or activities for entertainment, now is the time to get everything together.\n\nIt is also very important to take steps to prepare your Central Florida new home and give it the best protection during a storm. Here are a few that we would like to emphasize:\n
\n
Gather information\n

\n
Research and collect information for emergency shelters and plans for your pets. Make a list of important contacts including emergency numbers, radio stations, hospitals, utility companies, your property insurance company and friends and family. Keep this information somewhere handy.
\n

\n
\n
Protect your windows\n

\n
Permanent shutters are the best protection from a hurricane but if they are outside of your budget, a lower-cost solution is to use pre-cut and drilled plywood panels.  Have them numbered and store in an attic or garage, so they are ready to put up, if needed.
\n

\n
\n
Trim back trees\n

\n
Pruning trees enforces their strength and form in harsh weather conditions. By getting rid of excess or dead branches, you are creating a stronger base for the tree. Also, prune any limbs that are hanging over your roof.
\n

\n
\n
Review the exterior of your home\n

\n
Seal any cracks where water could intrude.  Seal cracks in the cementious (stucco) finish using an elastomeric caulking, and around windows and doors using an outdoor caulking designed for your window or door frame materials. Adjust door thresholds for a tight seal.  Clean leaves and debris from gutters.
\n

\n
\n
Protect furniture\n

\n
If you have a two-story home, move your furniture to the second story. If your home is a single story, stack furniture on water resistant materials to protect it from potential flooding.
\n

\n
\n
Keep food fresh\n

\n
When a storm is on the way, turn both your refrigerator and freezer to the coldest settings in case of power outages. If the power does go out, turn off major appliances to reduce the power "surge쳌 when the electricity is restored. It is important to keep the fridge and freezer closed if the power is out. According to foodsafety.gov, a refrigerator will keep food cold for about 4 hours if the door is left closed and a full freezer will hold its temperature for about 48 hours.
\n

\n
\n
Take inventory\n

\n
Make a written and photographic/video inventory of your home and all contents. Store this, along with valuables and personal papers, in a waterproof container on the highest level of your home.
\n

\n
\n
Bring it in\n

\n
Any outdoor objects such as lawn furniture, planters, trash cans, barbecue grills and satellite dishes should be brought inside. Anchor down any objects that cannot be brought in, like swing sets.  Lastly, get rid of any debris that could become airborne, such as fallen branches.
\n

\n
\n
\nAt Highland Homes, we want to ensure that you and your family are happy and, most importantly, safe in your
Florida new home
. Visit the
Highland Homes website
to learn more about our company and dedication to providing a satisfying home buying experience.
---
Tags:
hurricane safety tips
tips
safety
Florida New Homes
Highland Homes
florida new home
central florida new homes
Florida
new home
Central Florida new home
FL
New Homes
central florida
---