Posted:
August 11, 2015 |
Categories:
Design and Decorating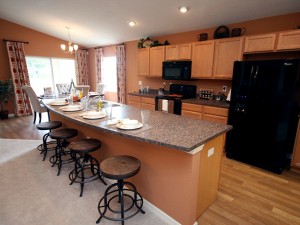 Today's new home design trends are all about simplifying everyday life. This includes a combination of technology as well as interior and exterior features that keep you organized and allow for relaxing and reconnecting with family and friends. From smaller home plans with open layouts for interacting with others in your home and peaceful outdoor areas to specialized storage spaces and energy-efficient features, today's new homes are designed for ease of living. Below are the top 10 design trends for Florida new homes.
Efficiently designed home plans: When it comes to new home design, bigger isn't always better. Today's home buyer would rather have a well-designed home plan, with a purpose for every inch of the home, rather than expansive home design with wasted space. Plus, with less square footage comes less furnishing and cleaning, which means you have more time for friends, family and fun.

Open layouts: Home shoppers are looking for the "Goldilocks쳌 of homes, not too small and not too large, but regardless of size most buyers today have one thing in common -  a home that offers an open living area with easy sightlines from the kitchen to the family room or great room. That way, parents can always keep an eye on the kids or pets. It also makes entertaining family and friends a breeze: No matter where the guests want to hang out (in the kitchen or on the sofa in the living room) everyone can still be a part of the conversation.

Outdoor living spaces: Work, school, the gym, grocery store — our lives are mostly spent indoors. So, at the end of a long day, homeowners want nothing more than to relax outside and get a little fresh air. Covered porches and lanais make it easy to enjoy the outdoors while staying comfortable even with our Florida afternoon rain showers.

Specialized storage spaces: An organized home, free of clutter, is a beautiful thing. Experts say that less clutter equals less stress — something everyone deserves a little less of! And, having spaces devoted to organization such as drop zones and built-in storage mean that there will always be a place for everything.

Energy-efficient and "green쳌 features: Environmentally friendly, energy and money saving home features are hot right now, and they're expected to continue to be in-demand in the future. Low-E windows deflect heat from entering your home, foam block insulation provides a heat barrier in your walls, and R-30 ceiling insulation and Radiant Barrier provide an insulating shield at the roof and ceiling, working together to keep your home cool and lower energy costs. Plus, zero VOC paint and pest control such as Taexx, included in every Highland home, protect your health and helps reduce your carbon footprints.

Kitchens with plenty of seating: Formal dining rooms are no longer a must for new home buyers. Homeowners would rather enjoy their meals in the kitchen. Whether it's at a breakfast bar or table, families want to gather in the heart of every home — the kitchen.

Unique flooring options: Wood floors, Mohawk stain-resistant carpet and ceramic tile will continue to be popular options for home buyers. However, flooring such as high-performance wood-look tile is a trendy choice among homeowners. Wood-look tile provides the rich appearance of real wood but is more durable and easy to maintain, and can be installed in wet areas such as bathrooms and kitchens, unlike real wood.

Laundry room: A dedicated space for laundry is important to Florida home buyers. This helps with organization and keeps hampers and dirty socks out of sight from your guests.

Tiled showers: Plastic or fiberglass shower inserts are out of vogue because, well, they are boring - and not very durable. Fully-tiled showers are in-demand among today's home buyers. Tile adds a luxurious element and turns any bathroom into a relaxing oasis. Plus, if a tile is cracked, it is much easier to replace than replacing the entire shower insert.

Staggered cabinets: For buyers who want a modern home, staggered cabinets are a must. They're visually appealing and add architectural variety to a kitchen. Staggered cabinets also provide additional storage space.
At Highland Homes, we are proud to build new homes throughout Central, North Central, Southwest and Tampa Bay, Florida that are designed with modern and easy-living features for today's homeowner. We offer more than 30 home plans to choose from with pricing from the low-$100,000s to the low-$300,000s, and with options ranging from low-maintenance townhomes to luxurious estate homes on expansive home sites. Plus, when you build with Highland Homes, you personalize your dream home with a wide variety of desirable finishes and features at our Personal Selection Studio. There are hundreds of options to choose from in every price point, from included and no additional cost to luxurious upgrades.
For more information about Highland Homes and to discover how you can build your own personalized new home in Florida, visit www.HighlandHomes.org.
---
Tags:
personal
design
Taexx
Florida New Homes
Highland Homes
florida new home
selection studio
personal selection studio
design trends
Florida
new home
FL
New Homes
---