blog
Tour the New Parker Model Home in Eagle Lake, Florida
Tour the New Parker Model Home in Eagle Lake, Florida
Posted:
July 20, 2021 |
Categories:
Communities
|
Design and Decorating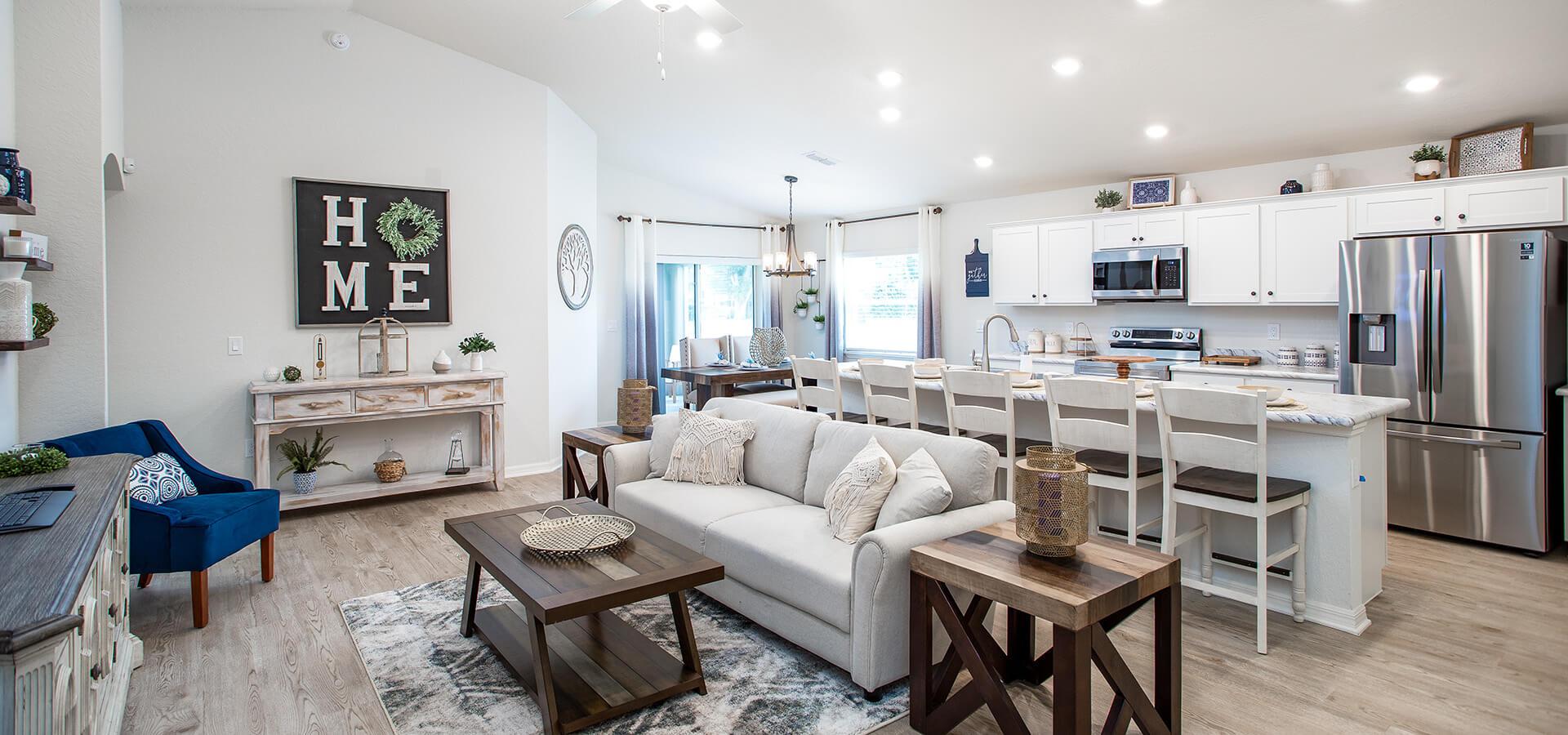 Get excited! A beautiful, brand-new model home is now open to tour in Landings at Eagle Lake. If you are searching for a new home in Eagle Lake, FL, this stunning model in this peaceful community will leave you feeling right at home in no time.
In this article, discover everything you need to know about the new Parker model home in Landings at Eagle Lake:
Get an inside look at the model home décor and room themes
Discover why the Parker home plan is a favorite among Florida homeowners
Learn how to schedule your VIP tour of the model
First, let's talk about why Landings at Eagle Lake is one of the hottest neighborhoods in East Polk County.
Why You Will Love Landings at Eagle Lake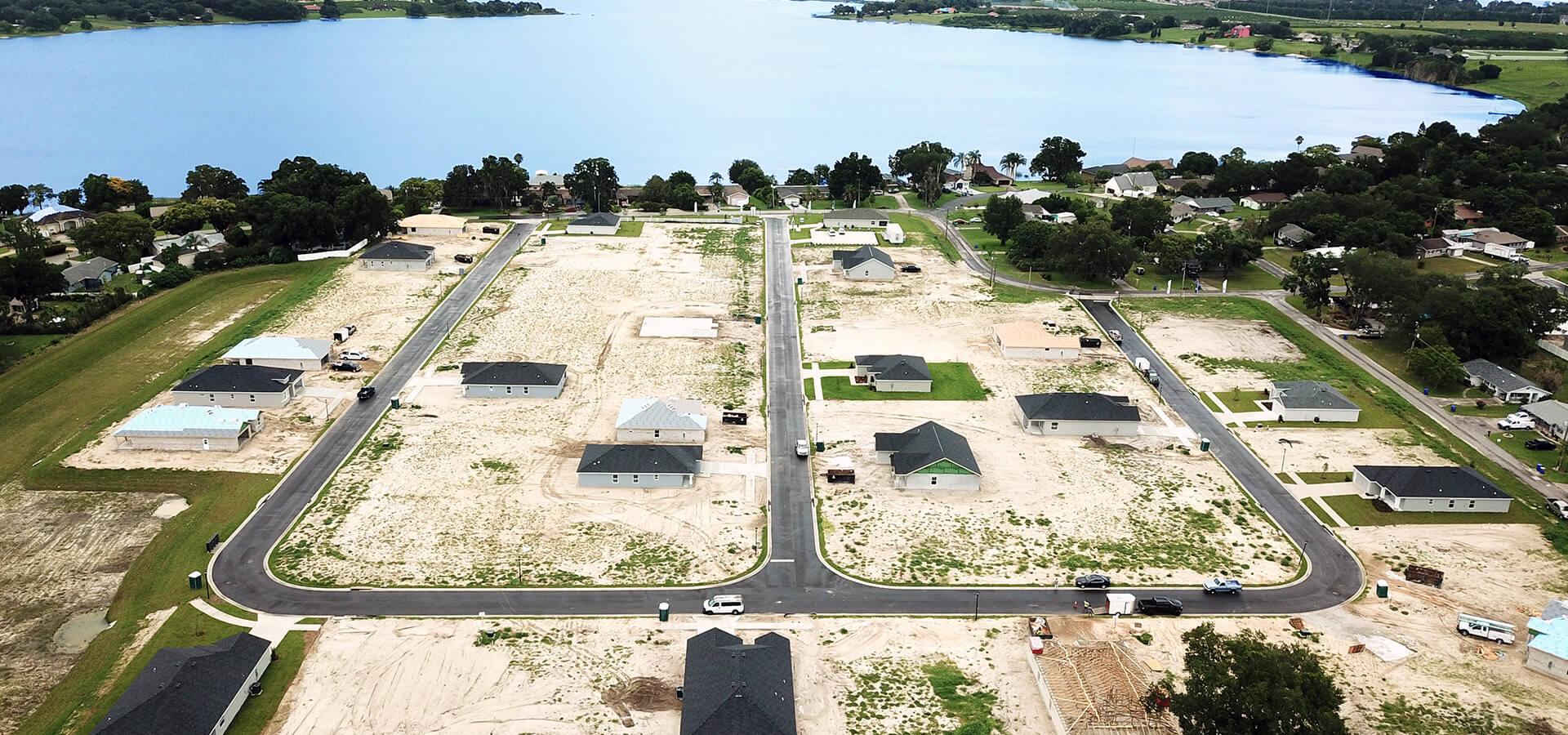 From its highly desirable location to its beautiful surroundings and affordable home prices, there are many reasons why Landings at Eagle Lake is so popular.
And, if you are looking for a new home in Florida that you can move into without having to wait on a priority list, then you will love to hear this - Quick move-in homes are available now in Landings at Eagle Lake!
Located across the street from the shores of Eagle Lake and designed with select homes adjacent to open space and ponds, your dream of waking up and looking out of your window to catch a glimpse of a stunning Florida landscape can come true when you choose a new home in Landings at Eagle Lake.
Your new home is nestled in a beautiful semi-rural setting, yet it remains conveniently close to Downtown Winter Haven, daily necessities, and major roadways:
Highway US-17 (½ mile)
Publix Supermarket and Spirit Lake Crossing shopping center (3 ½ miles)
Downtown Winter Haven (4 miles)
Speaking of, it's time to introduce you to the new model home.
Say Hello to the New Parker Model Home in Eagle Lake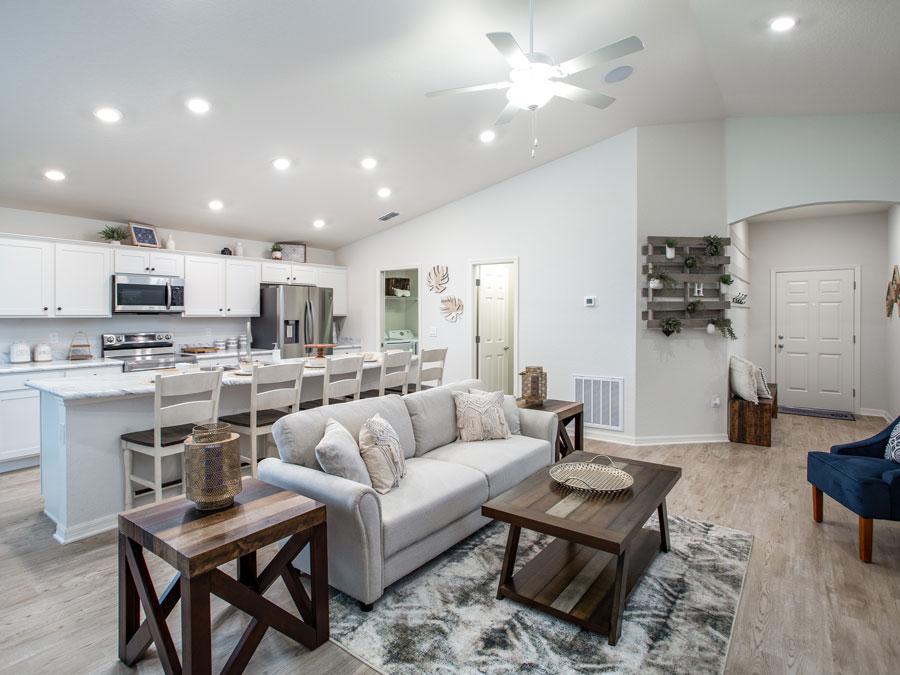 Imagine this: you stroll up to the covered front porch, through the front door, and step into the foyer where you can take a seat on an entry bench as you remove your shoes and hang up your hat, jacket, or handbag. As you make your way into the open living area of your brand new home, you see your family gathered on the comfy sofa, or perhaps grabbing a snack in the kitchen, and take a relaxing seat to join the conversation as you glance out of your window to catch a glimpse of the beautiful Florida sunshine reflecting off the lake across the street.
And just like that, you fell in love with the Parker, a top-selling home in Central Florida communities including Landings at Eagle Lake.
Why the Parker is a Homeowner Favorite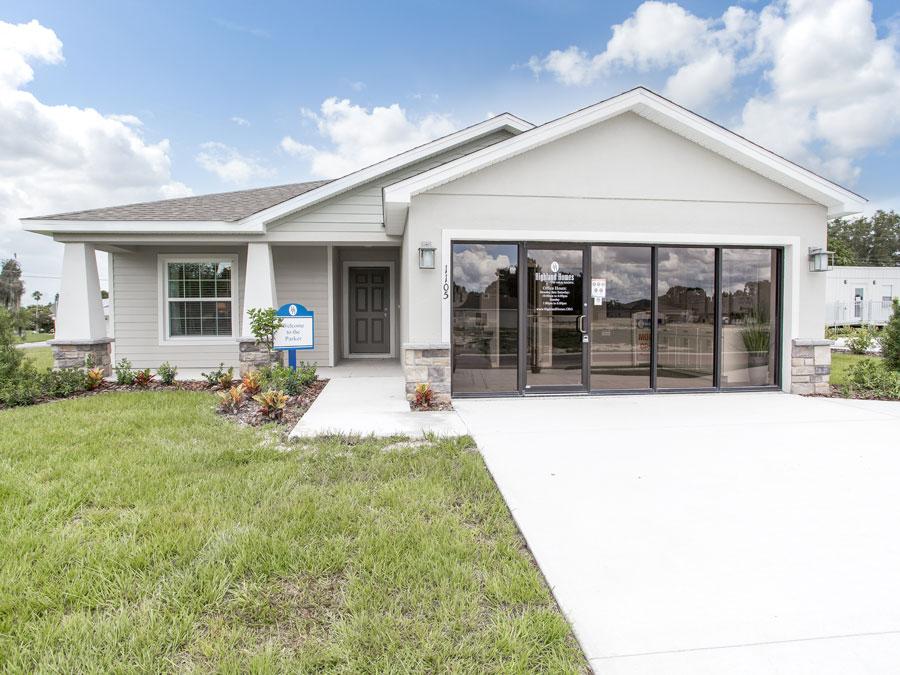 Equipped with an open living area with volume ceilings, 4 bedrooms including a spacious owner's suite with a luxurious en-suite bath, and a fully-open kitchen with a counter-height island and walk-in pantry, there's a reason why so many Florida homeowners love living in the Parker!
The Craftsman-style exterior is also a feature homeowners adore. Craftsman-style homes boast gable roofs, decorative finishes, and columned front porches which evoke historic charm yet remain a popular design choice. The Parker model home in Landings at Eagle Lake showcases our new Elevation E, a sure-to-be popular exterior elevation designed with these Craftsman elements and finished with decorative siding and stone accents.
Feel at Home with the Decor in this Parker Model Home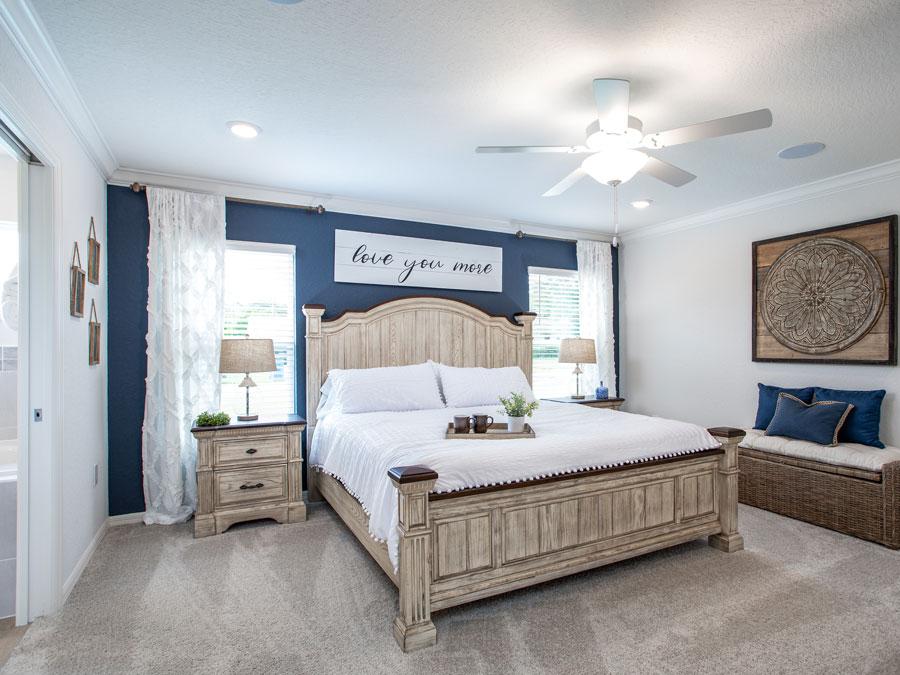 We spoke with Stacey Antonakos-Perez, Highland Homes' Design Studio manager and lead model designer, to learn more about the decor and interior design elements used in the beautiful new Parker model home in Landings at Eagle Lake.
With the overarching boho décor theme, the home is filled with mixed woods and exquisite textures, giving it a peaceful yet elegant environment. The main colors in the home are a range of neutral beiges and whites with a splash of navy blue as a delightful accent.
According to Stacey, "Boho, or bohemian style, is currently very popular in home decor as it keeps the home feeling laid back and peaceful with traditional wood and neutral tones. And, boho style decor embraces fun accent colors like the deep navy blue that we added to catch your eye, along with textures and layered pattern as you will see with the bed linens and window coverings used throughout this model home."
Décor Elements and Room Themes
Plants are very on-trend in home decor, particularly among Millennials, for reasons spanning from soothing surroundings to mental health benefits. The model design team embraced this trend by creating a custom wall piece for the gathering room using a repurposed pallet with small planters and greenery.
Fun fact - this creative wall piece was designed by Vivian, one of the talented and creative design consultants you may work with at the Highland Homes Design Studio.
As you move through the model home, you will see the bohemian décor continued into the bedrooms. And, for those who work from home, the model showcases how a home office can easily be set up in one of the bedrooms in the Parker.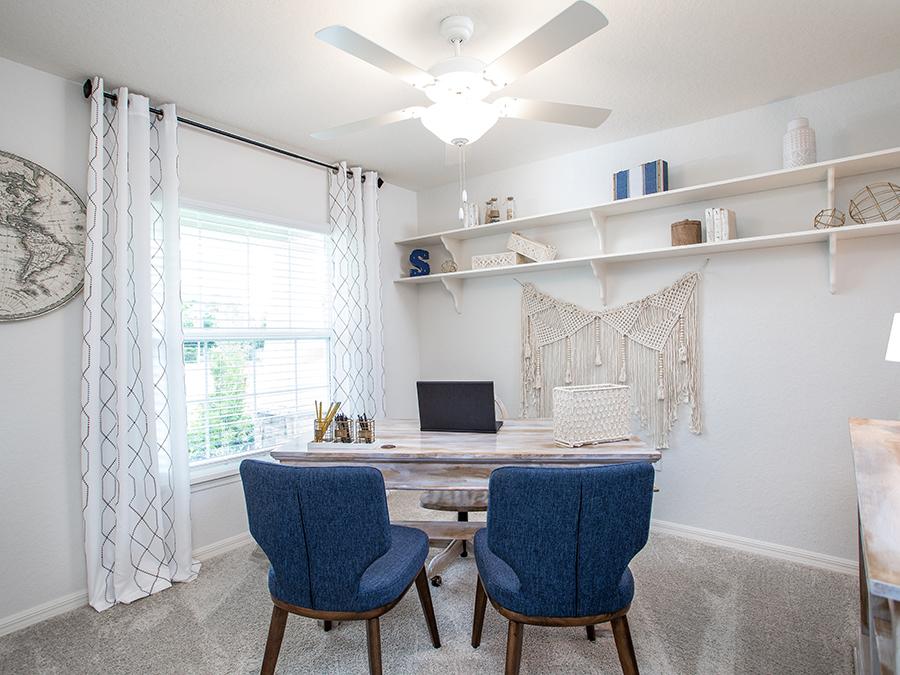 Stacey says the bedrooms are one of her favorite aspects of this model. The owner's suite (pictured in the section above) pairs rustic wood furniture with simple yet elegant white textured linens and uses a dramatic blue accent wall as a focal point.
"I love the owner's suite in the Parker because it has ample space for a king-sized bed, a large dresser and nightstands, and still has space to add a chair or bench which is great for storage as well as to have a sitting area in the bedroom," says Stacey.
For the secondary bedrooms, in addition to the home office, one of the bedrooms is styled as a teen girl's room using simple flat trim and paint to create a fun and elegant accent wall, and the final bedroom for a younger child who loves camping and the outdoors.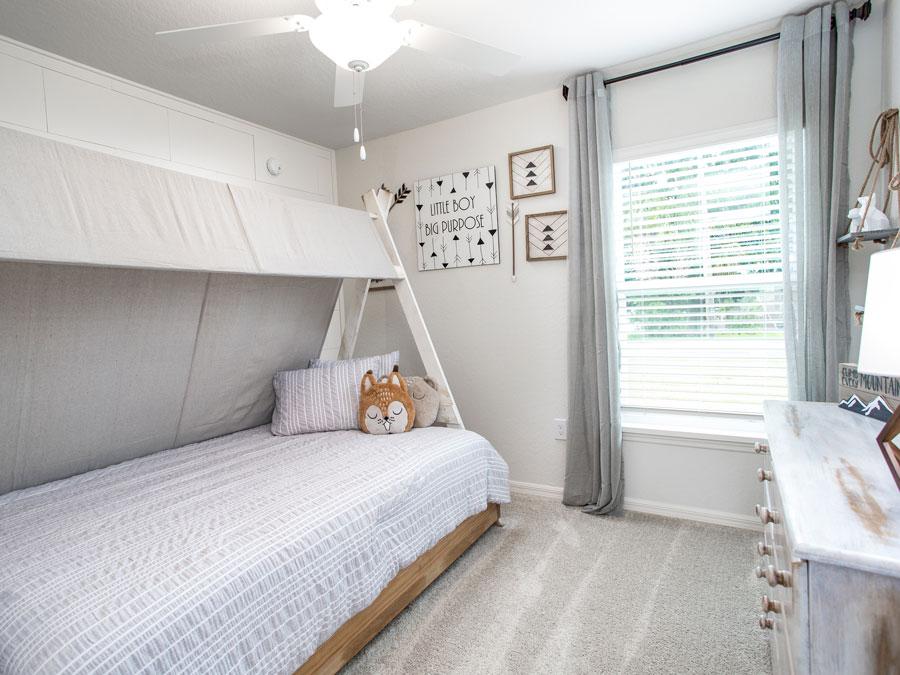 "This custom-made tent bed is my favorite item in the model," says Stacey. "I can imagine how much fun a child would have camping out in this bedroom every night."
Feast Your Eyes on These Specific Design Features
When planning the new model home at Landings at Eagle Lake, Stacey and the design team kept the focus on how people live and what is important to homeowners in this Central Florida community.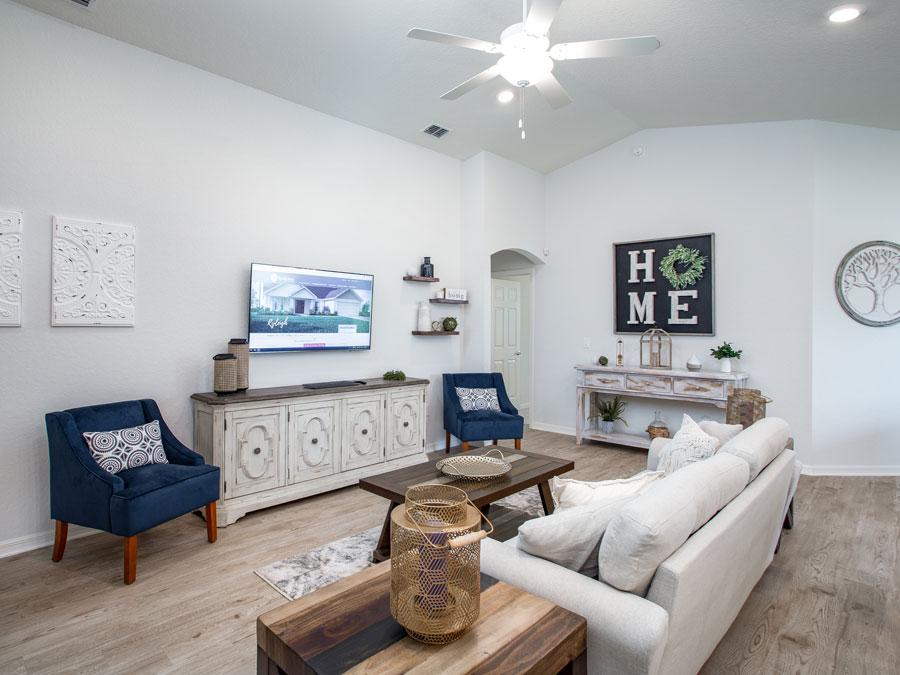 For instance, vinyl plank flooring continues to increase in popularity, and the design team used this opportunity to showcase a brand-new color of luxury vinyl plank which is now available at the Highland Homes Personal Selection Studio.
"It is very popular among our Florida homebuyers to choose vinyl plank flooring for high traffic area, with carpet installed only in the bedrooms where most desire a softer surface underfoot," states Stacey.
Love the look? This traditional light oak wood look is the Parchment color from Armstrong Flooring's American Personality 12 line of luxury vinyl plank flooring.
On-Trend Kitchen Design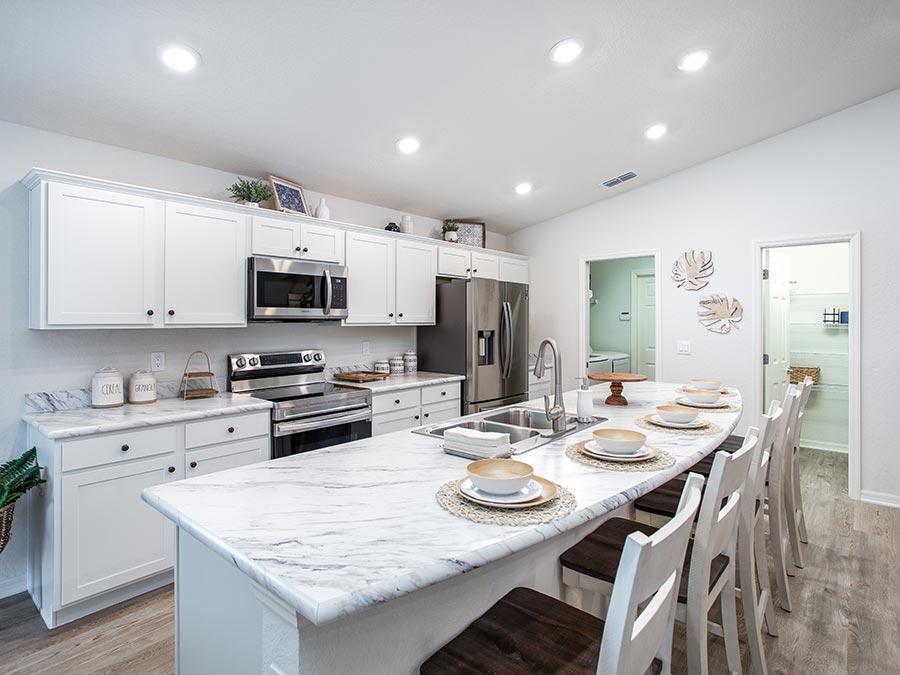 When it comes to the kitchen design, Stacey notes "The kitchen is equipped with white shaker-style cabinets which nod to both the Craftsman design and provide an ideal base for our boho decor. White cabinets are very popular because they are timeless and versatile, providing a bright and clean look which can be complemented by an array of countertop choices and design styles."
In this kitchen, the design team wanted to stay neutral and bright. Wilsonart Calcutta Marble laminate countertops cap off the cabinets with a classic, clean, large-scale Italian marble laminate design.
And, every brand new home should be equipped with modern appliances! That is why we have partnered with Samsung, the world's best-selling appliance brand and appliance technology leader. As you make your way to the open-concept kitchen, you will notice it's equipped with a full suite of Samsung appliances, finished in fingerprint-resistant stainless steel.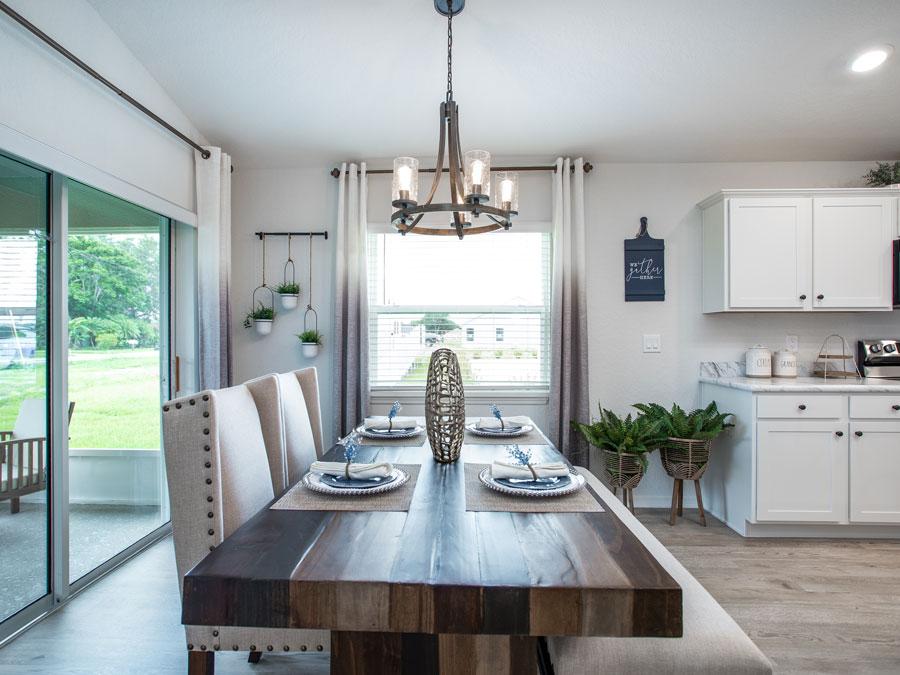 As the cherry on top, cast a brilliant light throughout the dining area when you turn on the Seagull Angelo distressed weathered oak chandelier! Who wouldn't want to host a dinner party in this beautiful space!?
Schedule an In-Person Tour of this New Model Home in Eagle Lake
You've gotten a look - Now, check out this model in person to get the full experience of what it is like to live in a new home in Landings at Eagle Lake! Call or email us to schedule your VIP tour of the new Parker model in Landings at Eagle Lake, located at 1105 Second Drive in Eagle Lake, Florida.
---
Tags:
Single-family homes
East Polk County
Eagle Lake
Landing at Eagle Lake
New model home
Design features
Design trends
Home décor
Interior design
---