Posted:
July 10, 2018 |
Categories:
Communities
|
News
|
Communities>Tuscany Bay
|
Design and Decorating
Nothing says summer in your new Florida home like incorporating a few coastal-inspired elements. Whether you're looking to keep things cool with beachy vibes or heat things up with bold pops of color, just a few simple changes can take your soft spring décor to summer sunny in an instant. Here are a few ways to bring the sunshine in to your new home:
Color Your World Simple
The first step is to simplify your color scheme. Select two primary colors and layer them throughout your home, with one as your base color and one as an accent. We recommend blues and greens that echo ocean shades for a cooling effect, or deep reds and oranges reminiscent of a summer sunset to warm up a space. Add color with home accessories, like pillows and decorative accents, or choose to adorn an entire room in aquatic hues, from the linens to the furniture.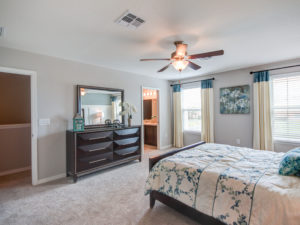 These colors mix well with a basic neutrals, such as bright white or earth tones reminiscent of sand. Simple color schemes provide a light and breezy feel, while incorporating various textures creates depth in each space.
Our Riesling model townhome at Tuscany Bay, a new home community in Gibsonton, is a perfect example of coastal-inspired summer décor. The model showcases beautiful aquatic blues and greens paired with a sandy neutral in the home's master bedroom.
Incorporate Coastal Fabrics
Another way to add a summer touch, while also incorporating different textures in your décor, is to select fabrics that offer a beachy vibe. If you have an outdoor living space, like a patio or porch, consider hanging linen curtains in a sand or white color that drape down to offer privacy, or can be pulled back to let the sun in. You can even swap heavy indoor curtains for light and breezy chiffon curtains to let in sunlight while creating an airy feel. Incorporating Turkish towels in coordinating colors as lightweight throw blankets, table runners, or placemats is another way to add texture and summer warmth to your space.
Patterned fabrics are another great way to add a summer beach feel. Opt for nautical-inspired prints, like madras or a nautical blue and white stripe. Or, choose from bold florals or palm frond prints that are currently making a comeback for use in home décor.
Bring the Outdoors In
Bring the energy of nature indoors with the addition of live plants. Many indoor plants are air purifiers, meaning they improve the quality of your air, while also boosting your concentration, mood and productivity, and reducing stressing levels.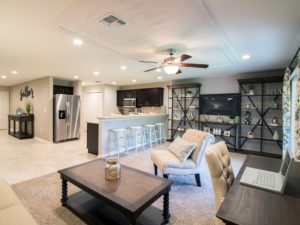 Plants that thrive in low light are ideal for bathrooms, while succulents or snake plants are ideal in bedrooms, thanks to their oxygen emission. If you're searching specifically for plants that emit a summertime vibe, choose from tropical options like a variety of palms, a rubber tree, a Bird of Paradise or a bromeliad. Don't have a green thumb? Low-maintenance plants like succulents, aloe, air plants, or cacti are your best bet.
Our Riesling model townhome at Tuscany Bay also showcases ways to decorate with greenery, from plants on the entry table, to small potted options on the living room's bookshelves.
Go All Natural
Another simple, and perhaps most cost-effective way, to add a touch of summer to your home,  is to incorporate natural elements into your décor. Naturally occurring elements like seashells or driftwood pieces make great accents. If you're a regular beach-goer, incorporate items you've found on various trips to give your décor special meaning. Layering sand from beaches you've visited in glass vases or jars is a unique way to add a natural touch while also showcasing cherished memories. If you do collect items from beach trips, be sure you follow all local and state laws for removing items from the beach!
These are just a few simple ways to bring summer décor into your new Florida home. For more inspiration, tips and DIY projects, visit our Summer Vibes Pinterest board.
Highland Homes builds new homes in Gibsonton, as well as many other central Florida communities like Lakeland, Winter Haven, Davenport and Tampa. For more information, contact a Florida New Homes Specialist by calling or texting 863-797-4999 or visit www.HighlandHomes.org.
---
Tags:
Florida home
decor
new homes in Gibsonton
new Florida homes
Florida homes
new Florida home
Florida
new home
FL
Gibsonton
Tuscany Bay
New Homes
---