blog
Winter Haven Sweeps the Competition at Livable Polk Awards
Winter Haven Sweeps the Competition at Livable Polk Awards
Posted:
September 19, 2014 |
Categories:
Communities
|
News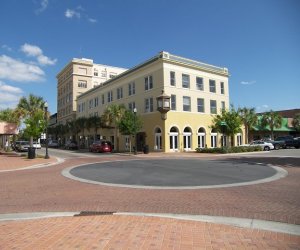 On Aug. 27, 2014, Polk Vision and the Polk Transportation Planning Organization recognized the city and private entities that make Polk County an amazing place to live with the Livable Polk Awards. With 17 incorporated cities in Polk County, Winter Haven came out on top — sweeping many of the award categories.
The Livable Polk Awards are designed to "recognize conservation and sustainable development and healthy community design efforts that go beyond the ordinary and set an example for what can be done in Polk County.쳌 Winter Haven started the night by sweeping all four categories of the Community Recognition Awards. The project recognized in this section included:
Winter Haven Friends of the Library — This non-profit group has partnered with the library and City of Winter Haven to help residents learn new skills and utilize technology in the SEED lab (Science, Education, Exploration, Design lab).

Eloise Arts Ensemble — Recognized specifically for its community garden, the Eloise Arts Ensemble provides residents with access to fresh fruits and vegetables, as well as provides opportunities for individuals to learn how to grow their own produce.

Greenovative Design and Engineering — With a focus on environmentally-friendly techniques, Greenovative Design and Engineering turned a dilapidated warehouse into the new Humane Society in Winter Haven.

City of Winter Haven — The City was recognized for creating more livable space, as well as improving access to downtown Winter Haven through trail and Third Street improvements.
The second set of awards — Polk County Trendsetters — recognized projects that embody innovation and help provide a model for the future. Winter Haven projects recognized in this category included:
City of Winter Haven — Through its Rain Garden Program, the City of Winter Haven is improving water quality with the installation of close to 50 rain gardens with more to come. Through rain gardens, storm water is pretreated before it re-enters nearby lakes.

Polk State College — Winter Haven Campus — In support of Winter Haven's Rain Garden Program, students in Professor Natalie Whitcomb's Introduction to Environmental Science Course have created rain gardens the last three years.

Tampa Electric Company and LEGOLAND Florida — In celebration of Earth Day, Tampa Electric Company and LEGOLAND Florida — through their Solar Photovoltaic Project — flipped the switch on a 30,000-wate solar photovoltaic (PV) system installed atop LEGOLAND's Imagination Zone. The system is generates enough electricity from the sun to power three average-sized homes, as well as offset about 40 tons of carbon dioxide.
To conclude the award-winning night, two Winter Haven projects were recognized with Judge's Choice Awards.
City of Winter Haven — Chain of Lakes Pedestrian Trail Bridge over Avenue T — To eliminate the need for pedestrians and bikers to cross a busy four-lane street, the City of Winter Have built the Chain of Lakes Trail Bridge which connects the community, as well as the larger trail system with access to the Lake Alfred Trail and planned Old Dixie Trail.

Bok Tower Gardens — Recognized for its Rare Plant Conservation Program, Bok Tower Gardens is one of 39 institutions nationwide to be a part of the Center for Plant Conservation. By partnering with communities in Polk, as well as other conservation groups, Bok Tower Gradens is able to preserve and restore rare plant species and habitats.
The Livable Polk Awards was a fantastic night recognizing community improvement projects in Polk County, and congrats to the many innovators in the City of Winter Haven. For a complete list of winners, click here.
With its focus on conservation and community design, Winter Haven is the perfect place to live, work, and thrive. Currently, we are building new homes in four communities throughout Winter Haven. With prices from the low-$100,000s and hundreds of design options available at the Highland Homes Personal Selection Studio, you can truly build your dream home, designed for your life, in these Winter Haven communities. To make purchasing your new home even more affordable, qualified buyers can purchase a home in Winter Haven with just $99 down.
For more information on living in our Winter Haven communities, as well as our other Polk County communities, visit the Highland Homes website today!
---
Tags:
Winter Haven
new homes in Winter Haven
new home
New Homes
Polk county
---