blog
Your Guide to Treymont: Gated Community of New Homes in Lakeland, FL
Your Guide to Treymont: Gated Community of New Homes in Lakeland, FL
Posted:
April 27, 2021 |
Categories:
Communities
|
Communities>Treymont
Updated September 27, 2021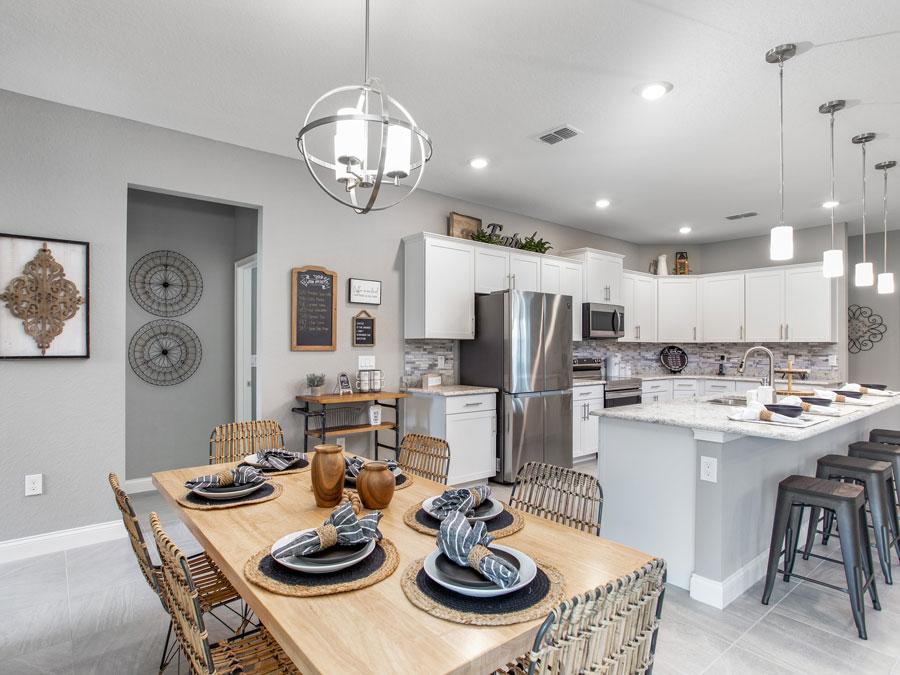 Tucked away from the hustle and bustle of city life is the brand-new Highland Homes Lakeland new home community, Treymont. This laid-back neighborhood is a hidden gem because, not only is it convenient to Downtown and healthcare facilities including Bartow Regional Medical Center and Lakeland's VA Medical Center, but it also boasts luxurious new homes, large homesites, and a gated entrance for highly desirable privacy.
Here's the best part: Treymont is so new that you can be one of the very first homeowners to build a new home in this spectacular community!
In this article, we are here to answer all of your questions about this new home community in Lakeland and show you how you can build your dream home at Treymont.
First, let's talk about all of the wonderful reasons why Treymont is one of the best places to live in Lakeland.
Why Should I Live in Treymont?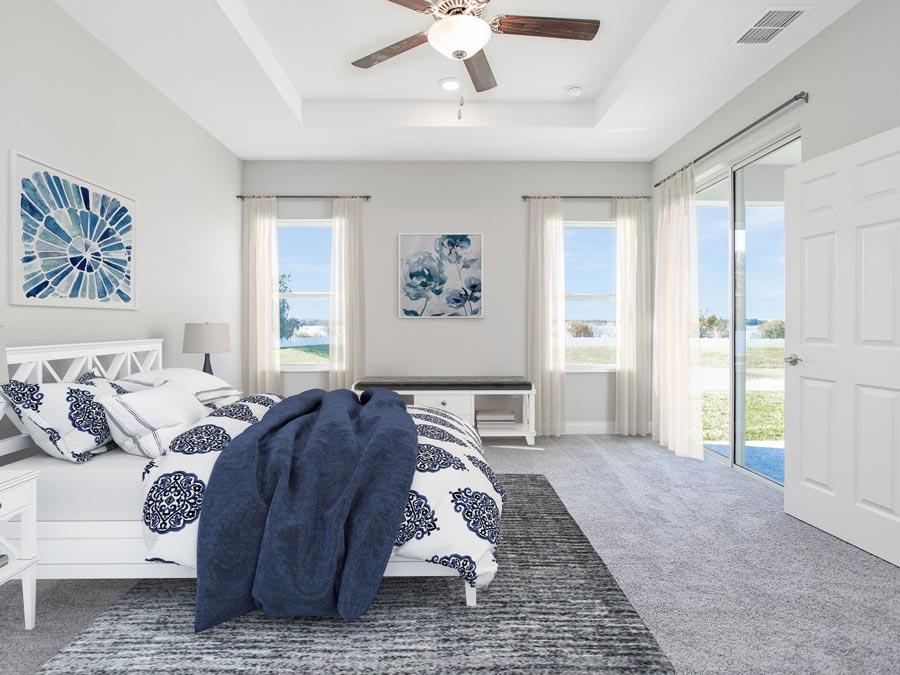 Gated Entrance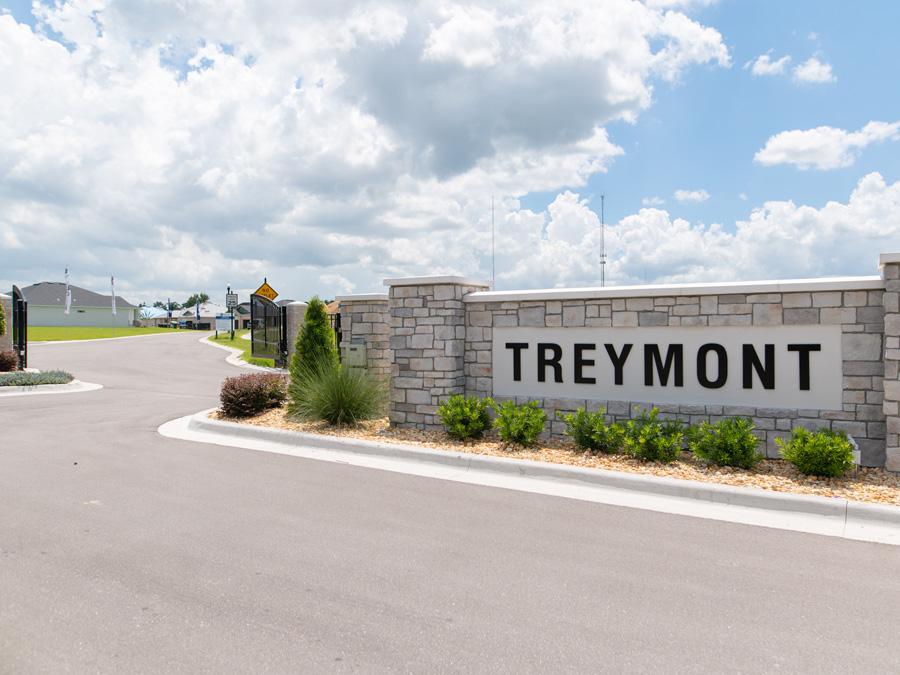 For starters, Treymont is a gated community. This means you will never have to worry about excess traffic in your neighborhood because the roads are private. Plus, you can have peace of mind that only residents and guests with the gate code will have the ability to enter the community.
Quiet Lakeland Location
These desirable Lakeland new homes are located in a quiet residential area yet just a hop, a skip, and a jump away from local hotspots and major roads.
Treymont is situated off Crews Lake Drive in the exclusive Highlands area of South Lakeland. Here, residents enjoy living on the fringes of the city with nearby orange groves perfuming the air and small farms evoking a feeling of old Florida.
The Polk Parkway is only a 4.5 mile drive from Treymont, providing a quick connection to I-4. In addition, your new home at Treymont is conveniently located just 2.7 miles from US-98 S/Bartow Road and 4.3 miles from South Florida Avenue, both providing an array of shopping and dining opportunities along with travel to Downtown and North Lakeland.
What Do New Construction Homes at Treymont Have to Offer?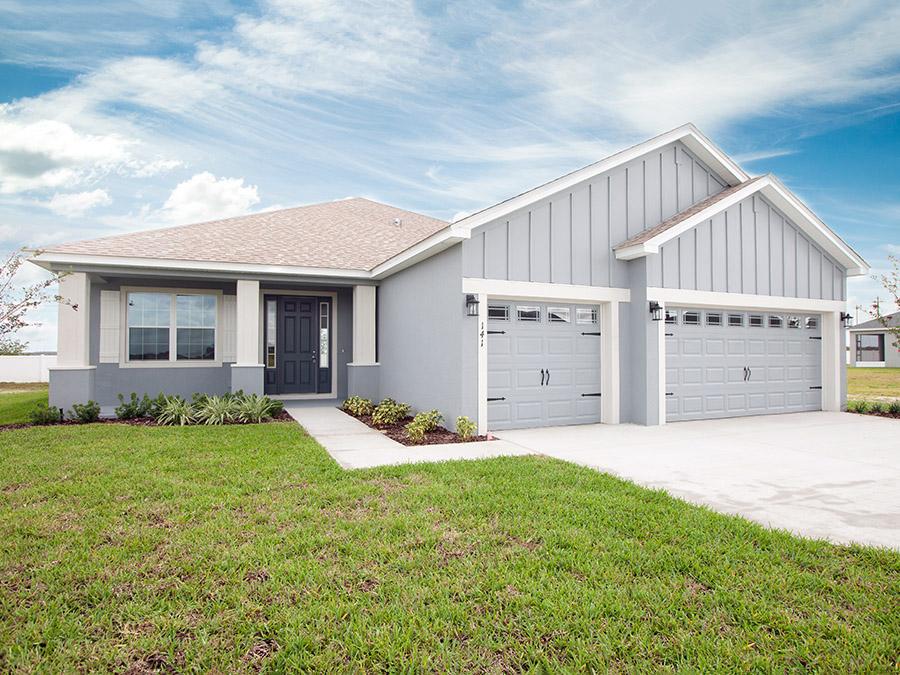 Spacious homes with luxurious design features is just the start of the new home benefits at Treymont. Why?
Because you have the opportunity to choose your dream build from a number of amazing home plans and then personalize your home from the inside-out with a huge selection of design options and the help of a professional interior designer. What more could you want?
Benefits of Building a New Home in Treymont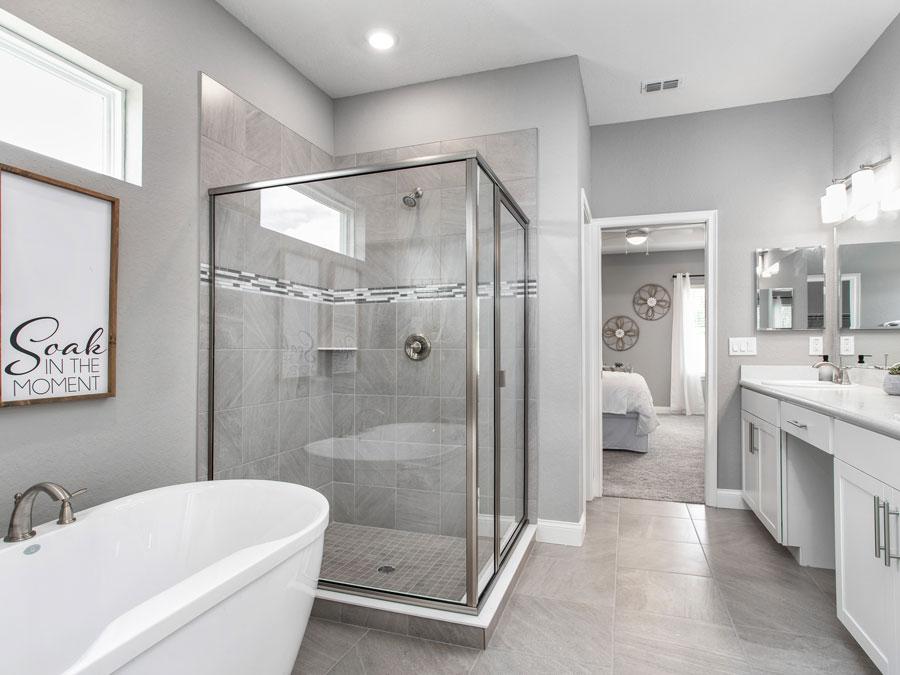 And that's not all. Here are some of the other amazing benefits that Treymont new homes have to offer:
80-ft. wide home sites for privacy between homes
Quarter acre lots are large enough for a backyard pool
Spacious 2100+ sq ft home plans equipped with 4 or 5 bedrooms and 3-car garages
In-law suite option on select home plans
Luxurious homes priced from the mid $300's - Base price includes a standard home site and luxurious design features
Some of the luxurious features you'll find in every new home at Treymont include:
Gourmet kitchen with Samsung SS appliances, 36-in. staggered cabinets, and ceramic tile flooring
Spa-like en-suite owner's bath with dual vanities, a tiled shower, and garden or freestanding tub (per plan)
Designer light fixtures and ceiling fans throughout your home
The new model home, showcasing the gorgeous 5-bedroom, open-layout Waylyn home plan, opened in summer 2021 and provides a taste of the style and luxury you can expect when you build your dream home at Treymont.
What are the Best Things to Do Near Treymont?
One great resource Lakeland is known for is… well… lakes! From fishing and swimming to boating and kayaking, you can enjoy the vast array of water activities on a pristine Lakeland lake.
Here are our top picks: If you prefer to take a boat ride, Banana Lake Park is very close to Treymont and offers the nearest public boat ramp - just 2.5 miles away. On the other hand, Lake Hancock (4.9 miles) is a stunning location that locals claim to be a fisherman's paradise!
Outdoor Adventures Await
If you are a nature fanatic, then you will be pleased to hear that there are a number of scenic trails within a couple of miles of your Treymont home!
For hikers, Lakeland Highlands Scrubs sits just west of Treymont off the tail end of Crews Lake Drive, a quick 3.3 miles away. This nature-lovers paradise houses 551 acres of natural habitats with three named trail loops where you can expect to see everything from marshlands to a dry prairie, and you may spot wildlife including tortoises, a variety of birds, and possibly even a fox or bobcat.
Lakeland's Fort Fraser trail system can be accessed just on the other side of Bartow Road, about 3 miles from your new home. This 7.75-mile paved multi-use trail is popular among runners and bike riders and offers rest shelters along the route.
In addition, Fort Fraser connects to the recently-opened Panther Point Trail and the well-known Circle B Bar Reserve - a must-see preserve for nature enthusiasts.
Golf and Other Recreational Activities
When it comes to outdoor activities in Lakeland, the list goes on and on!
For instance, mountain bikers can visit the Carter Road Mountain Bike Trails at Loyce E. Harpe Park (6.5 miles). This park provides a thrilling destination to bike through some of the most exciting landscapes Lakeland has to offer, with easy to advanced trails through woods and wetlands.
Meanwhile, if you prefer to hit a hole in one, the lush Sanlan Golf Course offers 27 unique holes to get your game on. And the best part? It's only 5.4 miles from Treymont!
Even your pooch has an exciting place to go. Take your dog to nearby dog-friendly parks such as Dog Leg Woods (6.9 miles) and Diogi Dog Park (6.2 miles).
Best of Downtown Lakeland
When you're ready for boutique shopping, decadent dining, or a stroll around Lake Mirror, Downtown Lakeland is just 9.5 miles away!
The Downtown area is home to some of our favorite places for an evening out such as Frescos Southern Kitchen, Nineteen61, and Revival. If you're craving a delicious meal with a New Orleans flair, then head over to the popular dining hotspot, Harry's Seafood Bar & Grille. Or, for a laid-back afternoon or evening spot, grab a pint of local beer at Swan Brewing.
Looking for fun spots to visit around Lakeland? Check out Lake Mirror & Hollis Gardens, browse thought-provoking artwork at the Polk Museum of Art, or catch a movie at the Silver Moon Drive In.
And we're not stopping there!
Shopping and Daily Conveniences
At Treymont, you're never far from your daily necessities. Your nearest Publix is just 1.5 miles away and Catfish Country, a locals favorite for seafood dinners, sits just 2.8 miles from your new home.
Within minutes from Treymont, there are plenty of shopping plazas, delicious restaurants, home improvement stores, and major retailers. Take a look:
Walgreens Pharmacy (1.9 miles)
Bruster's Real Ice Cream (3.5 miles)
Lowes (4.9 miles)
Home Depot (5.1 miles)
Sam's Club (5.2 miles)
Merchants Walk Shopping Center (7.0 miles)
Lakeside Village Shopping Mall (8.2 miles)
Target (8.2 miles)
Is Treymont Close to Lakeland Medical Centers?
Whether you work in the healthcare field or simply want the peace of mind of having medical care close to home, one of the perks of living at Treymont is that you are conveniently located to several Lakeland medical centers, including:
Watson Clinic Highlands (1.9 miles)
Bartow Regional Medical Center (5.5 miles)
Lakeland VA Clinic (8.4 miles)
Lakeland Regional Health (10 miles)
Furthermore, the brand new Lakeland VA clinic is expected to open in 2024 and will be located 1.1 miles away just off of Lakeland Highlands Rd. As you can see, if you are searching for the best new homes near top Lakeland medical centers, then Treymont is calling your name!
Own Your Dream Home at Treymont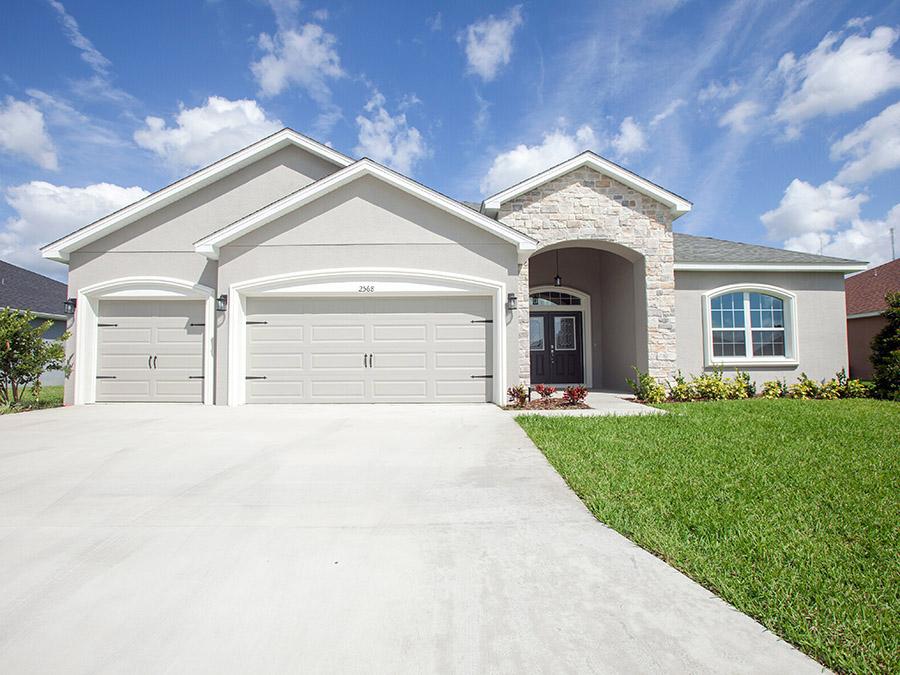 Because of overwhelming interest and the limited number of home sites available at Treymont, a limited number of opportunities are available each month to build in this exclusive community. To learn more and get on the Priority List to build your dream home in Lakeland at Treymont, call or email us and schedule an appointment to meet with a Highland Homes Lakeland New Home Specialist today.
---
Tags:
Lakeland
South Lakeland
Treymont
Single-family homes
Gated community
Polk Parkway
---