blog
2012 Design Trends for Lakeland Homes Are All About Color
2012 Design Trends for Lakeland Homes Are All About Color
Posted:
February, 21, 2012 |
Categories:
Design and Decorating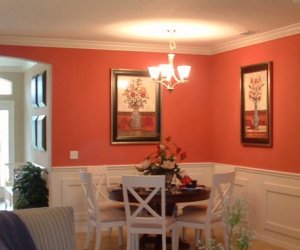 Looking to decorate your Lakeland homes? If you follow design trends, then you may already know that Tangerine Tango was named the 2012 Pantone Color of the Year. Here is the scoop on 2012's other top home design colors.\n
Greens
\nGreen is all about landscaping and nature. Green originally meant "to grow" so to have green as the main color of your home means to embrace nature and the outdoors. There are many different tones of green, from a modern lime green and teal, to a more traditional hunter green, to a transitional feel with sage. Adding nature pictures or greenery above the cabinets are easy uses of green.\n
Blues
\nIf you are into a calming color and evoking a bit of mystery, blue might be your perfect color. Blue is known for water and the skies. The most common tones are cobalt, navy, royal and turquoise, and popular décor colors, purple and gray, are also included in this category. Blue can fit in with a coastal style, casual or modern home depending on the tone. It is easy to decorate in this category since there are so many different blues, grays and purples that work well together.\n
Neutrals
\nNeutrals are your calm colors of wheat, khaki and creams. They look good by themselves or shared with a brighter color from one of the other categories. Decorating with neutrals is all about textures. Wood floors, textured wall paper and different fabrics bring out the appeal of neutrals. One of the most popular ideas within neutrals is to have white bedding and lamp shades, cashmere or sand color walls, and cotton textured drapes. Neutrals provide confidence, and yellows are included in this category for brightness. One of the most popular colors in the 2012 forecast, latte, falls in this category.\n
Reds
\nRed is the color of passion, love and energy. The red category also includes oranges, salmon, pink and some purples. Red is very transitional from modern bright red and orange, to traditional burgundy, to French country salmon. Reds can be very fun to decorate with and use as accents. Reds can be paired up with the other categories, but make sure all the tones mesh well together.\n\nSelecting color for your
Florida new homes
is about expressing your personality, so think of the colors that appeal to you and choose the right category for your tastes. Consider having a plan of colors before you select your finishes, furnishings and accessories, and always carry paint samples of your colors with you when shopping so you can match with your accessories and furnishings.\n\nWant to start picking out colors for your new Highland Home? Our Design Consultants can help you choose the right colors. Give us a call at 863-667-4782 or visit the
Highland Homes
website to schedule a browse at our Personal Selection Studio.
---
Tags:
design
Florida New Homes
Highland Homes
Lakeland homes
florida new home
Lakeland
design trends
Lakeland home
Florida
new home
FL
New Homes
home design
---