blog
2014 Color of the Year Choices Perfect for Central Florida New Homes
2014 Color of the Year Choices Perfect for Central Florida New Homes
Posted:
December 18, 2013 |
Categories:
Communities
|
News
|
Design and Decorating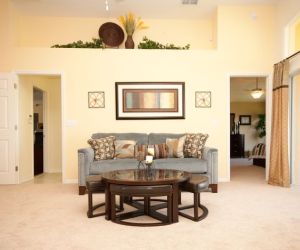 Each year, color experts for PPG and Pantone look carefully at current trends in fashion and design and select a hue they expect to be prominent in the coming year.  In the past few years, bright and vibrant colors have dominated color trends. This year, however, the winners are a little different as both picks are more muted, pastel colors. From buttercream yellow to a pink-purple hue, these colors are perfect for your Central Florida new home.
PPG Pittsburgh Paints 'The Voice of Color' chose Turning Oakleaf, a soft buttercream yellow, as their 2014 Color of the Year. This delicate hue is refreshing, energetic and calming all at the same time, and is soft enough to be used as a neutral yet bright enough to infuse sunshine-like energy.  According to the Voice of Color experts, Turning Oakleaf reflects a spirit of pause and refresh which is the perfect vibe to bring into the upcoming year.
Highland Homes was excited to see Turning Oakleaf named Color of the Year because back in June 2013, Stacey Perez, Manager of the Highland Homes Personal Selection Studio, selected this color to use in our newest model at Palmetto Estates.
"It is a warm color with lots of potential to accent with. I paired it up with a light lime green and gray tones,쳌 Perez says.   Since Turning Oakleaf is more of a neutral hue, it can be used as a base color with brightly colored accents. For example, Turning Oakleaf is a great color to pair with citrus tones and warmer neutrals as well as blues, purples and greens.
The Hawthorne model home in Palmetto, Fla. will be opening in January 2014 — join the Palmetto Estates VIP List to receive grand opening news and see how the trend setting Turning Oakleaf paint color can be used in Florida home décor.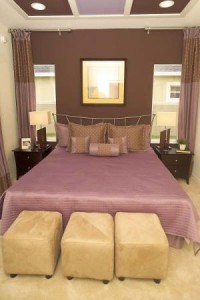 Pantone, the global color authorities, recently announced Radiant Orchid as their 2014 Color of the Year selection. According to Pantone, this captivating pink-purple color "inspires confidence and emanates great joy, love and health.쳌 The hue is an enchanting combination of fuchsia, purple and pink tones, and is an attention-getter with lots of décor-related potential. It is quite versatile and compliments olive and dark greens (such as Emerald, last year's Pantone Color of the Year selection), pairs seamlessly with cooler neutrals such as gray and beige, and is beautiful when combined with turquoise-blues and pale yellows.
Interestingly enough, different shades of purple and pink have been tops in the fashion world for quite some time but just recently made it over to the world of home color trends.  Highland Homes has used shades of purple in several of our model homes in Central Florida in the past few years, and the color creates a welcoming embrace.  We are excited to see it recognized as a top style trend for 2014.
Both PPG and Pantone have a number of online resources with helpful hints for using color in your décor, as well as a history of color trends over the years. You can also check out the Highland Homes 2014 Paint Color Trends board on Pinterest for fun and inspirational ideas on how to incorporate these cheerful shades into your own space. Color is a great expression of our individual personalities and makes a big impact on the overall atmosphere of your entire home, so have fun experimenting with color and expressing yourself through your décor!
Highland Homes builds new homes throughout Central Florida, Tampa Bay, Manatee County, and coming soon to Ocala. For more information about our stylish homes and communities, visit the Highland Homes website today!
---
Tags:
design
design trends
Color of the Year
---