blog
Top 5 Reasons You Will Love Living at Aviary at Rutland Ranch
Top 5 Reasons You Will Love Living at Aviary at Rutland Ranch
Posted:
February 26, 2021 |
Categories:
Communities
|
Communities>Aviary at Rutland Ranch
Updated September 27, 2021
If you want country roads to take you home, then drive down the scenic Rutland Road to the beautiful Aviary at Rutland Ranch. This peaceful community offers the most desirable new homes in Parrish, FL and provides a wide array of home layouts and design options, resort-style amenities, charming lakes, and open space.
But don't take it from us! We asked Aviary at Rutland Ranch homeowners to share what they love about living in this tranquil neighborhood.
From amazing home values to resort-style amenities, here are the top 5 reasons why you will love living at Aviary at Rutland Ranch.
1. Relax in a Peaceful Setting with City Convenience
Picture this: as the bright orange sun slips down the west end of your property, Florida nightlife begins to emerge.
But not that kind of nightlife: it's actually Florida wildlife at its finest.
You listen for the low call of a great horned owl in the distance as you gaze upon graceful deer grazing throughout the neighborhood.
Since Aviary at Rutland Ranch is located next to farms and conservation areas, the country-esque setting surrounds you with local wildlife, wide open spaces, glimmering lakes full of freshwater fish, and peaceful walkways dotted with lush trees.
Here's the best news of all: although Aviary at Rutland Ranch is located in the country, the community is just a short distance from several urban settings, so all of your day-to-day needs and major employment centers are just a hop and a skip away.
Close Proximity to 3 Major Cities
That's right, Aviary at Rutland Ranch is far from complete isolation. In fact, 3 sprawling cities are just a quick drive from this pleasant community, including:
Bradenton (15 miles)
Sarasota (27 miles)
St. Pete (32 miles)
So, if you want to amp up your laid-back Florida lifestyle and plan a night out in the big city, just hop onto US 301 or Rye Road and you will be in one of these fun-filled cities in no time!
2. Send Your Children to Top-Rated Schools
If you have children, then you will love to hear what homeowners have to say about the schools zoned for Parrish, FL!
Give your kids the higher education they deserve at these top-rated schools:
Annie Lucy Williams Elementary School (A rated)
Buffalo Creek Middle School (B rated)
Parrish Community High School (brand new facilities – not yet rated by FL DOE grading)
Want to check out more schools in the area? Bradenton is just a 20-minute drive from Aviary at Rutland Ranch and offers several private schools to choose from.
3. Indulge in Resort-Style Amenities
If you are hunting for the best new homes in Parrish, FL, then you are also probably searching for communities that offer amazing amenities.
You guessed it: Aviary at Rutland Ranch is here to fulfill all your neighborhood dreams. With brand new amenities popping up in March, you and your family can indulge in a:
Resort-style swimming pool and sun deck
Pool house
Children's playground
Pickleball courts
Basketball courts
Wide-open spaces
Along with these awesome amenities, you can explore the expansive lakes that dot the community or enjoy everything nature has to offer as you stroll past wetlands conservation areas.
4. Increase Your Investment With Skyrocketing Home Values

New homes in Parrish, FL have grown an astonishing 25.7% in home value over the past year. These numbers are projected to rise even more in 2021!
As Parrish, FL quickly becomes THE Manatee County city to live in, it's no wonder homeowners are so enthusiastic about their home at Aviary at Rutland Ranch.
According to homeowners, the main reason they were drawn to this area is the close proximity to several major Florida cities combined with the luxury of country living.
So, what makes Aviary at Rutland Ranch a prime investment?
New Homes at Aviary at Rutland Ranch Start in the low $300s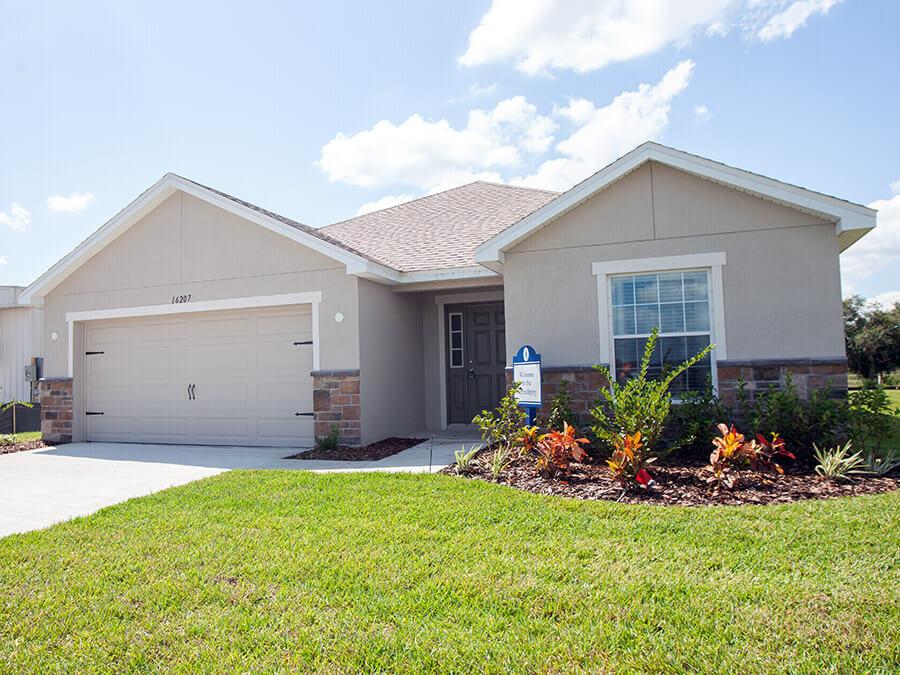 With outstanding amenities and benefits such as irrigation water included in the HOA, an average home site of 50' x 125', and new homes from the low $300's, this stunning community is sure to provide you with an upward investment.
And, here's the kicker: Buying a new home is almost always a stronger real estate investment than buying a used home because of the following factors:
Lower maintenance: Newer homes mean updated, more advanced electric, plumbing, and engineering, along with no wear and tear on major appliances and systems. This usually means greener homes with fewer emissions and lower maintenance costs.
New appliances and equipment: No need to worry about changing that water heater or AC unit in the next year. In addition, our new homes at Aviary at Rutland Ranch come equipped with the latest Samsung appliances.
No renovations needed: When you build your own custom home, you won't need to factor in additional costs to add an extra room or redo the kitchen. You choose your desired home plan and options for a headache-free move-in (more on this below)!
Builder warranty: Should something go wrong, your investment is protected by best-in-class warranty coverage, including a 10-year structural warranty - you won't get that with a used home!
Speaking of reasons to buy a new home, it's time to talk about our final reason why you will love living at Aviary at Rutland Ranch.
5. Personalize Your New Home, Just For You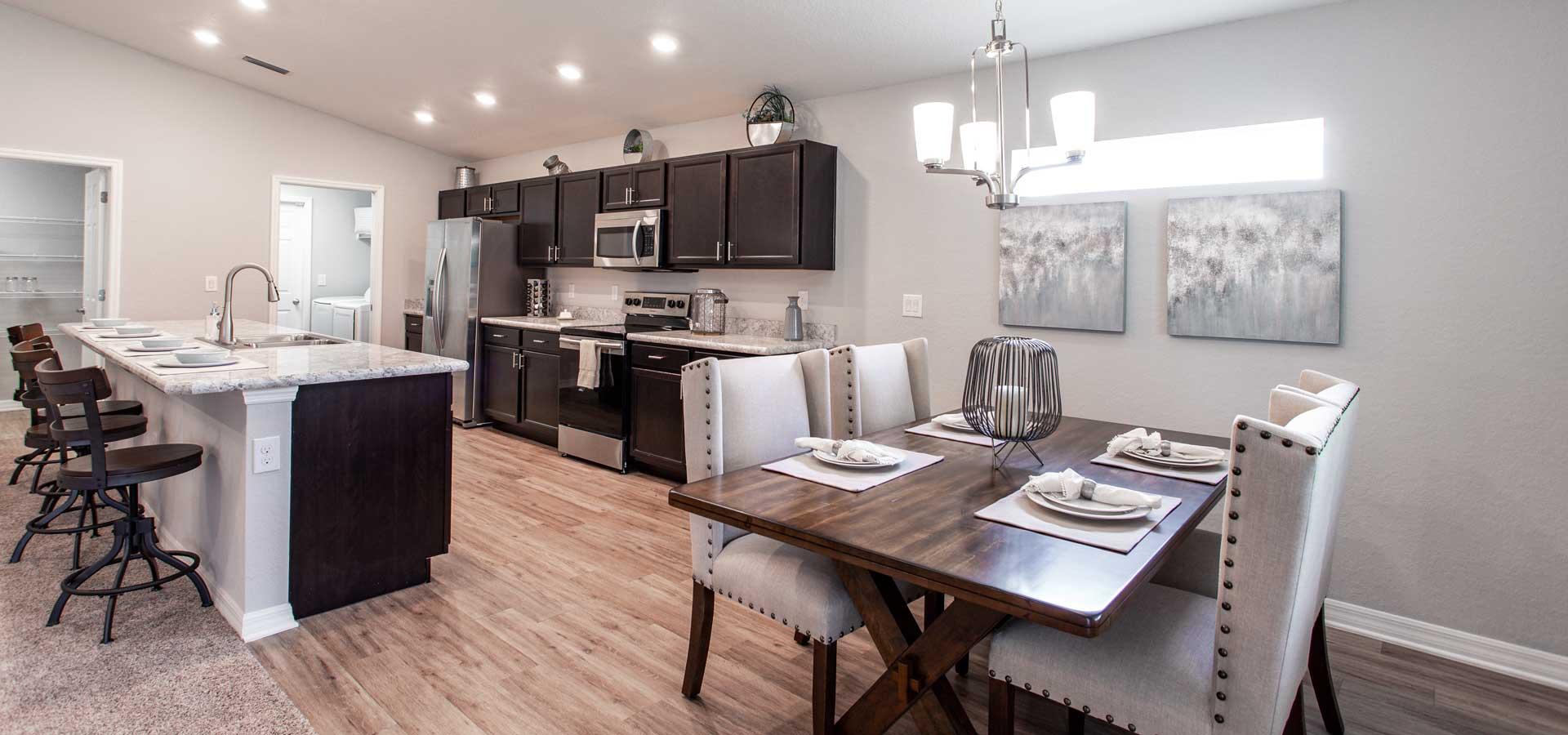 Fantastic location, top-rated schools, resort-style amenities, and an amazing investment for the future… The only thing missing is your dream home-build!
Not only do you get all of the perks mentioned above, but you also have the unique opportunity to build a personalized new home at Aviary at Rutland Ranch.
First, tour model homes in person or via 360 virtual tours online to find your ideal home layout:
More than 10 unique home plans
1,545 – 3,141 square feet of living space
3 to 6 bedrooms
Open concept living space, flexible-use rooms, and porches/lanais for outdoor living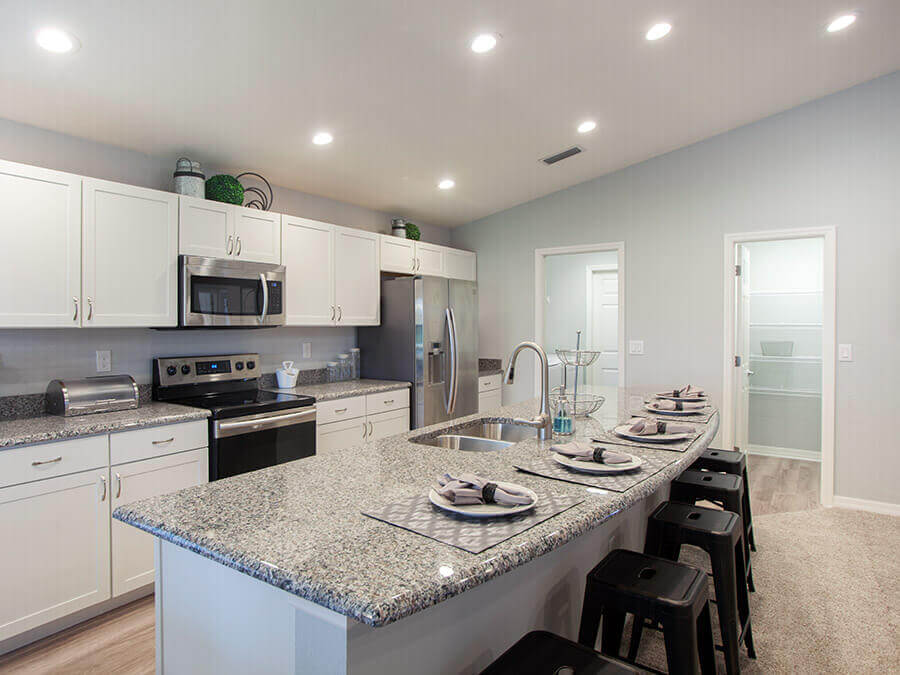 Choose Your Favorite Features and Finishes
Then, the professional designers at our Personal Selection Studio will help you select the features and finishes to perfectly design your dream home:
Whether you already have a Pinterest board for your dream kitchen or need a little more guidance, the Studio offers an immersive experience to make your home design easy by helping you visualize how your selections will look in your new home.
You choose your shingles, flooring, and everything in between with a great selection of cabinetry, appliances, countertops, lighting, flooring, paint, home audio, energy-efficiency products, and so much more.
A wide variety of selections are available at every price point, from included and at no additional cost to luxurious upgrades.
Visit our online Inspiration Gallery to browse different room looks and get a head start on planning your dream home design!
As you can see, this peaceful community really is a dream come true.
Ready to Fall in Love With Aviary at Rutland Ranch?
If you are ready to find your new home in Parrish at Aviary at Rutland Ranch, then Highland Homes is here to guide you through the entire process. Click the Call Us or Email Us buttons to contact our Aviary at Rutland Ranch team and schedule an appointment for your personal model home and community tour.
We look forward to helping you build your dream home!
---
Tags:
Aviary at Rutland Ranch
Bradenton-Sarasota
Parrish
St Petersburg
Bradenton
Sarasota
Amenities
Single-Family Homes
Lakefront Homes
Lakes
Open Space
Playground
Swimming Pool
---