blog
5 Most Popular Upgrades on our Florida New Homes
5 Most Popular Upgrades on our Florida New Homes
Posted:
October, 10, 2012 |
Categories:
Design and Decorating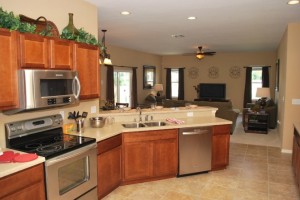 One of the best things about building your new home in Florida with Highland Homes is you get to personalize your home with hundreds of options at the Highland Homes Personal Selection Studio.  We offer a variety of included and upgrade options so you can perfectly match your home to your style and budget.\n\nOur designers work with hundreds of home buyers each year, and over the past couple years we have noticed trends as to where our Florida home buyers spend their money.  The top 5 most popular new home upgrades include:\n
\n
Whirlpool appliances: Included with every Highland home are the Whirlpool range, range hood and EnergyStar dishwasher.   Our most popular add-ons include the microwave, refrigerator and washer and dryer.  Our prices include tax, delivery, warranty and installation so are very comparable to, and many times better than, the final price you would pay at a store.  Plus, buyers get the added convenience of having the appliances installed before move in.  Additionally, in most cases the appliances can be added to your mortgage rather than you having to pay up front at a store.
\n
\n
\n
Radiant Barrier: Are you looking to save on your utility bill?  Most people are — which is why Radiant Barrier is such a popular upgrade.  Radiant Barrier reduces you're cooling costs by up to 12%.  The product is an insulating foil shield that gets stapled to your roof trusses and it helps keep your home insulated by reducing heat transfer through your attic.  Additionally, by lowering attic temps by up to 30 degrees, it improved the efficiency of insulation and a/c ducts.
\n
\n
\n
Blinds: Homeowners usually purchase blinds through us because of the convenience!  We offer 2" faux wood blinds in 5 finishes including 3 neutrals and 2 wood looks.  All of these treatments come with a decorative valance to hide the hardware and are custom fit to your windows with no extra stacking at the bottom or gaps on the side, and the package includes vertical blinds on the sliding glass doors.
\n
\n
\n
Beveled-edge countertops: We offer a large selection of included Wilsonart Laminate countertops, with approximately 32 colors to select from in a variety of colors and patterns.  Normally the countertops come with a square edge, and adding a beveled edge is a very common option.  The bevel adds a more decorative and custom finish to the countertop and tricks many people into thinking it is a solid surface countertop.  It also helps prolong the life of the countertops by shedding water easier and reducing edge chipping.
\n
\n
\n
Decorative bathroom wall tile: Our fifth most popular upgrade is decorative bathroom wall tile.  Our shower and tub areas come standard with a 6쳌x6쳌 white tile on the walls and a 3쳌x3쳌 tile on the floors, which is very nice in itself! Buyers can upgrade to the same layout in bisque color, or upgrade to an 8쳌x10쳌 tile, for a very low cost.  We also offer Level 2 and 3 ceramic wall tiles ranging from an 8쳌x12쳌 to an 11쳌x13쳌 size with a decorative accent band.  A variety of tiles and accents are available, and this provides a dramatic focal point to the bathrooms.   We also have matching floor tile for every wall tile.
\n
\nOne of the best things about purchasing a new home is personalizing it, and the Highland Homes team will help you figure out your budget and perfectly design your home to your needs and taste.  To find your perfect new home, visit the
Highland Homes
website.
---
Tags:
home in Florida
radiant barrier
Highland Homes
new home in Florida
Florida
new home
FL
---