blog
Celebrate 4th of July with a Bang near Florida New Homes
Celebrate 4th of July with a Bang near Florida New Homes
Posted:
July, 1, 2013 |
Categories:
Communities
|
General Info
|
Events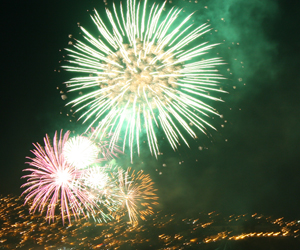 It wouldn't be 4th of July without fireworks and fun and for residents of Florida new homes there are plenty of opportunities to celebrate Independence Day with a bang.\n\nWhether you live in an Orlando, Tampa, Lakeland or Winter Haven new home, there are 4th of July celebrations located within minutes of your front door. Here are a few of the events going on in your area:\n\nOrlando Area\n
\n
Fourth of July Celebration, Leesburg (July 4): Leesburg residents are invited to celebrate 4th of July at the Venetian Gardens. With fireworks, live entertainment and games, this celebration is perfect for the entire family. Festivities start at 6 p.m. and admission is free.
\n
Fireworks at the Fountain, Downtown Orlando (July 4): Downtown Orlando will celebrate Independence Day with a fun-filled afternoon around beautiful Lake Eola. Festivities include games, activities, live entertainment, delicious food and a 30-minute fireworks display. Admission to this family-friendly event is free.
\n
Fourth of July Celebration, St. Cloud (July 4): Residents of Orlando new homes in St. Cloud are invited to celebrate 4th of July at St. Cloud Lakefront. Activities include live music, carnival rides, arts and crafts show, beer tent, food and fireworks. Admission to the event is free.  
\n
Disney World (July 1-7): All week long, celebrate at Magic Kingdom with Disney's Celebrate America — A Fourth of July Concert in the Sky. The Celebration is free with admission and includes a patriotic-themed parade, blazing fireworks and magnificent music.  Disney's Hollywood Studios and Epcot will also host special events on Independence Day.
\n
\n
Lakeland/Winter Haven Areas
\n
\n
Red, White & Kaboom, Lakeland (July 3): The night before Independence Day, Lakeland residents will celebrate at Lake Mirror along the Frances Langford Promenade. Festivities begin at 6 p.m. with live music and food followed by fireworks at 9 p.m.  Admission is free and attendees are encouraged to bring a canned food donation to benefit Chow for Now.
\n
Rock N' Freedom Fest, Winter Haven (July 3): Visit Martin Luther King, Jr. Park on Independence Day-eve for live music, children's activities, water ski show, food and drinks, and a rockin' fireworks display at 9:15.  Free to attend.
\n
LEGOLAND's Red, Brick & Boom, Winter Haven (July 4-6): Experience 4th of July fireworks like never before — special 3D glasses turn fireworks into dazzling exploding bricks.  Included with park admission.
\n
Thunder on the Ridge, Haines City (July 4): If you are looking to celebrate 4th of July all day long, check out Thunder on the Ridge at Lake Eva Park. Activities include live music, arts and crafts, food and Polk County's largest fireworks show on Lake Eva. The celebration will begin at noon with fireworks beginning at 9:30 p.m.  Admission is free.
\n
\n
Tampa Bay Area
\n
\n
Channel District Fireworks, Tampa (July 4): With live music and a choreographed fireworks display on the water, this is one of the hottest 4th of July celebrations in town, but you must arrive early to attend. Only the first 3,500 visitors will be allowed to sit on the wharf for the show that begins at 9 p.m.  Free to attend.
\n
July Fourth Celebration, Plant City (July 4): Celebrate Independence Day with family-style fun including face painting, volleyball, inflatables, corn-hole, food, live music and fireworks when you attend the July Fourth Celebration at Plant City Stadium. Admission is free with parking available at $5 per car.
\n
Sparklebration Star-Spangled Spectacular, Dade City (July 4): Family fun at the Pasco County Fairgrounds includes live music, eating contests, petting zoo, sky dive drop-in, pony rides, food, fireworks and more.  Cost is $5, kids 12 and under are free.
\n
Fourth of July Fest, Madeira Beach (July 4): This all-day beach party includes concerts, tiki bar, kids area, hula contest, food and a fireworks finale.  Free event at Archibald Park in Madeira Beach.
\n
\nThese and many other fun Fourth events are conveniently located to our new home communities in Orlando, Tampa, Lakeland and Winter Haven. For more information on our beautiful new homes located in these prime Florida locations, check out the
Highland Homes
website today! 
---
Tags:
Orlando
home in Tampa
Lakeland new home
Winter Haven new home
Highland Homes
Lakeland new homes
Winter Haven new homes
Lakeland
Winter Haven
new home in Tampa
4th of July
orlando homes
new home
tampa
New Homes
---