blog
Create the Perfect At-Home Space for School-Year Success
Create the Perfect At-Home Space for School-Year Success
Posted:
July 29, 2014 |
Categories:
Design and Decorating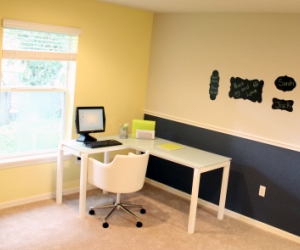 It's hard to believe it's almost time for kids to head back to school in Florida! Whether they are just beginning their school-aged journey or in their senior year of high school, creating a home environment to help with their academic success is important, and a lot easier than you might think.
A designated homework area in your home is a simple way for children to get in a routine that promotes organization, productivity and good grades. Creating a regular time and place for homework helps kids to avoid distractions, develop a schedule and avoid procrastination. According to the US Department of Education, setting up the right environment for homework includes finding a fairly quiet location with good lighting, turning off the TV and discouraging from phone calls during homework time, and providing the right resources including supplies, books and computer access.
Creating a specific place for backpacks can also help tremendously when it comes to after-school organization.
Stacey Perez, Manager of the Highland Homes Personal Selection Studio and mother of three, suggests keeping backpacks on a hook near the entrance of your home, whether that is a foyer, utility room or hallway. "This way it is easy for kids to remember when coming in or out of the home.쳌
Stacey agrees that having a designated area for homework is important. "Moving to different places to work on assignments may create distractions.쳌
"Every family's home may have the homework area in a different space,쳌 Stacey says. "You have to find what works best for your family.쳌 It can be in a bedroom, loft, corner of the family room, or even at the kitchen table if necessary, as long as the space is "quiet with no TV's, radios, or people frequently walking in and out.쳌
Stacey suggests keeping paper, scissors, pencils, and other supplies in one area on the desk to prevent from running all over the house to find things, which can cause kids to lose focus. Organizing the homework area with brightly colored containers helps prevent clutter, which can be a concentration killer. Adding artwork on the walls makes it a fun area, where kids want to be, and stimulates their creativity.
If your homework area is in the living area of your home, the way to make this work when you have children of different ages is to set time aside as designated quiet time, when the school-aged kids can work on their homework, and younger children can be occupied in another room. Parents can help set a good example by using this time to read, check emails, pay bills, or do other tasks that require quiet thought and productivity.
For more tips on home décor and organization, follow the Highland Homes blog. Highland Homes builds new homes in Ocala, Manatee County, Tampa Bay and Central Florida. For more information on all of our beautiful new home communities, visit the Highland Homes website.
---
Tags:
personal
selection studio
personal selection studio
---