blog
Decorating Your Florida Home with Pantone's Color of the Year
Decorating Your Florida Home with Pantone's Color of the Year
Posted:
January, 26, 2017 |
Categories:
Communities
|
News
|
General Info
|
Design and Decorating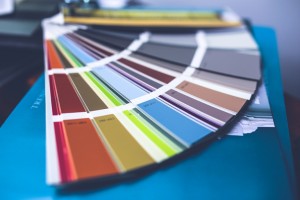 Each year, the color experts at Pantone put their heads together to anticipate top color trends for fashion and design, and select a Color of the Year which reflects what is taking place in the world around us. 2017's Color of the Year, Greenery, is a refreshing and vitalizing shade symbolizing new beginnings.
According to Pantone, Greenery is a "fresh and zesty yellow-green shade that evokes the first days of spring when nature's greens revive, restore and renew.쳌 This hue evokes rich foliage and invigorating natural beauty.
How can you incorporate this bold, refreshing, and revitalizing color into the décor of your new home in Florida? Very easily! One of the simplest ways is to bring the outdoors in by adding potted plants around your home. Live plants offer the benefits of creating oxygen, purifying the air, and, according to many studies, actually improve mental health, focus and happiness.
Of you don't have a green thumb, no worries — fake greenery can still evoke visual relaxation, and here are additional ways to use green in your home décor!
Living Areas and Kitchen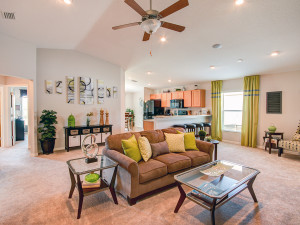 The living room and kitchen are the most utilized areas in your new home, and certainly the space seen most by guests in your home. Create a visual impact and relaxing atmosphere with Greenery!
If you feel that green is an overbearing color to paint your walls, try adding the color through accessories. Accent pillows, curtains, artwork, and vases can all add pops of color and personality - Our Hawthorne II model gives the ideal hint of green for your new home.

Select one impact piece in Greenery, such as chairs, a sofa, or accent wall, and calm down the visual impact by pairing with more pastel shades. Whether a lighter shade of green, soft gray lilac, or earthy neutral brown, the pale and bold will combine in perfect harmony.

In the kitchen, keep things feeling fresh and lively by adding green pops with house plants, vines on top of your cupboards, and colorful appliances and utensils. An herb garden in the window or on the counter offers both a decorative and delicious piece of green!
As a rule of thumb, calming and cool colors should be used in rooms that are meant for relaxation, like the bedroom. Adding Greenery into your bedroom may seem like an extreme accent, but if done right, the results can be refreshingly beautiful!
Painted furniture is all the rage! Pick one piece painted with a deep shade of green to add your personality to the room. Other furniture should complement in earthy brown woods, or clean white.

This refreshing master bedroom suite in our Serendipity model shows that natural lighting, clean white accents, and neutral walls and flooring create the perfect companion to a vivid green accent wall.

Similar to your living area, use accents to bring refreshing green into the bedroom. Try a bedspread with a bohemian green and blue pattern, green accessories on the dresser, and decorative accent pillows.
Bathroom
Neutral shades are a popular pick for bathrooms, but that doesn't mean that you shouldn't add some color! Live plants are perfect in the bathroom, particularly succulents, orchids, and ivy which can utilize the humidity in the air, as well as purify the air.
Further embrace calming green with popular geometric décor trends in your towels, rugs, and shower curtains.
Gain more inspiration on decorating your new home in Florida with Pantone's 2017 Color of the Year by visiting the Highland Home's Pinterest board. Here, you can see green décor from both our model homes in Florida, as well as pinned pics from throughout the web. Color is a great way to express your unique personality in your home and create inviting spaces to relax, entertain, and love living every day.
Are you seeking a home to call your own, where you can express your unique style and personality? When you build your Florida new home with Highland Homes, you will select from hundreds of design options and colors at our Personal Selection Studio to personalize your new home. Then, we will build your dream home with the quality materials and colors you have selected, and you can love living in it from the day you move in, without need of costly renovations.
Interested in learning more and to get inspired for your new home? Visit the Highland Homes website or call our Florida New Home Specialists at 863-797-4999 to tour a professionally designed and decorated model home today! Highland Homes builds new homes designed for your life and priced from the mid $100's to $300's in neighborhoods throughout Tampa Bay, Lakeland-Winter Haven, Metro Orlando, Ocala or Bradenton, Florida.
---
Tags:
tips
decor
decorating
Florida New Homes
florida new home
2017 color of the year
decorating tips
greenery
pantone
Color of the Year
Florida
new home
FL
New Homes
---