blog
Fall Decorating Trends for Your Orlando New Home
Fall Decorating Trends for Your Orlando New Home
Posted:
September 24, 2012 |
Categories:
Design and Decorating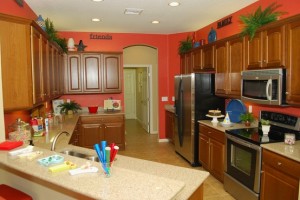 As Summer changes to Autumn we start to see colors change all around us as well. We don't see the trees change as much in Florida as you would up north, but a tinge of fall in the air definitely affects what we wear, the foods we bake and the decor in our Tampa, Lakeland-Winter Haven and Orlando new homes.
When we think of Fall we think of colorful leaves, yummy scents like baking cookies and cinnamon, and hues of browns, golds and reds.  Trends beyond our Fall color instinct include a mix of these colors with dark, bright and neutrals to create warmth with excitement. According to the Pantone Institute, Fall 2012 color trends include olive green, regal purple, grey and onyx, and color of crisp autumn leaves such as orange and red.
This range of colors offers many different hues to make them easy to decorate with. Paint an accent wall with one of these colors to make a bold statement in your space. If you are looking to do something that is not as bold (or permanent!) try adding pillows, candlesticks, metal containers or sculptures to a room and make your statement with accessories!
A great step to begin redecorating for the fall season is a little "fall cleaning." While most people go through their closets and organize with a traditional spring cleaning, many homeowners are starting to expand the trend of seasonal cleaning to the fall, as well, before bringing out their holiday decorations.
During your fall clean up put away items that you will be replacing with your fall or holiday decor. Items such as pillows, lamp shades and candles are easy to store and cheap enough to interchange with the seasons, and replacing just a few items in a room can make a huge difference in the overall appearance.
Update your throw pillows on the couch with the orange, brown, purple or green colors of fall.

Change out your lampshades - White shades are great in the spring but when fall comes around try replacing them with beige or a warmer color.

Replace candles that are cool tones with warm Autumn colors and scents such as Pumpkin Spice.

Have fun with centerpieces on your tables and fireplace mantles.  Get in the spooky spirit with fake cobwebs.  Or, go the traditional route and spread colorful leaves on open bookcases or shelves and place pumpkins (real or fake) on the floor at doorways and on top of tables.

Find more Fall decorating ideas on Pinterest
Small decorating touches will help to bring that cozy fall feeling to the indoors. Accessory items are a great way to update the look of your Florida new home seasonally, and items like lamp shades and pillows are inexpensive and easy to store. If you like to change your décor with the seasons, pick neutral tones for furniture and so you can enjoy affordable redecorating all year around.
For more home and decorating tips, follow our Pinterest boards and visit the Highland Homes website.
---
Tags:
Orlando
Pinterest
Highland Homes
florida new home
Orlando new homes
Florida
new home
FL
Orlando New Home
New Homes
---