Posted:
January 30, 2014 |
Categories:
News
|
Design and Decorating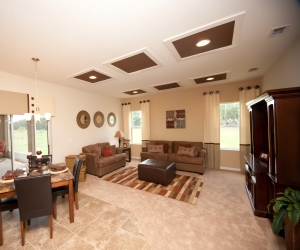 With the new year comes predictions of new trends and technology that we can expect to see. While home trends do not usually change as quickly as other trends do (it's a little more difficult to switch houses than shoes, right?), as the way we live evolves you will slowly start to see Florida home design evolve with it.
According to Real Estate columnist Ilyce Glink, here are the top five design trends expected to take off in 2014:
The open concept continues to grow

Neutral colors beat bright colors

Universal design makes its way into every room of the house

Say goodbye to granite and hello to quartz

Energy efficient and water-saving appliances become standard
It is no surprise that the first trend to watch is the shift to open floor plan layouts. This continues to be among the most desirable features in a home as larger, combined spaces are perfect for gatherings and entertaining family and friends.
Here at Highland Homes, some of our top selling floor plans feature an open layout — 2013 popularity winners included the Edinburgh II and Gardenia plans.
"As we start building in new communities in 2014, we are reviewing the plans offered to ensure they will meet the needs of Florida homebuyers,쳌 says Stacey Perez, Manager of the Highland Homes Personal Selection Studio.
Neutral palettes are gaining more popularity in décor and experts expect to see this trend continue further in 2014. The color experts at PPG Pittsburgh Paints 'The Voice of Color' selected a neutral hue as their Color of the Year pick. Utilizing neutral tones for the foundations and furnishings in a room allows for fun, bold accents and accessories.
"It is nice to use neutrals and add a little pop with your bright and bold colors," says Perez. "Also, this makes it easy to change your décor with the seasons and holidays.쳌
Creating a layout that works as homeowner's age, also known as universal design, is a trend which has been growing and centers around easy maintenance and accessibility. Design elements like a first-floor master suite and shower benches provide convenience, and appliances are being redesigned for those with limited mobility.
Granite has long been a popular countertop selection, but say hello to "the new granite쳌 — quartz! Quartz natural stone countertops provide a similar look and feel but are more durable and non-porous.
"Highland Homes offers Cambria quartz stone countertops as an option," says Perez. "Many styles and colors are available and this is a great choice for homeowners who want the stone look with limited maintenance.쳌
The final anticipated trend is the continuation of energy efficient building, especially as more people are realizing the savings that can accompany more efficient appliances, and water saving toilets and faucet fixtures.
"Highland Homes includes energy and water saving features in every home, like LowE windows and a Whirlpool EnergyStar dishwasher," Perez says. "Everyone loves to hear about how much they can save on their utility bill just by selecting something with the EnergyStar logo, upgrading their insulation, or adding any of the other efficiency features we offer."
At Highland Homes, our eye is always on evolving home trends so we can be sure to provide home layout and design options to perfectly meet the needs and wants of homebuyers.  At the Personal Selection Studio, we offer a wide variety of choices to accompany transforming décor trends and our Design Consultants work every day with homebuyers to help them design their new home to perfectly match their style, needs and budget.
Interested in meeting with a Design Consultant and browsing design selections before you finalize your home purchase? Contact your Community Sales Manager and ask them to set you up with an appointment at the Design Studio!
For more information about building with Highland Homes, visit our website today.
---
Tags:
design
design trends
---