Posted:
July 1, 2022 |
Categories:
Home Buying 101
|
Design and Decorating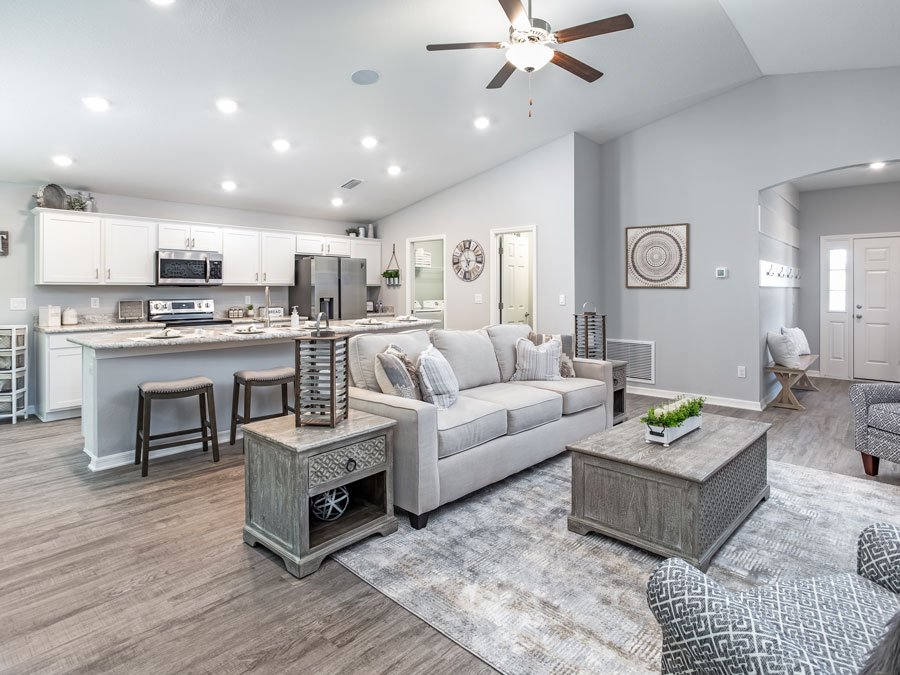 You've found THE new home community, in your ideal location. You fell in love with the PERFECT Highland Homes plan. The features and finishes for your new construction home in Florida are selected, they're GORGEOUS, and you've started planning décor that will look amazing with your new flooring, paint, and countertops. Then you get a phone call – your flooring was discontinued before it could be installed! Now what?!
Breathe a sigh of relief – everything is going to be just fine because you are building with Highland Homes. For more than 25 years we've been dedicated to building dream homes for our neighbors and friends like you and have the knowledge and experience, along with longstanding vendor relationships, to navigate these situations and ensure your satisfaction.
Read on to learn more about the what, why, and how of design option substitutions. First up...
Why Might a Product Need to Be Substituted?
Most typically, a product needs to be substituted because it's been discontinued by the manufacturer. This happens a lot with products such as appliances, which are frequently discontinued when a new and improved model is released.
Products might also be on backorder and, rather than wait and delay the construction of your new home, it makes sense to select a replacement. In recent times, we've seen this more often because of supply chain, manufacturing, and fulfillment slowdowns, as well as a high demand for many building products thanks to an ongoing surge in construction and home improvement.
How is a Substitution Selected?
If a product needs to be substituted during the construction of your Florida new home, our design and purchasing team will work hard to find a substitution of equal or greater quality and appearance, when compared to the original product.
Sometimes, this means you'll get upgraded to the next level within the product lines we offer, and at no charge to you. If we do not have a good substitution off the shelf, so to speak, we'll look outside of our product lineup to find the best substitution for your originally selected product.
As part of the process, the professional designers at the Highland Homes Personal Selection Studio will pull all of the colors and features selected for your home to make sure the new selection will look as amazing as the original.
Here are some examples of recent design option substitutions.
Flooring
Recently, we've seen multiple flooring products backordered. Ceramic floor tile is often available in multiple sizes within the same color line, which means we've been able to substitute the same color in a slightly different size or tile lay.
Vinyl plank and laminate wood are among the most popular flooring choices in new construction homes in Florida, and supply isn't always up to the demand. One of the favorite laminates is the Mohawk RevWood Driftwood Collective Silver Shadow – When this was recently backordered, we were able to substitute it with the Mohawk RevWood Craftsman Harvest Mountain Stables. The below picture shows the original selection on the bottom with the substituted flooring lying on top. The colors are a near match with the main difference being the original flooring is 47-in. planks and an oak wood species, and the replacement 54-in. planks and chestnut wood.
A similar situation occurred with carpet. One of our offered floorings, the Mohawk Featured Attraction carpet in the Heather Moon color, was on backorder. Fortunately, we were able to replace this with another carpet in a nearly identical color, Taupe Whisper from Mohawk's Prodigy lineup. Both carpets are part of the Mohawk EverStrand product line, providing superior stain protection, strength, and sustainability.
Stone Products
Stone accents add unique curb appeal on many exterior elevations, and when some of these stone veneers were unavailable, the design and purchasing departments jumped into action. The J&N Stone Wisconsin Laytite was substituted with the Wisconsin Cobble – These two stones offer the same color combination in a slightly different style, with the Cobble offering more rectangular-shaped stones when compared to the layered liner look of the Laytite.
What is the Process if a Design Option in My Home Needs to Be Substituted?
The process differs depending on the type of home you purchased.
If you're building a personalized home and worked with a designer at the Personal Selection Studio to choose your features and finishes, your designer will contact you to re-select any unavailable options. This may be done in person at the design studio, via a virtual appointment, or even simply via email, with the designer sending you photos and info about suggested substitutions.
We'll have you sign a change order for your new design selection, which is then sent to our purchasing department so we can order and install the new product, and deliver you a beautiful home.
If you chose a designer home with finishes selected by our professional designers, the same professionals will select a replacement of equal or better value, then reach out to let you know what is being changed and email you photo(s) of the re-selected product. Easy peasy! We'll sign the change order (no signatures are required from you) and submit it to our purchasing department, then get on with building your beautiful new home.
We are Honored to Build Your Dream Home in Florida
If you are already in the process of building your new construction home in Florida with Highland Homes, congratulations!! And, if you are still considering which Florida home builder is the right builder for you, we invite you to learn a little bit more about building with Highland Homes by previewing our Path to Ownership, getting inspired to design and decorate your new home with our online Inspiration Gallery, and seeing what current homeowners have to say about the Experience of Building with Highland Homes.
Ready to find your new home in Lakeland-Winter Haven, Tampa Bay, Metro Orlando, Ocala, or Parrish, Florida? Our New Home Specialists are excited to connect, answer any questions you have, and make your new home dream come true! Call us or email us anytime.
---
Tags:
Design features
Personal Selection Studio
Personalize your dream home
Construction process
---