blog
Home Buying 101: Florida's Low Interest Rates Mean It's Time to Buy
Home Buying 101: Florida's Low Interest Rates Mean It's Time to Buy
Posted:
February 22, 2016 |
Categories:
News
|
Home Buying 101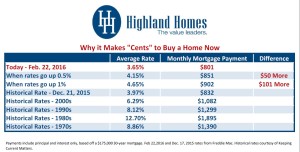 Have you heard about the Federal Reserve's recent decision to raise short-term interest rates? You may be wondering what this means for mortgage rates and if now is the right time to buy a home. If you've been on the fence or unsure about the financial impact of buying a new home, we have good news!
Despite the widespread expectation that the Federal Reserve hike would mean the end of record-low rates, would-be homeowners are finding the opposite -- In fact, the average mortgage rate is currently at its lowest level in almost a year.
For the past six weeks, the average 30-year fixed rate has been continuously declining with rates falling 36 basis points (or about .36 percent). Freddie Mac reports that over the past week, the average rate has remained at a steady 3.65 percent. This time last year that average was at 3.76 percent and in December the average rate was 3.97 percent. These numbers may seem small but they can make a drastic difference in your monthly mortgage payment! Thanks to lower mortgage rates, you can now afford to own a home worth more money for less money out of pocket each month.
What does this mean for me?
Act fast! As with all good things, Florida's low interest rates are not expected to last forever. When we wrote about how the Federal Reserve rate hike will affect Florida home buyers back in December, we recommended acting immediately to guarantee your most affordable options to own a home. Even though we have not seen the immediate rise in mortgage rates that was expected, we cannot stress enough the importance of acting now to lock in today's low rates. Remember, with a 30-year fixed rate, once you're locked in your principal and interest payment will remain the same low payment for the life of the loan!
And, to make purchasing your new home even more affordable, Highland Homes offers low down payment finance options — qualified buyers can even purchase and move in with as little as $99 out of pocket!
Highland Homes builds new homes priced from the mid $100,000's to the $300,000's in Tampa Bay, Polk County, Orlando, Manatee County, and Ocala, Florida. With more than 30 stylish and affordable home plans to choose from and the opportunity to personalize your home with hundreds of available design options, you can truly build the home you have been dreaming of — at a payment affordable for your budget! Call us at 863-797-4999 or visit the Highland Homes website to find your dream home and take advantage of today's exciting, money-saving low interest rates.
To discover your buying power for a new home in Florida, contact a Highland Homes preferred lender  for a quick and easy prequalification. Mortgage interest rates, terms, down payment, and qualification guidelines vary per loan type and are based on your credit and other qualifying factors.
---
Tags:
home in Florida
Highland Homes
interest rates
low mortgage rates
$99 down payment
30-year fixed rates
low interest rates
mortgage interest rates
new home in Florida
today's interest rates
$99 down
mortgage
mortgage rates
Florida
new home
FL
down payment
---