blog
Home Buying 101: What Credit Score Do You Need to Buy a Home in Florida?
Home Buying 101: What Credit Score Do You Need to Buy a Home in Florida?
Posted:
June 24, 2020 |
Categories:
News
|
General Info
|
Home Buying 101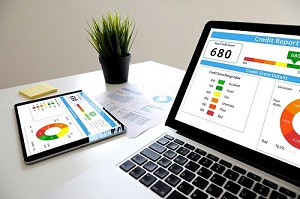 Are you considering buying a new home in Florida and not sure if you have the credit score required? One of the most common questions we receive from future homeowners is what credit score is needed to buy a home. While there is no "one size fits all" answer to this question, today we give you the 4-1-1 on credit score basics, the score you need to buy a home, and how getting pre-qualified before you begin home shopping will help you understand your personal financial situation and home buying power!
Understanding Credit Scores
You may have pulled a personal credit report, been offered a free credit score by your credit card company, or told your score when applying for another type of loan. And, you may have wondered, "Why is my score always different?"
For starters, there are three credit bureaus - Experian, TransUnion and Equifax. Each uses their own algorithm, and they may receive different information from creditors, which is why your score varies across the three.
There are also different scoring models. When qualifying for a mortgage to buy your dream home, lenders look at the FICO® score, which is different than what you see when you pull your own consumer credit report. This doesn't mean there is anything to worry about – Different criteria are looked at for different scoring models, including things like your payment history, credit history, amount owed, and new credit.
When qualifying for a mortgage, lenders use the mid score as your qualifying credit score. Simply put, if the three credit bureaus are reporting three different numbers, the mid score is the one in the middle. For example, if the scores reported by the three bureaus are 660, 654 and 622, 654 is the score used to qualify you for your mortgage. If only two bureaus are reporting scores, then the lower one is used; and if only one bureau is reporting, then that score is used.
Aside from qualifying, a higher credit score typically means you can get a lower interest rate on your mortgage, which means you'll have a lower monthly mortgage payment (or be able to purchase a higher priced home).
What is the best way to know what your qualifying FICO® mid score is? Get pre-qualified with a Highland Homes Preferred Lender, such as Home Solution Lenders, Inc.
What credit score is needed for a government mortgage loan?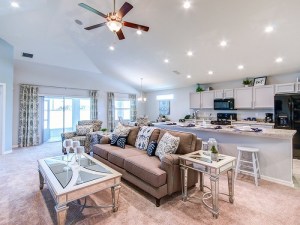 There are three primary types of government-backed mortgage loans – FHA, VA and USDA loans. Each loan program has its own requirements from the government, and lenders often have their own requirements, also known as overlays, that also must be met. Home Solution Lenders, Inc. gave us the scoop on each type of government loan and score requirements.
Federal Housing Administration (FHA) loans are insured by HUD and issued by an FHA-approved lender. FHA loans are popular because they require as little as 3.5% for the down payment. With 3.5% down, FHA requires a minimum score of 580, but it is very challenging to get a mortgage approved by underwriting with this score which is why Home Solution Lenders, Inc. generally sets the benchmark at 620.
VA Home Loans are available to eligible service members, veterans and surviving spouses. Private lenders provide VA loans, with the VA guaranteeing a portion of the loan. VA Homes Loans require $0 down and do not have a minimum credit score requirement, instead requiring lenders to evaluate your entire financial profile. This means you may get an approval with a lower score; however, HSL still sees 620 as the general benchmark.
USDA Guaranteed Loans are backed by the US Department of Agriculture, and are only available on homes located in eligible areas as defined by the USDA, for buyers who fall within household income guidelines. The USDA loan program also has no down payment or official minimum credit score requirement, but again, HSL typically needs a 620 credit score to get underwriting approval.
When you are building your dream home in Florida with Highland Homes, we are looking for a minimum credit score of 600 in order to write the purchase agreement, and, if necessary, we'll enroll you in a credit quick-fix program to boost your score to where it needs to be to close on the mortgage.
What credit score is needed for a conventional mortgage loan?
Conventional mortgage requirements vary by lender. These loans are not backed by the government, so there is no government requirement though most lenders follow Fannie Mae/Freddie Mac guidelines which require a minimum 620 credit score for fixed rate mortgages, and a 640 for adjustable-rate mortgages. Home Solution Lenders, Inc. requires a 640 minimum credit score for conventional home loans, regardless of the type.
If I have a lower credit score, what can I do?
First, get pre-qualified! As mentioned, your FICO score is different from your consumer score, so getting pre-qualified is how you'll know what score lenders are using to qualify you. Talk to a lender about your options – a lower score does not necessarily mean you cannot buy a new home in Florida. Every situation is different and things such as financial reserves (your savings), debt to income ratios and overall credit history strongly play into qualification and in some cases can compensate for a lower credit score.
Next, if your score is not quite where it needs to be, Highland Homes can help you enroll in a credit quick fix program if your score is between 600 and 619, or a credit restoration program if your score is below 600. We'll work together to help you achieve your dream of homeownership!
To learn more about getting pre-qualified with a Highland Homes preferred lender and to start shopping for your new home in Florida, contact our New Home Specialists by calling us or emailing us today!
For informational purposes only and not a guarantee of rates, terms, or program availability. Information deemed reliable at the time of publishing, and subject to change without notice. For the most up to date credit score and financing information, visit our Financing Your New Home page, and pre-qualify with a Highland Homes Preferred Lender.
---
Tags:
Highland Homes
Home Buying 101
credit score
new home in Florida
credit score is needed to buy a home
---