Posted:
August 29, 2019 |
Categories:
News
|
General Info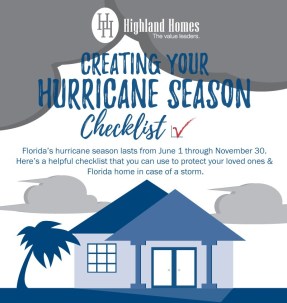 Hurricane Dorian is forecast to affect Florida, with parts of the state expected to begin feeling winds as early as Sunday, Sept. 1st.
Forecast models are still uncertain of the storms track or strength, so we do not yet know the impact to those who live in Central Florida. While we are hoping for the best, it is also best to be prepared and have a plan in place. Here are helpful links, resources and tips to weather the storm.
The #1 Most Important Tip
Be prepared, not panicked!
Preparing Your Home
Secure outdoor items such as yard decorations, patio furniture, grills and garbage cans
Store important documents in waterproof containers
Turn the fridge and freezer to the coldest setting, so they stay cold longer if you lose power
Ensure your generator has fuel and is ready for use
Back up personal computers and devices in case of loss

If you do not have an external drive, back up files to a cloud storage service such as Dropbox or Google Drive

For insurance purposes, take photos or video of each room in your home as well as valuables

All you need is your cell phone! Walk slowly through each room narrating an inventory. Upload it to the cloud so it's available if you need it.

Trim large or dead tree limbs which could fall and hit your home

Dispose of the yard debris before the storm hits as downed branches can become projectiles

If high winds are forecast in your area, protect your windows
For more hurricane preparation tips and resources, visit our pages on Creating Your Florida Hurricane Checklist and How to Prepare Your Home for a Hurricane.
Hurricane Kit
For a basic kit checklist and additional resources, visit our page on Creating Your Florida Hurricane Checklist.
Hurricane "Hacks"
You don't need to rush out and buy stock in bottled water. Here are other ideas for keeping clean water on hand, as well as additional hurricane prep tips from life-long Floridians.
Bathroom needs – Fill your bathtubs with water (clean the tub first)

Use small buckets of water to flush toilets, wash hands, and clean up as needed
Note – Be careful to keep the bathroom door secure if you have pets or young children
If you have a pool, pool water can also be used to flush the toilet

Drinking water

Plan for one gallon, per person, per day – and don't forget your pets need water, too!
Fill up clean, seal-able containers with tap water – Buckets, reusable water bottles, thermoses, etc.
Grove Roots Brewing Co. in Winter Haven and Swan Brewing in Lakeland have announced they have clean water tanked and ready to share with the community if there are municipal water issues, and other Florida breweries will likely do the same!

Ice – Fill gallon freezer bags with ice and have them stored in the freezer
Electronics – Fully charge all laptops, phones, tablets, etc. and, if possible, have extra battery packs on hand
Batteries – Make sure all flashlights have fresh batteries, and extras on hand

Batteries are an item which tend to sell out quickly when a storm is coming – check "out of the box" stores such as Dollar Tree, Best Buy, Party City, etc.
County Specific Emergency Information and Shelters
Visit your County's Emergency Management website to stay informed with the latest local emergency information and updates, and find your evacuation zone and routes, sandbag locations, and emergency shelters.
For additional County shelters and information, visit floridadisaster.org or call the Florida Emergency Information Line at 1-800-342-3557.
Evacuation Planning
As of this writing, no evacuations have been issued. However, make sure you are aware of your evacuation zone and routes and have a plan, especially if you live in a low-lying or flood-prone area, or a mobile home.
Before you hit the road, make sure you:
Have a destination
Are familiar with travel routes
Take your emergency supply kit – make sure to include supplies for pets!
Keep at least a half-tank of gas in your car
Visit the ready.gov website for additional evacuation planning tips.
Pet Resources
The Humane Society of Tampa Bay offers a comprehensive Animal Disaster Kit.
If evacuating, make sure you know which shelters are pet friendly (check your County Emergency Information website) and bring the proper documentation such as proof of vaccinations, registration tags, a carrier and supplies. A shelter should be your last resort if you cannot find another accommodation for you or your pet – if possible find a pet friendly hotel, boarding kennel, or have friends or family to shelter your pet.
Pet preparedness tips:
Have a supply kit for each animal
No matter what happens, do not leave your pet(s) alone if you evacuate
Be sure all pets are wearing a collar with ID and vaccination tags in case they get out
Make sure microchip information is up to date with your current contact info
Pet water – Fill bowls and freeze; defrost for your pet as needed
Doggy tip from Florida Boxer Rescue – Place pieces of sod in a kiddie pool and put it in your garage so pup has a safe place to potty during the storm

Never let your dog out in the yard where he/she could get spooked or escape
Additional Resources
For more information on what to do, where to go and how to plan for the hurricane season, visit www.FEMA.gov, www.ready.gov/hurricane and www.floridadisaster.org.
We will continue to update this article with tips and resources, as preparing for the storm is the best way to keep your loved ones safe.
As a Central Florida home builder, we are also preparing for the safety of our team members, communities, and homes under construction. As we head into the weekend, our team is working hard to prepare job sites, secure building materials, and prepare our communities to safely weather the storm. We do not have any storm-related closures scheduled at this time, though offices will be closed on Monday, September 2nd in observance of Labor Day.
Follow us on Facebook for additional updates and information. To learn more about our company, visit www.HighlandHomes.org.
---
Tags:
Dorian
hurricane
hurricane checklist
hurricane kit
hurricane preparation
hurricane resources
hurricane shelters
hurricane tips
---