blog
Hurricane Preparedness: Create Your Florida Hurricane Checklist
Hurricane Preparedness: Create Your Florida Hurricane Checklist
Posted:
June 5, 2020 |
Categories:
News
|
General Info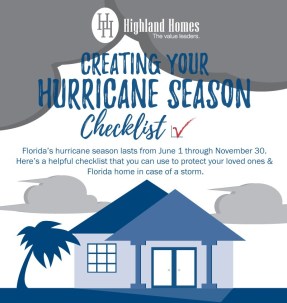 Hurricane season is officially here, and Florida homeowners know it's time to prepare their homes for a season of sun, fun and sometimes-stormy weather. Most Floridians know the precautions that need to be taken and the level of preparedness that owning a home in Florida requires during hurricane season. But, if you're new to our state, a first-time homeowner, or just in need of a refresher so you don't forget any important items, we've provided this thorough list of hurricane preparedness tips for you.
The hurricane season officially began on June 1 and lasts through November 30. The peak season is between mid-August and mid-October. However, the 2020 season actually kicked off a few weeks early with two named storms in May, while the third one formed in the Gulf of Mexico on the first day of the season. The National Oceanic and Atmospheric Administration (NOAA) predicts a 60% chance of an above-average season. The NOAA website provides a more in depth look as to what this could mean in terms of how many named storms we could expect.
While the majority of the homes we build are located away from the coast near major metro areas such as Lakeland, Orlando, and Ocala, the devastating effects of a hurricane can often be felt hundreds of miles away from the coast. Ensuring your home is prepared to take on whipping winds, heavy downpours, flooding, and even power outages is key to being prepared for Florida's hurricane season.
Know Your Terms
A tropical depression does not have the same impact as a category 1 hurricane. Knowing and understanding what your meteorologist is saying, will help you prepare for what's ahead. A tropical depression has maximum winds of less than 39 mph, while tropical storms have winds that range from 39-73 mph, and a category 1 hurricane has winds of 74-95 mph with minimal damage potential. The eye of the storm is the center of the spiral, and the bands are the lines of thunderstorms and clouds pulling into the center of the storm.
While these are some of the basics for you to know, StormGeo.com expands these definitions, the 5 category rating system, and explains what's really going on in the eye of the storm.
Have a Plan
Your emergency preparedness plan is something everyone in your household should be actively involved in, and should know what their role is in an emergency. In addition, make sure you share your plan with at least one remote friend or relative who wouldn't be affected by the storm. They can serve as a central point of contact for everyone.
A complete emergency preparedness plan includes more than just your actions once a storm hits. It should include the full plan to prepare your Florida home for the approaching storm, what your household procedures will be for evacuation or staying safe at home and how to decide which course of action to take, and what to do if a storm hits unexpectedly or if you're caught at home in it's aftermath.
Make sure your preparedness plan includes:
contact information and important records for every person residing in your home – pets included!
an emergency kit for each household member with relevant to you items including:

clean clothes and shoes,
prescription medicines,
food, collars and leashes for your pets,
flashlights, snacks, water, and
other items necessary to leave home at the drop of a hat.
Additional details and tips on making a preparedness plan, as well as printable, customizable family emergency plans for parents, kids and pets, are available on the Ready.gov website.
Don't Wait for the Storm to Arrive
Once the alert goes out that a storm is forming and your area is listed as a potential target, it's time to start to prepare your home for a hurricane.
Clear the debris and remove any weak, dead trees or limbs near your home.
Remove, trim and dispose of any trees or limbs overhanging your home.
Check for and reinforce any loose roof tiles or shingles.
Clear any debris from your gutters and make sure they're securely attached to help prevent clogging and potential water damage to your home.
Reinforce doors and windows with pre-cut plywood that can be nailed in place. If your budget permits, consider purchasing storm shutters now as they provide the best protection.
Designate an indoor location for all your outdoor furniture, play equipment, grills, garbage cans, or heavy planters that could become projectiles in high winds.
Consider moving indoor furniture away from windows or cover it with protective tarps, and move irreplaceable items to a second story if your home has one.
Prepare an inventory list of items in your home and consider photographing each space in case it's needed for future reference.
Back up computers and devices in case of loss to external hard drives or the cloud via Dropbox or Google Drive.
To Leave or Not to Leave
Deciding to stay home and ride out a storm or to evacuate and leave your beloved home is tough. First and foremost, listen to your local and national officials and their directions during a storm. As difficult as it may be, if they're telling you to evacuate, it's important to heed the warning.
If you are faced with a mandatory evacuation or you voluntarily decide to leave with your family, it's important to know and be familiar with the standard evacuation route for your area. Part of your hurricane preparedness plan should include a planned destination for once you're on the road. How far will you need to go to be out of the storm's path? Do you have family or friends within driving distance that you can stay with in case of a storm? With the added pressure of COVID-19 this hurricane season, it's even more important to have a plan in place with information about hotel, rentals, or shelter restrictions that may make finding a place to stop harder than usual.
If you can stay at home during a storm, it's imperative that you are prepared for possible power, water, and internet and cell service disruptions for several days. Many businesses are often closed, and roads can become impassible for an extended period. Ensure you can remain self-sufficient for days at a time and keep a well-stocked in-house emergency kit, with some or potentially all of the following:
A generator for your home to use as an alternative power source be sure to become familiar with generator safety, such as keeping your generator outside due to the risk of carbon monoxide poisoning.
Gallons of water – the standard is one gallon per person per day, for a minimum of three days
A three-day supply of non-perishable food
Battery-powered emergency radio
A first-aid kit, include medical supplies with prescriptions and any special equipment
Flashlight with backup batteries
Can openers and eating supplies, such as plates and forks
Some basic camping supplies, blankets and matches for example
Fully-charged portable chargers for cell phones
Whistle to signal for help if needed
Moist towelettes, garbage bags, and plastic ties for sanitation
Dust mask to shield your lungs from any post-storm debris
A wrench or pliers to turn off the water in the event of burst pipes
Important documents including IDs, insurance documents, home inventory list placed in a waterproof container
Extra clothes, shoes, and rain gear
Pet supplies, including food, leashes, identification and vaccine records, favorite bed or toys, calming aids, medications, etc.
For a full list of resources and disaster help available to Florida homeowners and residents, including shelter locations, additional preparedness plans, and links to local emergency management agencies, visit FloridaDisaster.org. Also, visit FEMA.gov or NOAA for additional assistance with hurricane preparedness, emergency alerts, and recovery operations.
As a Florida homebuilder with more than 20 years of experience building quality new homes throughout Tampa, Orlando, Lakeland and Polk County, we understand the effects of Florida's hurricane season on residents and homeowners. Our homes are built to meet or exceed the latest building codes to help protect you and everyone in your household, as well as your home, in case of a storm. Preparing for a storm is the best way you can protect yourself, your loved ones and your home to ensure you can enjoy it for years to come.
To learn more about our company and our dedication to building quality-built new homes designed with you and your loved ones in mind, visit our About Us page.
---
Tags:
Hurricane Preparedness
First Time Homebuyer Info
Maintenance Tips
Home Organization
---