blog
Is It Cheaper to Buy or Rent in Central Florida?
Is It Cheaper to Buy or Rent in Central Florida?
Posted:
April 14, 2022 |
Categories:
News
|
General Info
|
Home Buying 101
We may be a little biased, but we think Central Florida is the very best place to call home! From access to world-class beaches and top-notch theme parks to nearly-perfect weather year-round, as well as an affordable cost of living and an abundance of employment opportunities, there is no shortage of reasons to live in Central Florida. But with current market conditions, you may be asking yourself – is it cheaper to buy or rent in Central Florida?
The short answer? Buy now!
According to recent rental data from Realtor.com, it's more affordable to buy a starter home than rent in more than half of the largest markets in the United States. The Realtor.com survey found that, in 26 of the nation's largest metropolitan areas, the monthly cost to buy was 20.6% lower than renting, saving homeowners $323 per month on average. Wow!
Rising Rent Costs
January 2022 marked the eighth month in a row where rent costs rose by double digits for properties with up to two bedrooms. In the 50 largest metro areas in the U.S., median rent was up 19.8% compared to one year earlier, with the current median rent price reaching $1,789 per month.
By comparison, median home prices for a starter home in the same markets are up 9.5% year-over-year. When you factor in mortgage rates that are higher than one year ago, this equates to just an 11% increase in the cost of owning, compared to that 19.8% rise in rent costs.
The majority of the rent increases are occurring in the Sun Belt, which means that here in Florida where we build new construction homes, it's generally more affordable to buy than rent.
Diving into the specifics, two Central Florida metropolitan areas made the list of top 10 markets in the US that favor buying vs renting, with Tampa ranked as the No. 9 best place to buy vs. rent, and Orlando coming in at No. 8 on the list. These markets are also No. 2 and No. 3 in the nation for rent price increases, with rent in Tampa up 37.5% year-over-year and rent costs up 34.8% in Orlando!
No. 9 Best Place to Buy vs. Rent – Tampa, Florida
In the Tampa Bay metro area, according to the Realtor.com report, the current median rent is a whopping $2,070 per month! Meanwhile, the monthly cost to own a home is $1,543. That's an impressive monthly savings of $527, or 25.5%, when you buy a new home for sale in Tampa instead of renting!
This isn't a new phenomenon, either - one year ago, we wrote an article about how much cheaper it is to buy in Tampa than rent. At that time, average rents were around $1,600 per month and homeowners saved about $111 per month, so as you can see Tampa just continues to favor homeownership.
Tampa's real estate market is strong thanks to its affordability compared to other major Florida cities, the economic growth the city has experienced, and the city's fantastic location on Florida's Gulf coast. However, a strong real estate market leads to increased competition for housing.
One way to forego the competition and find your dream home is to buy new! While home builders are also dealing with that high demand and you may have a short wait on a priority list before securing your dream home, you won't have to deal with the stress of looking at houses every weekend only to be outbid by another buyer. Plus, you'll enjoy that 'new car smell' that only occurs when you're the very first person to own something – this time, your very own home!
Homes for Sale in Tampa, Florida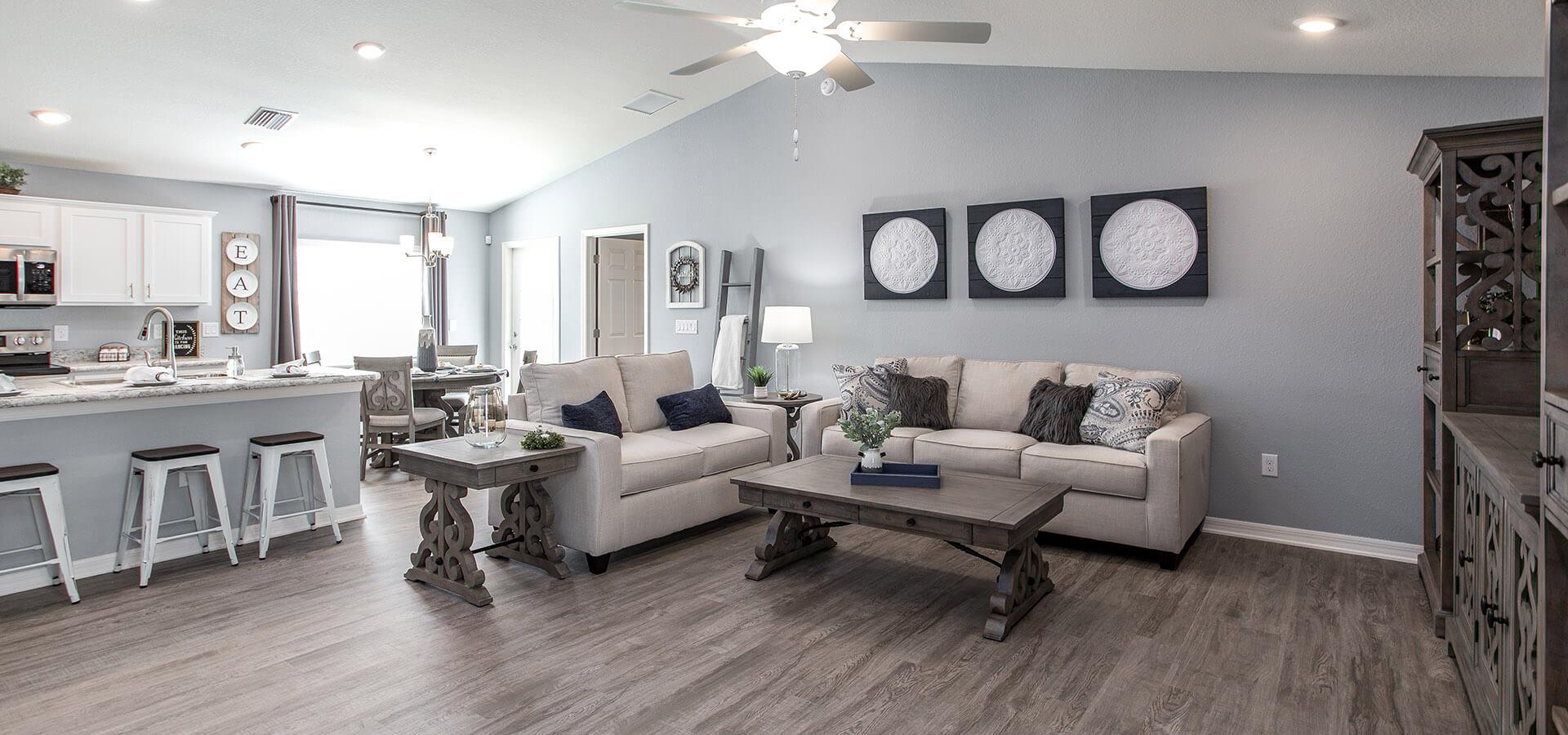 Highland Homes currently offers two communities of new homes for sale in Tampa, FL – Ridgewood in the Tampa suburb of Riverview, and Stonebridge at Chapel Creek in Zephyrhills, in northern Tampa Bay. Both neighborhoods will be releasing homes in new phases in the coming months - Call or email us to join the homebuying Priority List for these exciting, Tampa Bay neighborhoods.
No. 8 Best Place to Buy vs. Rent – Orlando, Florida
Moving inland to the heart of Central Florida, in Orlando, the current median rent is $1,820 per month while the monthly cost of owning your own home is $1,327. That's a 27.1% savings for homeowners meaning owning your own home in Orlando saves you $493 per month on average!
Orlando is perhaps best known for its many theme parks and being a major tourist destination, but it's so much more. Recognized as the No. 10 Best Place to Live in Florida, Orlando also offers a thriving downtown and business district, suburbs with peaceful surroundings, and beautiful lakes, parks, and year-round sunshine. All of this combines to provide Orlando homeowners with a high quality of life and makes Orlando one of the fastest-growing cities in the U.S., and the third most populated metro area in the state of Florida.
Homes for Sale in Orlando, Florida
If you're ready to become a homeowner in Metro Orlando, you'll find new homes in St. Cloud, FL available now at Siena Reserve. This Orlando suburb offers a small-town feel just a short drive from theme parks, Lake Nona Medical City, and the best of Orlando.
Want to learn more and take advantage of the financial savings of OWNING a home in Central Florida? Our Florida New Home Specialists are standing by - Call or email us today!
---
Tags:
Metro Orlando
Tampa Bay
Tampa
Orlando
St. Cloud
Ridgewood
Stonebridge at Chapel Creek
Siena Reserve
single-family homes
rent vs own
---