blog
Lakeland New Home Builder Honors Outstanding Employees
Lakeland New Home Builder Honors Outstanding Employees
Posted:
April 18, 2013 |
Categories:
Events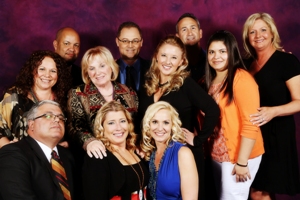 Here at Highland Homes, we would not be able to provide such a high level of customer satisfaction if it were not for our hard-working employees. The dedication of each team member is essential to the overall success of our company and our outstanding staff works hard each and every day to provide the best experience to homebuyers in Central Florida.\n\nOur top selling sales agents and outstanding employees of 2012 were recently recognized at the annual Highland Homes sales awards banquet. The event, which took place on March 13th, was held at the Lakeland Yacht and Country Club and festivities included a fun Mardi Gras theme, motivating guest speaker, dinner, and socializing, in addition to the awards presentation.\n\nThose honored for their 2012 accomplishments include:\n
\n
Gene Kucher, Community Sales Manager of Imperial Lakes in Mulberry, Fla.  Gene was our biggest winner of the evening and received three top honors: Highest Net Dollar Volume, Highest Net Sales and Highest Closing Volume.
\n
Jennifer Maul was awarded for her excellence in Lakeland new home sales at Stonewood and Blackwater Oaks.  Jennifer recently sold out both North Lakeland communities for Highland Homes and received three awards: 2nd place for Net Dollar Volume, 3rd place for Net Sales, and 4th for Closing Volume.
\n
Cheryl Gonzalez, Community Sales Manager at Ten Oaks in Zephyrhills, Fla., was unable to attend the banquet but received awards for 3rd highest Net Dollar Volume,2nd highest Net Sales, and 3rd highest Closing Volume.
\n
Doug Pike, Community Sales Manager at Wind Meadows in Bartow, Fla., received four awards for his 2012 performance: 4th highest Net Dollar Volume, 4th highest Net Sales, 2nd place for Closing Volume, and a special award from Shelter Mortgage, Highland Homes' preferred lender.
\n
Mary Finn, Community Sales Manager of Covered Bridge and the recently sold out South Oak in Ellenton, Fla., was honored for selling the 5th highest Net Dollar Volume and 5th highest Net Sales (tie).
\n
Roger Santos, Community Sales Manager at Highland Meadows in Davenport, Fla., received awards for 5th highest Net Sales (tie), 5th highest Closing Volume, and a special award from Shelter Mortgage.
\n
The Rookie of the Year award went to Katie Campbell-Barris, Community Sales Manager at Overlook Ridge in Winter Haven, Fla.  Katie took on a sales role after more than seven years in land development and HOA management and was immediately successful, becoming one of our top selling agents in Winter Haven.
\n
Heather Dodd received the honor of Sales Counselor of the Year. Heather worked at several Highland Homes communities in 2012 and successfully sold within each community, and now manages our Normandy Heights community in Winter Haven.  Keep up the great work, Heather!
\n
\nAdditionally, Community Sales Managers David Morales of Sunset Hills in Dade City, Tracie Baldwin of Winchester Estates in Lakeland, and Carmen Arbizu of Deer Creek in St. Cloud, were also recognized for their efforts in their individual communities. Finally, Randi Golemme, our online sales manager, was applauded for her hard work in responding to the many online inquiries that Highland Homes receives every day.\n\nWe would once again like to send huge congratulations to all of our award winners!  Thank you for all that you do.  Our home buyer's dreams become a reality because of the time and care you put into your work on a daily basis.  We truly appreciate all your hard work and are looking forward to an even better 2013!\n\nHighland Homes, based in Lakeland, has been building value priced and quality constructed homes in Central Florida since 1996.  Connect with us online at
www.HighlandHomes.ORG
,
www.facebook.com/highlandhomes
and
www.twitter.com/highlandhomesfl
.
---
Tags:
Lakeland new home
Highland Homes
Lakeland new homes
new home sales
Lakeland
sale
new home
New Homes
new home sales people
---