blog
Lakeland New Homes are Ideal for Outdoor Enthusiasts
Lakeland New Homes are Ideal for Outdoor Enthusiasts
Posted:
April 10, 2018 |
Categories:
Communities
|
News
Named for its many sparkling lakes, the city of Lakeland, Florida is infused with Old Florida history and natural beauty. Conveniently located between the big cities of Orlando and Tampa, Lakeland offers a small-town feel where you know your neighbors and regularly see friends when out shopping, dining and playing. And of course, the city offers a beautiful climate with warm temperatures and sunny days nearly year-round. All of these attributes make Lakeland a great city to call home, especially for outdoor enthusiasts!
If you are searching for a new home in Lakeland, Florida, check out Highlands Grace and Highlands Creek II, both of which are gated communities in the exclusive Highlands area of South Lakeland.
Water, Water Everywhere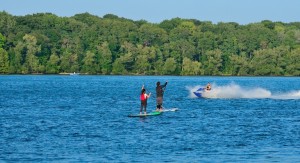 Thanks to its many lakes, the city of Lakeland offers plenty of watersport activities. Take a gentle paddle in a kayak or canoe, adrenaline-pumping ride on a jet ski, learn how to flyboard, get a full-body workout on a standup paddleboard, or try your skills wakeboarding. Polk County itself is the Water Ski Capital of the World, and it's the perfect place to try a new activity on the water!
And of course, freshwater fishing opportunities are nearly endless in Lakeland, with options available for everyone from seasoned anglers to casual fishermen. No matter how you enjoy spending time on the water, Lakeland offers something for everyone!
Parks and Recreation
The city of Lakeland is home to nearly 40 parks, offering plenty of outdoor space for picnicking, hiking, playing sports, and just enjoying the outdoors!
Banana Lake Park is right down the road from your new home at Highlands Grace or Highlands Creek II, and is a quiet park where you can enjoy the afternoon picnicking, boating, or playing on the playground or open fields.
Common Ground Interactive Playgrounds is a place for kids to have fun in a "non-traditional play area? featuring games, jungle gyms, and swings for children of varying ages and abilities. On the adjacent property, tennis fans can get in some serious playing time at Beerman Family Tennis Center, home to USTA Leagues. The facility features a pro shop and 18 lighted hard surface courts and two three-wall racquetball courts.
If you have kids who play ball, there are several great ball fields in the area — Lakeland is the spring training home to the Detroit Tigers, and a great place to play ball year-round. Nearby Lakeland Highlands Babe Ruth Baseball park offers five ball fields and the opportunity for children to play in the area's Babe Ruth Baseball league. Loyce E. Harpe Park also offers ball fields — and more! This large park offers something for everyone in the family with softball and Little League fields, a hiking and mountain biking trail with diverse terrain, soccer fields, a community park and playground, and even a dog park. And, Peterson Park is another good option for diverse outdoor recreation with a baseball diamond, picnic pavilion, and boardwalks and trails around a scenic lake.
If you enjoy a scenic hike or run, Lakeland Highlands Scrub has 2.8 total miles of trails with three interconnected loops that are perfect for all skill levels. A wetland and nature area, this park also offers a boardwalk trail, pavilions for wildlife viewing and even a picnic spot. Bring Fido (be sure he's on a leash!) for an afternoon stroll, or use the trail as the perfect place to get in a quick afternoon run, all while enjoying beautiful nature views.
Fort Frasier Trail is also right down the road. At 7.75 miles in length, this paved trail system, which runs from FL 540 and US 98 in Lakeland to FL 60 and US 98 in Bartow, is fantastic for walking, running, biking, and inline skating, and is wheelchair accessible. Rest shelters are stationed along the way and there is a restroom and water fountains. And, there is a connector trail which links Fort Frasier to the trail system and outdoor experiences at Circle B Bar Reserve!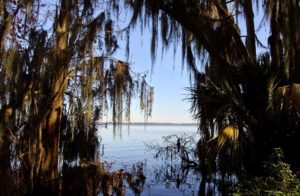 Situated on the shores of Lake Hancock, the popular Circle B Bar Reserve is home to an impressive bird population including ospreys and bald eagles, woods, marsh and swampland, and numerous trails. Previously a cattle ranch, this restoration area is one of the best places to immerse yourself in nature. Visitors to the reserve can enjoy bird watching or alligator spotting from the many hiking and biking trails, fishing in Lake Hancock, or a shaded picnic. The reserve is also home to the Polk County Nature Discovery Center, which features exhibits educating visitors about Florida's natural resources.
There is even a park for Fido to enjoy. Dog Leg Woods, located on the southwest edge of Cleveland Heights Golf Course, opened in March 2018 and offers 3 acres of space for your furry friends to run and play, with areas designated for both small and large dogs. Dog moms and dads will appreciate the shade from towering trees, a long green for playing catch or Frisbee with your four-legged friends, water fountains, and a dog washing station to clean up before getting in the car to head home.
There are a number of ways for golf enthusiasts to enjoy time on land in Lakeland, too! Florida is a golfer's paradise, and Lakeland is no exception. There are dozens of public and private courses in Lakeland, giving golf lovers plenty of holes to play.
New Homes in Lakeland, FL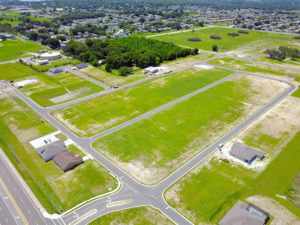 Located in the prestigious Lakeland Highlands area, Highlands Grace and Highlands Creek II both offer spacious and luxurious single-family homes priced from the $240's. Highlands Grace is located off East County Road 540A and Tillery Road, while Highlands Creek II is just south on Crews Lake Drive. When you build your new home in either community, you'll enjoy living in a laid-back setting, yet close to the Polk Parkway, major roadways, and your daily necessities such as shopping, dining and recreation.
Both neighborhoods offer gated entries for your privacy, and spacious home sites with enough room to build a private pool and backyard oasis, and enjoy the beautiful Florida sunshine and outdoors without even leaving home.
Choose from an array of home plans with desirable open living areas, spacious kitchens, and luxurious owner's suites, plus a two-or three-car garage and covered lanai for your outdoor living enjoyment. New homes at Highlands Creek II offer you 2,034 to 3,315 sq. ft. of luxurious living space with four or five bedrooms. At Highlands Grace, choose from home plans with 1,878 to 3,315 sq. ft. with three to five bedrooms. And, when you build your new home in Lakeland with Highland Homes, you will work with professional designers at our Personal Selection Studio to select from colors and features to personalize your new home to fit your personal style.
Living in a Lakeland new home provides the best location for enjoying the outdoors while providing a relaxing, luxurious environment to come home to after a day of fun in the sun! To learn more about our new homes at Highlands Grace and Highlands Creek II, call the Lakeland New Home Specialists at 863-510-5989, browse the Highland Homes website, or visit the model center located at 3296 Pearly Drive in Lakeland.
---
Tags:
Lakeland new home
South Lakeland
Highlands Grace
luxury homes
spacious homes
Lakeland homes
Lakeland new homes
Lakeland
gated community
---