blog
Planning Your Pool Paradise when Building a New Florida Home
Planning Your Pool Paradise when Building a New Florida Home
Posted:
June, 27, 2018 |
Categories:
News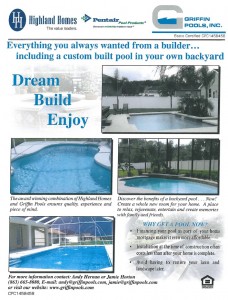 Summertime afternoons in Florida can be scorchers, and what better way to cool off than in your very own swimming pool! Thanks to warm temperatures nearly year-round and consistently sunny weather, you'll get plenty of enjoyment out of having a pool in your own backyard.
Your outdoor dream oasis awaits when you build a new home with Highland Homes, thanks to our partnership with Griffin Pools. Polk County's most trusted professional pool and spa builders, Griffin Pools has been in business for more than 40 years and has a solid reputation for quality craftsmanship and award-winning pool design. Griffin Pools was even named to The Ledger's Best of the Best list in 2016 and 2017!
Many of our new home communities feature backyards perfect for swimming pools! Pools are useful for more than just cooling off on summer's hottest days - a well-designed pool area provides a relaxing backyard paradise and the perfect outdoor living area to entertain family and friends. Pools are also a great way to incorporate aerobic exercise into your schedule!
Customize
Having your own pool that you design while building your home means it can meet all of your desires! Do you have your heart set on a traditional rectangular pool, or would you rather have a small plunge pool? You can do either! Or, go organic and create a free-form pool that mirrors your landscape design. You can also choose from unique features like a flowing waterfall, grotto-style oasis or even a spa so that you can enjoy your backyard oasis no matter the temperature.
Accessorize
When building your pool, you can choose to accessorize the space however you choose. Extend the pool deck to meet with your lanai, creating one cohesive outdoor living space, add storage space for pool necessities, and decorate with furniture, planters and other accents.
Maintain
Owning a pool has never been easier! Advanced technology makes maintaining your pool a breeze, with automated systems available for chemical testing and maintenance, cleaning, filtration and heating. Construction and materials are more durable and last longer than materials of the past, with lifetime warranties available on the interior finish of all Griffin pools.
Pool Construction: Now or Later?
Compared to adding a pool after construction, choosing to add a pool during the construction of your new Florida home eliminates so much hassle. First, adding a pool during construction provides a financial benefit, as the pool can be included in your home mortgage, preventing you from having to use cash or financing at a higher interest rate for a shorter term. It also means you don't have to worry about uprooting your landscaping, replacing sprinkler systems, or tearing down and rebuilding fencing. In addition, you don't have to live with the construction noise and the mess during pool construction! But the best part? The day you close on your new Highland home is the day you get to begin enjoying your new pool!
When you select the lot and home plan for your new Florida home, be sure to let your Highland Homes New Home Specialist know that you are interested in building a pool with your home. They'll ensure that the lot you select is ideal for a pool, and they'll arrange a consultation for you and Griffin Pools.
Once your purchase agreement is signed, Highland Homes will send a plot plan showing the layout of your home on your new home site. Then, when you meet with Griffin Pools, you'll be ready to design your dream backyard! The Griffin Pools design center, located 10 minutes away from our Personal Selection Studio, features everything you need to customize your pool. Select from color options for your liner, tile, pavers and more. You'll also learn about Griffin's standard package, and choose any additional options or features you want in your pool. Griffin's standard pool package features a white pearl Pebble-Tec finish, saltwater chlorination system, color-changing LED light system, and lifetime warranty on the interior finish, but there are plenty of other options to choose from as well! When you leave your consultation, you'll know the exact price of your pool and have a visualization of your future pool. You'll even receive a 3D drawing of the pool shortly after the consultation!
After your pool design is finalized, Griffin Pools will provide a proposal to Highland Homes, and your New Home Specialist will create an addendum to add the pool to your purchase agreement. After that, Highland Homes will take care of the rest, from the permits to preparing the site. While we're building your new home, Griffin will install your new pool, ensuring everything is seamless and exactly as you envisioned.
Highland Homes builds new Florida homes designed for your life in sought-after communities throughout central Florida, Tampa Bay, greater Orlando, Ocala and Manatee County. Select from more than 30 home plans priced from the $160's to the $300's, and then personalize your new home to your style preferences, budget and family needs with hundreds of available options at our Personal Selection Studio.
It's never been more simple and affordable to have a pool behind your new home in Florida! Visit our website to learn more about our new home communities or give us a call at 863-797-4999 to connect with a New Home Specialist and start building your Florida pool home today!
---
Tags:
Florida home
Griffin Pools
Highland Homes
new Florida home
Florida
pool
FL
---