Posted:
May, 25, 2018 |
Categories:
News
|
General Info
|
Home Buying 101
Owning your dream home in Florida is an exciting achievement. If this is your first spring in your new home, congratulations! We hope you are enjoying your home, settling into your new space, and appreciating the longer days by spending evenings in your yard or outdoor living areas.
Spring is the traditional season to throw open the windows, whip out your mop, and tackle some seasonal cleaning items while the scent of spring flowers wafts through your home. It is a great time to prepare your home for entertaining and to weather Florida's summer heat, and regular maintenance is the best way to keep your home in tip-top shape so you can continue to enjoy it for many years to come. Here are a few handy spring cleaning tips to get you started!
Kitchen:
Deep clean your dishwasher to prevent foul smells and keep it working at maximum efficiency - check out 2-10 Home Buyers Warranty's step-by-step guide.
Make your sink sparkle by applying a layer of baking soda and scrubbing. Follow up with a scrub using a hydrogen peroxide-soaked sponge. Let it sit for 20 minutes and rinse.
Clean the fridge — throw out expired food and condiments, empty and wipe down the shelves, and vacuum the cooling coils.
Clean or replace your range hood filter.
Bedrooms and Bathrooms: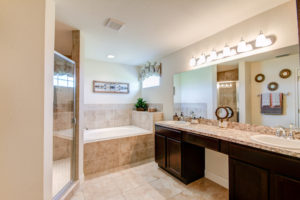 Clean out underneath bathroom and medicine cabinets and toss any unwanted, old or expired products or medicines.
Give your bath mats, shower curtain and liner a good cleaning in the washing machine.
Have bedroom items such as pillows, mattress pads, and bed skirts washed or professionally cleaned. This is also a great time to rotate your mattress!
Re-caulk around the tub, shower and sinks, as necessary.
Throughout Your Home:
Clean the cooling intake and vent covers to remove dust, by wiping with a damp cloth or vacuuming with a brush attachment.
Clean sofas and pillows, either by washing or following manufacturer cleaning instructions.
Dust off ceiling fan blades — an easy way to do this is by using a pillowcase to wipe 360-degrees of each blade.
Wipe down walls, baseboards and light switches.
Exterior: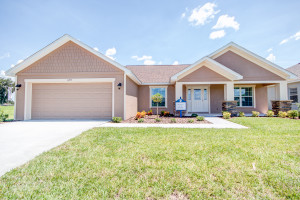 A good power washing of your soffits, exterior walls, porches, and sidewalks will remove the grime and help prevent mold and mildew.
Clean windows, both inside and out, by using a damp, soapy sponge and a squeegee to wipe off excess water. Use a dry microfiber cloth to wipe down windowsills after you're done.
Inspect your doors and windows to verify proper operation, security and weather resistance. If your doors or windows don't appear to be properly sealed, check out the instructions from 2-10 Home Buyers Warranty on how to seal your windows.
Certainly, spring-cleaning doesn't mean you should abandon regular maintenance and let wear and tear pile up until next spring. Certain maintenance tasks in your home should be handled monthly, while other tasks can be handled biannually or annually. We provide our homeowners with a handy Home Maintenance Manual that includes scheduled maintenance items, as well as instructions on how to properly inspect and maintain areas of your home. Here are a few highlights.
Monthly Cleaning and Maintenance:
Check your smoke detector batteries each month by pressing the test button.
Replace air conditioning filters.
Check for evidence of leaks around toilets, under sinks and around the dishwasher.
Clean and freshen sink drains by flushing with hot water and baking soda.
Biannual, or Twice Yearly, Maintenance:
Check the Temperature Pressure Release (TPR) valve on the water heater. In areas with hard water, drain at least five gallons of water from the drain valve every six months to prevent sediment build up.
Inspect your roof for broken or missing shingles.
Check the condition of stucco masonry, siding, and exterior paint for cracking, warping and peeling. Seal cracks and touch up paint as necessary.
Inspect the attic to make sure you have no moisture up there or animals nesting, and all air vents are intact.
Annual Cleaning and Maintenance:
Consider steam cleaning your carpets, either yourself or by hiring a professional. The warranty on our Mohawk carpet specifies a minimum of one professional cleaning every 18 months to comply with homeowner obligations of the warranty.
If you have a septic tank, check the condition of your tank and leech field, and consult with a pumping service as needed.
Schedule seasonal maintenance on your air conditioning units by a licensed HVAC contractor.
Find more cleaning tips on Pinterest including ingenious ways to eliminate odors, de-clutter, and even remove permanent marker from surfaces in your home!
Highland Homes builds new homes in communities throughout central Florida, from Orlando to Tampa and Ocala to Sarasota. If you're ready to build your dream home, visit the Highland Homes website or contact one of our Florida New Home Specialists today by calling 863-797-4999.
---
Tags:
Orlando
Spring Cleaning
Spring
home maintenance
cleaning
Highland Homes
new home in Orlando
new home
---